I fell for the Kohlrabi in the greengrocer's as I was looking for an interesting vegetable to paint. I was especially drawn to the two small central leaves growing amid the other six leaves, almost reminiscent of a little forest scene.
The materials I used were Langton 300gsm NOT A3 watercolour paper and Daniel Smiths paints – Lemon Yellow, Idanthrene, Rhodonite, Buff Titanium.
The vegetable was first drawn onto layout paper then transferred onto watercolour paper using tracing paper, 4B graphite rubbed in with cotton wool and an empty Copic pen. I was pleased I had used an ink free pen for tracing as I painted five practice leaves and it was simple to make repeated transfers as the tracing paper remained unmarked.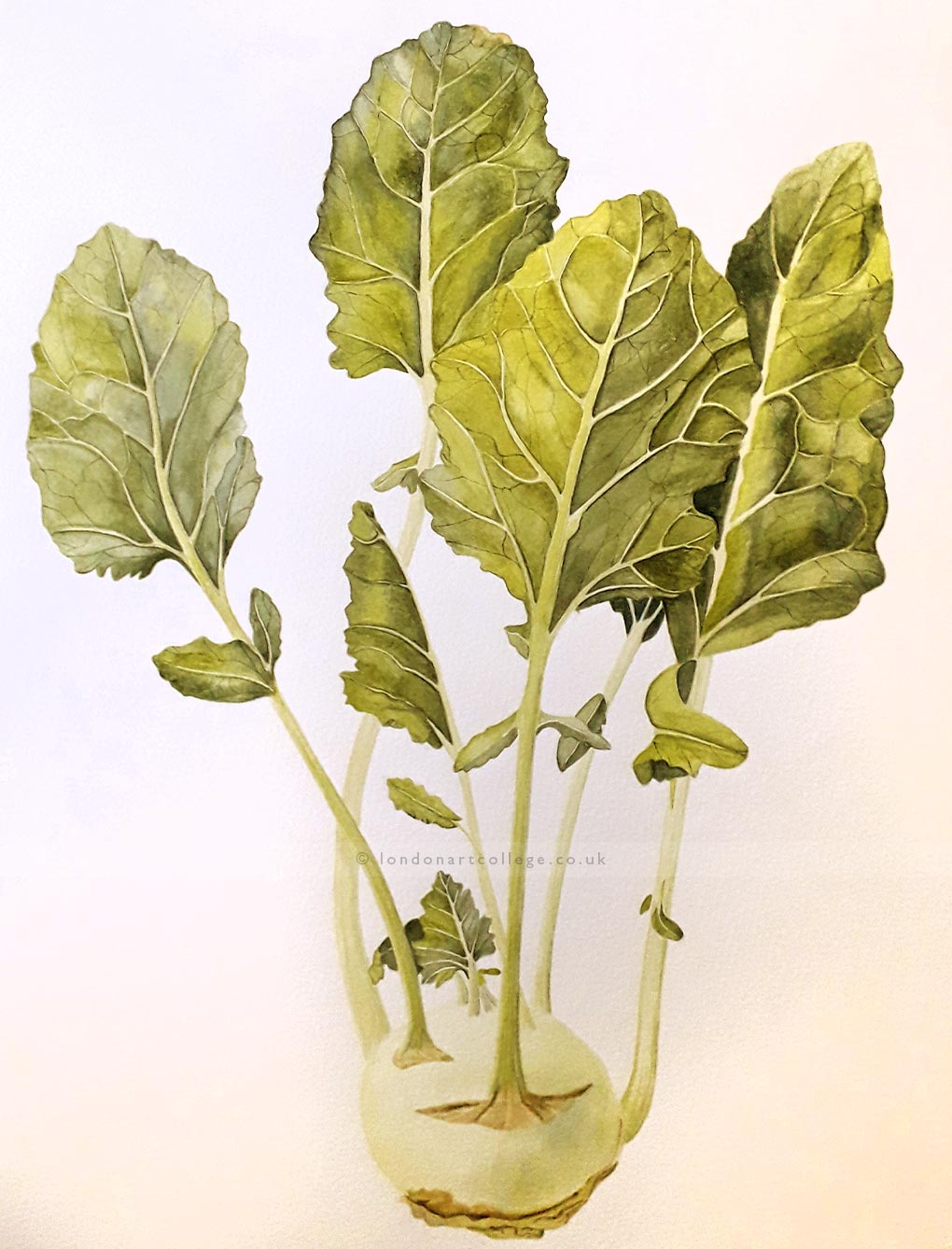 The materials for the figs below were Langton 300gsm NOT watercolour paper and Daniel Smiths Mayan Yellow, Mayan Blue, Quinacridone Coral, Buff Titanium.  SAA blue masking fluid, W&N Gum Arabic, W&N Iridescent medium. The tiny highlights on the cut fig were applied with masking fluid using a 0/20 brush.  A few of these plus a few more highlights on the seeds were enhanced with iridescent medium.
It is difficult for me to say which piece has the most successful outcome.  Both have taken me on learning journeys, both were far more complex to produce than anticipated when I chose them but I am both proud and fond of the kohlrabi so if I have to choose then that is the one.

Botanical Painting Art Course

If you would like to receive a roundup of all of our blog posts once a week to keep you inspired in your inbox, why not sign up to our newsletter. You can access our sign up at the top of our page. If you are a London Art College student and you would like your artwork featured here, drop us a line at any time.