In the past 18 months a lot has been said about the benefits of doing art or simply being creative, and I'm sure I won't be able to write anything that hasn't already been written or said in this regard.  However, having said that, I don't need much encouragement to do art and never go anywhere without a sketch book.  For years I sketched whilst travelling, and regularly caught fellow commuters (and train guards) peering over my shoulder.  My favourite topic is people and I adore drawing characters (as you can probably see below), so this year I indulged myself and signed up for an Illustration course.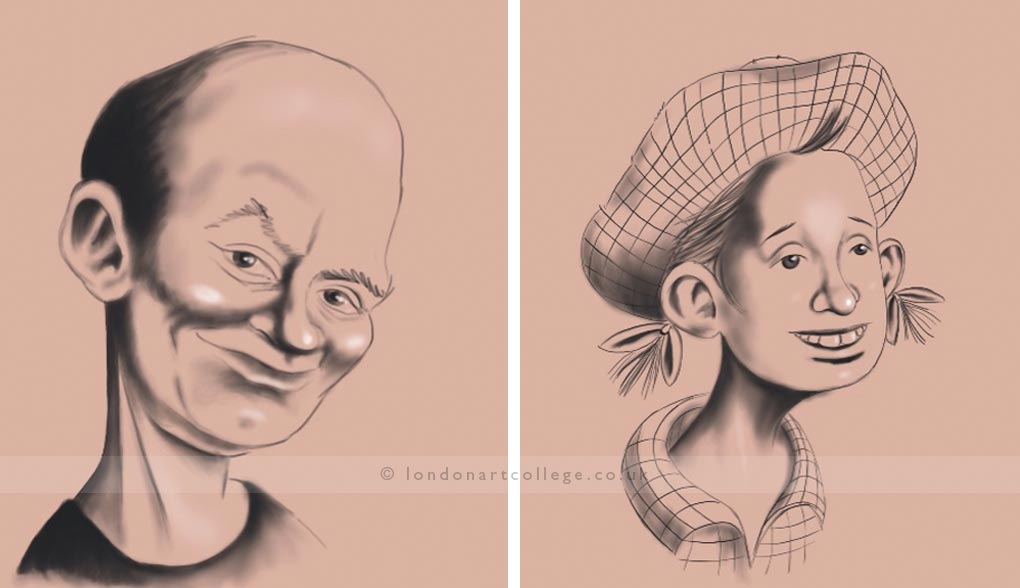 My objectives for the course were (and still are) twofold: I wanted to do a course that would push me in a direction different to the one that my timid self would naturally take. My second objective was to build up a portfolio for my second career. (I have a Finance background, so an artistic career is quite a leap!). I gave myself the additional challenge of digitally creating the assignment submissions for the simple reason of wanting to create quality digital art that can easily be submitted/manipulated or even 'repurposed' for personal projects such as creating stencils, etc.
As an artist, it's interesting and daunting (in equal measure) submitting work to a third party for feedback.  Like any creative, I go through the cycle of feeling angst, endless second-guessing of my interpretation of the brief, and generally getting myself into a spin over whether the work is good enough or not.  But I'd like to think that I have to go through this as it's all part of the process of growing as an artist.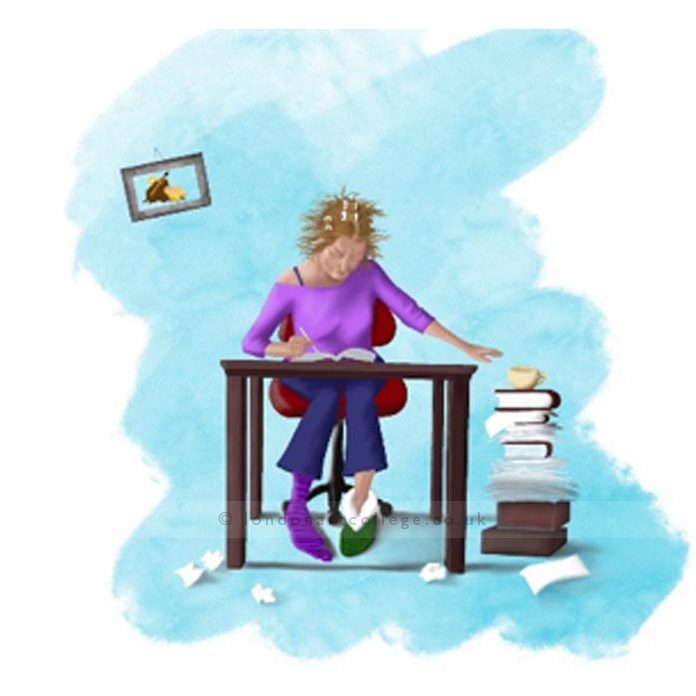 So far, I have completed three assignments on the course.  I don't have a particularly scientific process for developing and preparing the artwork – my process typically goes something like this:
Read the brief
Go downstairs to make coffee
Become overwhelmed by ideas whilst waiting for the kettle to boil
Rush back into the studio to capture my ideas before they disappear
Pause to take a breath, reach for my coffee cup only to discover that I forgot to make any
Boil the kettle again
Go back to the studio (these last two steps are repeated throughout the process)
Eventually I end up with a piece that I feel reasonably happy with.  (When do I know when a painting is finished?  In short, I don't!  My philosophy is that if I find pleasure in looking at the painting after having a break from it for a few hours, then it's probably finished.  Anything more is just 'tinkering' and could end up spoiling it.)
The piece below is an example taken from the first assignment.  The brief was to illustrate a few lines from a song, and I chose "The Devil went down to Georgia" (Charlie Daniels Band).  It's a brilliant story/song, and I had a lot of fun illustrating it.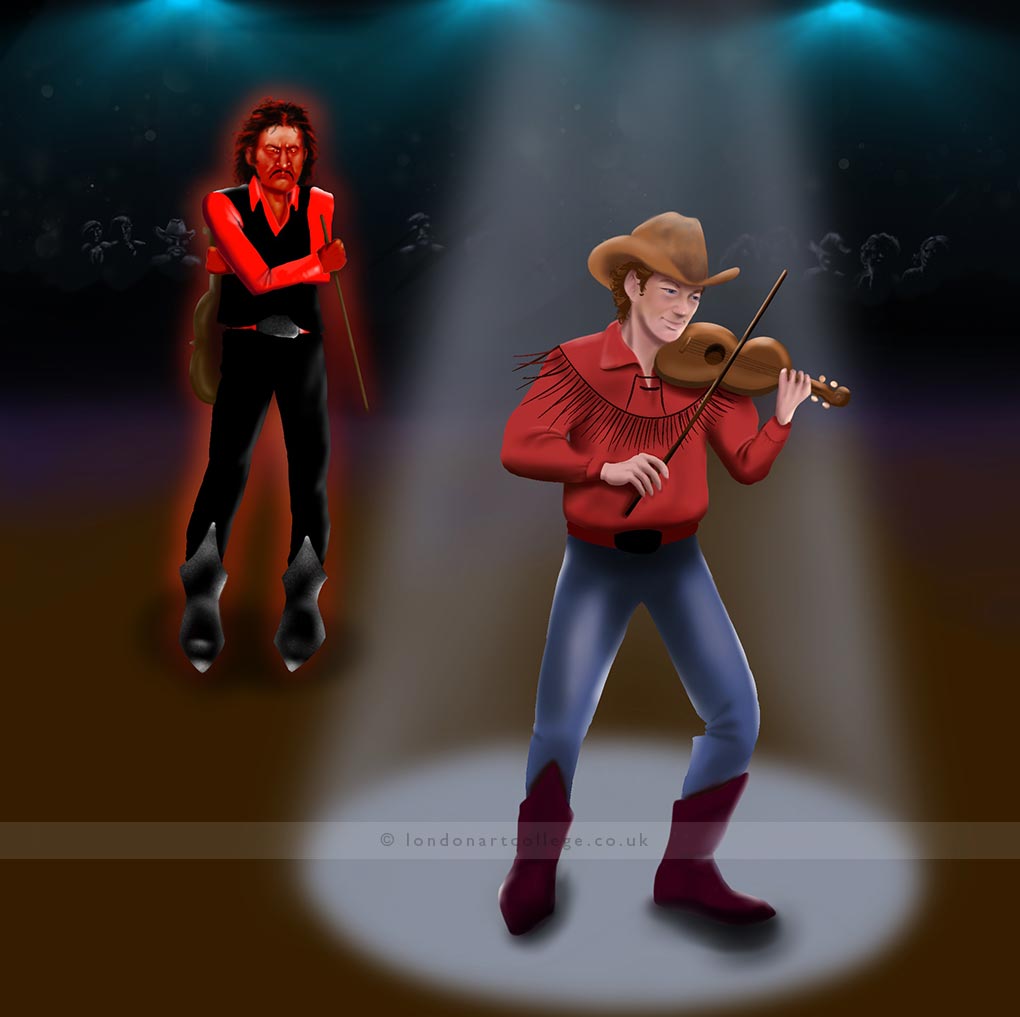 The second assignment was to illustrate a poem.  I changed my approach a little for this assignment.  My first submission was illustrated in a slightly 'cartoon-ish' style, so I wanted to create this one in a more realistic style.  It was tricky deciding what worldly delights to include, whilst not detracting from the poem but I was happy with the result.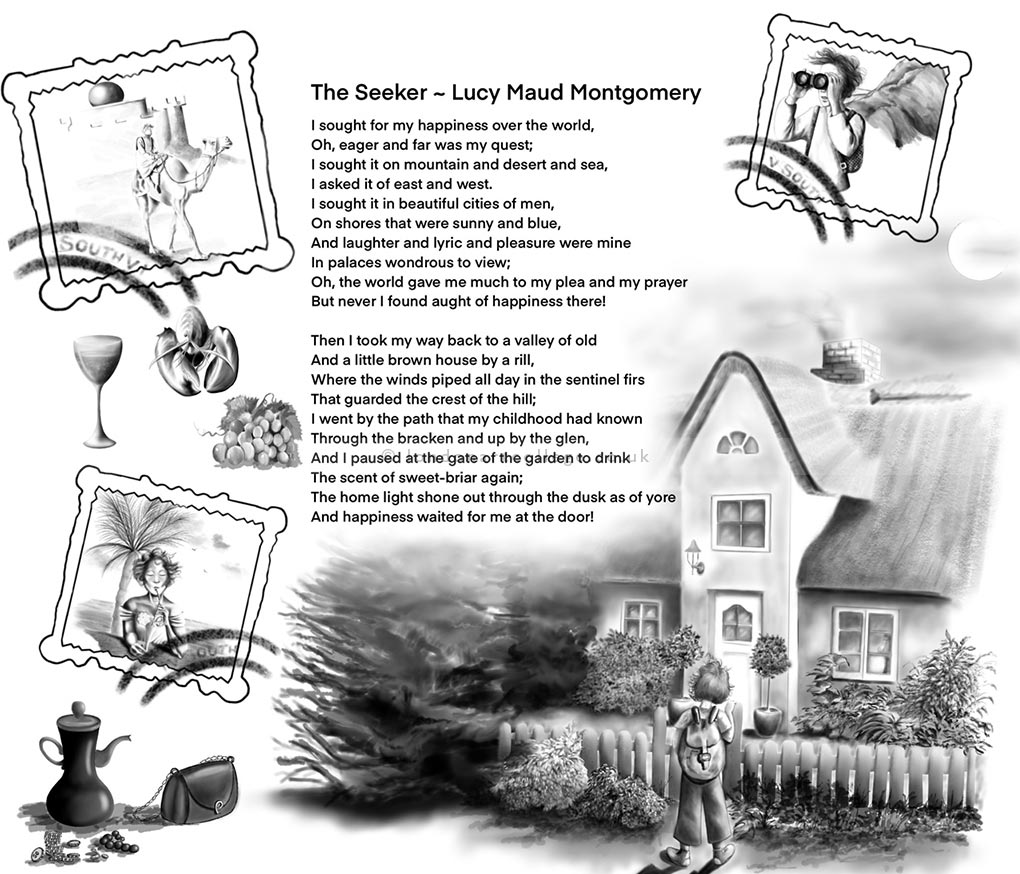 The third assignment involves illustrating chickens.  I have never illustrated chickens before, so I am in the process of gathering references for chickens and am beginning to hatch ideas for my sketches.  I can see it's going to take several 'roughs' before I'm happy – I had better put the kettle on…..
If you would like to receive a roundup of all of our blog posts once a week to keep you inspired in your inbox, why not sign up to our newsletter. You can access our sign up at the top of our page. If you are a London Art College student and you would like your artwork featured here, drop us a line at any time.