Jane Tivey created this fantastic drawing of fruit for one of her exercises on the Pastel Painting course. Jane explains about the artwork below, we hope that our students find it informative and helpful.
I chose to do fruit for the drawing in colour exercise rather than flowers as there's always plenty of fruit in my house! Even though I had used fruit in the previous assignment I felt that the colour contrasts between the fruit selected (clementines, lemons, plums and grapes) gave me more of a challenge.

I arranged them against a tan background (my pencil box actually!) on a desk. I sketched them from life and then transferred the drawing to pale lemon Stonehenge paper – 11" by 14". 

Initially I blocked in the main areas of colour (as per brief). I then actually worked more or less from top left and then sort of down and across until all the main colours were there with darker areas marked. I then completed the study by darkening the shadows and making the highlights lighter. I used inscribe soft pastels along with some Derwent pastel pencils to achieve sharper lines (especially on the grapes!). As the pastels don't have colours assigned to them I can only say that I used the following:

Light orange, mid tone orange and a brightish red for the clementines. Pale and bright lemon for the lemons along with greys for the shadows plus some of the grapes colour. Similarly for the shadows on the clementines I used the grape colours. Dark purple, deep blue (not as dark as indigo) and white was used for the plums. For the plums behind I added a darker brown and blue to make them look as if they are behind. Mainly dark brown and dark blue for the grapes but also used Derwent sepia pencil. The stems of the grapes were mid and lighter green pastel pencils along with Naples yellow. White was used for the highlights plus some, not very successful, lifting out. The shadows on the ground were done using a range of greys. Paper was Stonehenge pale lemon 11" by 14".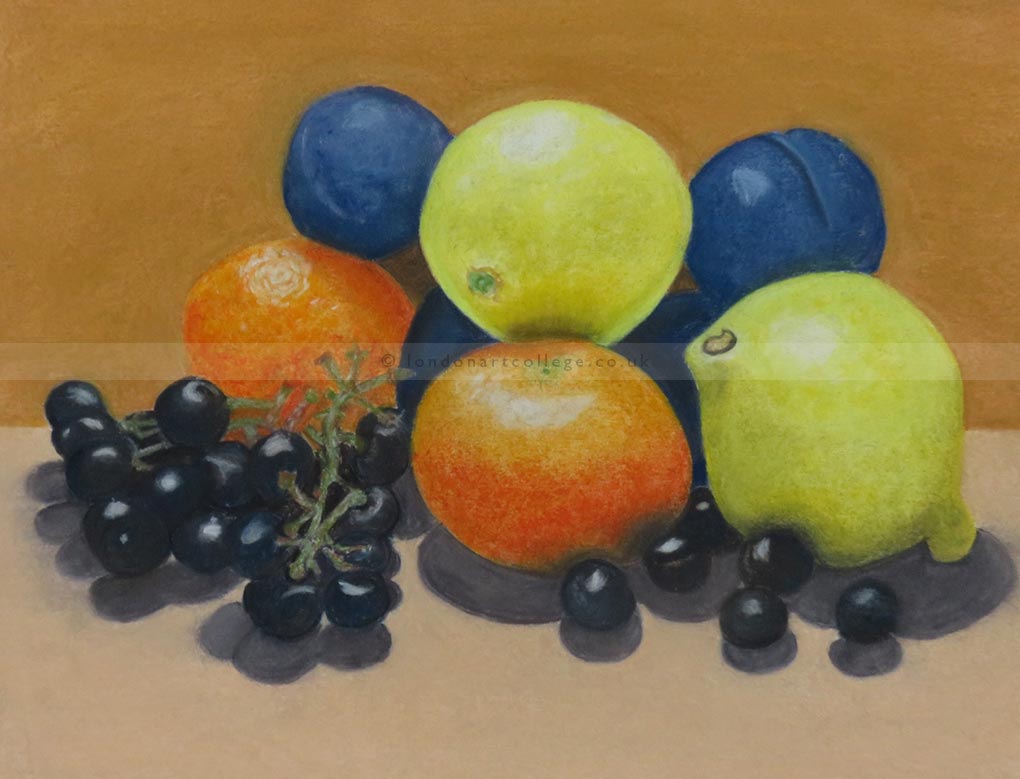 If you would like to receive a roundup of all of our blog posts once a week to keep you inspired in your inbox, why not sign up to our newsletter. You can access our sign up at the top of our page. If you are a London Art College student and you would like your artwork featured here, drop us a line at any time.