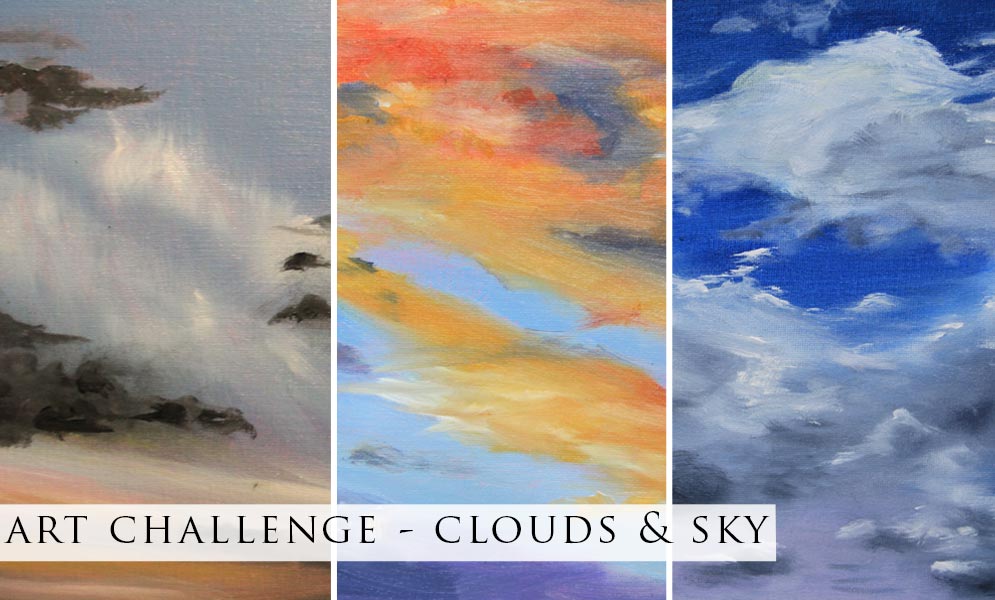 Welcome to our weekend challenge and today it is all about sky and clouds. We all have access to look up at some point in the day wherever you are in the world. Whether is is a beautiful blue sky, a rainy sky, misty, early morning bright rich colours, late evening warm tones, angry thundery clouds or beautiful sunsets. We experience some form of these each and every day that we are going about our daily business. But do we actually look up and notice them? Do you see the shape of the clouds, their colour, form and pattern? We hope this week you will!

Whether you choose to use colour to portray them, draw using pencil or charcoal, take photos or make a collage using wet in wet wash cutouts, the choice is yours. You could even try to portray the night sky with a full moon! You can be as creative or as realistic as you would like.
The paintings below were created by student Katy Johnson whilst studying on the Landscape Diploma Course. They give a good insight to the varying cloud and weather formations during different times of the day that Katie experienced. We are very much looking forward to seeing what your come up with!