Anthony Tilt is currently working through our Watercolour Online Art Diploma Course. He has recently created these three wonderful watercolour paintings for his assignments. We thought we would showcase them here on our college news blog as inspiration for our students.
Anthony's first painting below is of the high street in Malvern, UK. We absolutely love the colours that Anthony has used, they depict a beautifully sunny day and make for a very inviting painting. Anthony has used lighter colours as the buildings recede to help with the perspective of the scene – this is perfect! A very successful painting and one that when framed would liven up any room in the home.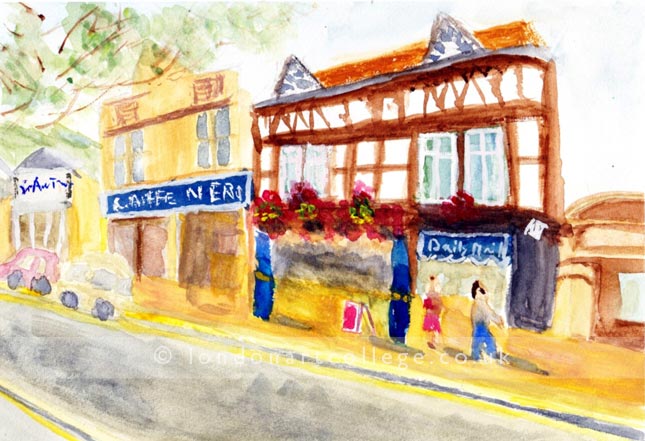 Anthony's next painting is of Queen Square in the centre of Wolverhampton, UK. Anthony drew a very quick sketch to start with, using very little detail, as a preliminary study. This is always a good idea as prelim drawings can really help you familiarise yourself with the scene. In this instance it has allowed Anthony to understand the perspective and the windows on the buildings.
Anthony then followed the sketch with a monochrome painting of the scene. He said…
"The painting is a monochrome study using Vandyke Brown in various shades. For the contrasting colour I used a mix of Cadmium Red watercolour and a lot more of Zinc White Gouache which I applied to the windows of the building on the far left hand side of the picture."
The painting has a lot of vibrancy within this tones and is a wonderful study. Monochrome paintings and drawings are a great idea for our students to experiment with. Why not experiment this technique using any colour – for instance all blues, reds or yellows etc.
If you would like to study with us on our Watercolour Online Art Diploma Course, why not pop over to our website and take a look at our courses.