Arlya Tuckey is currently studying our Colour Awareness Online Art Course with tutor Alan Dedman. Arlya is studying with us from her home in Australia and is also completing our Diploma in Drawing and Painting too.
Choosing, mixing and identifying colours is an extremely important skill to learn. Anything you decide to draw and paint, whether it be a landscape, person, dog or still life – you will need to interpret the colour that you see on your paper or canvas.  You will need to identify the correct colour and tone to be able to mix the it on your pallet or layer it using pastel or coloured pencil. Even if you are drawing in black and white – you still need to understand the tones of the scene. Colour mixing is one of the most difficult areas to master and something students struggle with most…but we are here to help students master this skill!
Colour Awareness Online Art Course
Our Colour Awareness course, can work along side your other courses and help you look at the colours in the world around you. It will help you identify why certain colours work together and why others don't, which colours recede into the distance and which colour mixes come forward.  For instance look at Arlya's study below. It uses three basic colours. Which colours do you see within the scene come forward and which recede?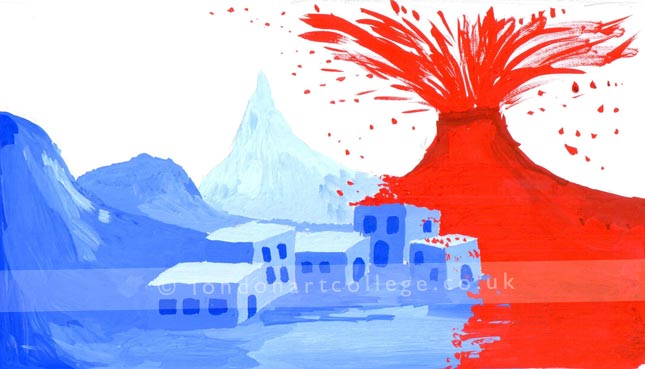 The Colour Awareness course also gives students the confidence to use colour. Students can be very tentative in laying colour down on a white piece of paper or canvas. If you are just starting out on your art journey and are worried about colour and mark making, our course can help you overcome this in a fun and interesting way.
We hope you enjoy viewing Arlya's artwork here and we look forward to seeing you on the colour awareness course soon. Why not pop over to our website and check out courses and Alan Dedman who tutors this course. He is very skilled in colour mixing and understanding colour. London Art College >>