Aaron Blaise is a proficient artist and has made many 'how to draw and paint' videos, which are available to view on his YouTube Channel. We have chosen the one below for our 'Video of the Week' this week. It shows how you can draw using your eraser. Aaron is using a photo of a Gorilla, however you can choose any subject or object to work from.
This is actually a great exercise using a still life style set up too. Choose some interesting objects with strong shapes and edges and place them on a table next to your easel or drawing area.
You might like to do a few preliminary sketches to see which composition of the objects you prefer. Then cover your paper with charcoal and start drawing the outlines and tones of the objects using your eraser.
Lighting can be important and why not make things a little more dramatic by adding a light source onto the objects. For instance an angle poise lamp will work well, so you get some lovely strong shadows and bright highlights.
A putty eraser is most often the ideal to use as an eraser in these kinds of exercises, as Aaron explains in his video, however did you know you can also use bread as an eraser too?! Mould the soft part of bread and start erasing away.
This can be quite a messy project so always be prepared and cover / protect your floor and work area as required. Most of all have fun and we hope you enjoy the video!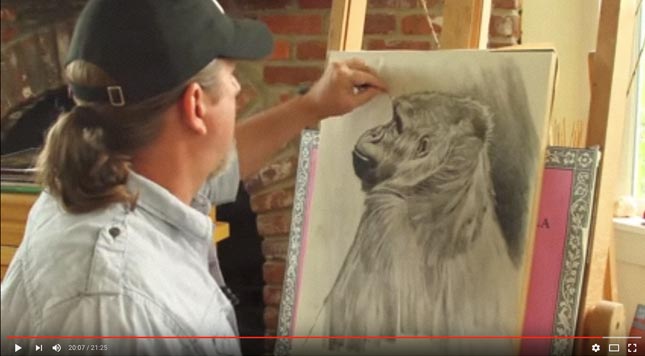 DISCLAIMER: Please note that LAC cannot be held responsible for the content of any external sites or their content.