We have received this wonderful write up and artwork from student Hazel Morley's final set of work on the
Illustrating Children's Books Diploma Course
with Maggy. We hope our students enjoy the read and find it inspiring!
————————————-
I am a teacher of English as a Foreign Language, normally working between a private academy in Asturias, Spain, and the University of Hull, UK. For the last two years I´ve been studying art part-time in a small art gallery near my flat in Asturias, where I also taught Crafts in English classes. I had written and illustrated some short stories for the children in the classes I teach, and decided last year to combine my teaching and art experience by studying to become an Illustrator of Children's books.
This illustration was my final project for the Diploma in Illustration of Children´s Books. The brief was to illustrate a double-page spread about an animal who, after a long search, finally found a home.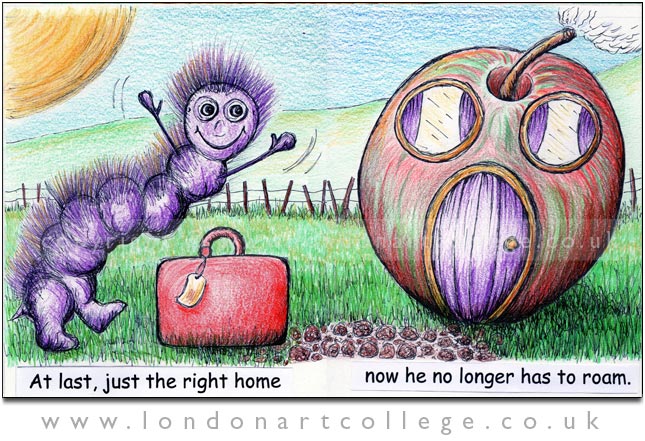 After coming up with, and discarding, many ideas, I settled on a caterpillar for animal, because it´s bendy form means it easily works in many compositions. For the home, I initially thought about chestnuts, because I was eating them with friends the other night, and we found quite a few grub in them! However, in the little grocery shop by my flat I saw some beautiful red Asturian apples, and thought no caterpillar would resist having a chomp on them. Such a delicious fruit would make a perfect home for a caterpillar!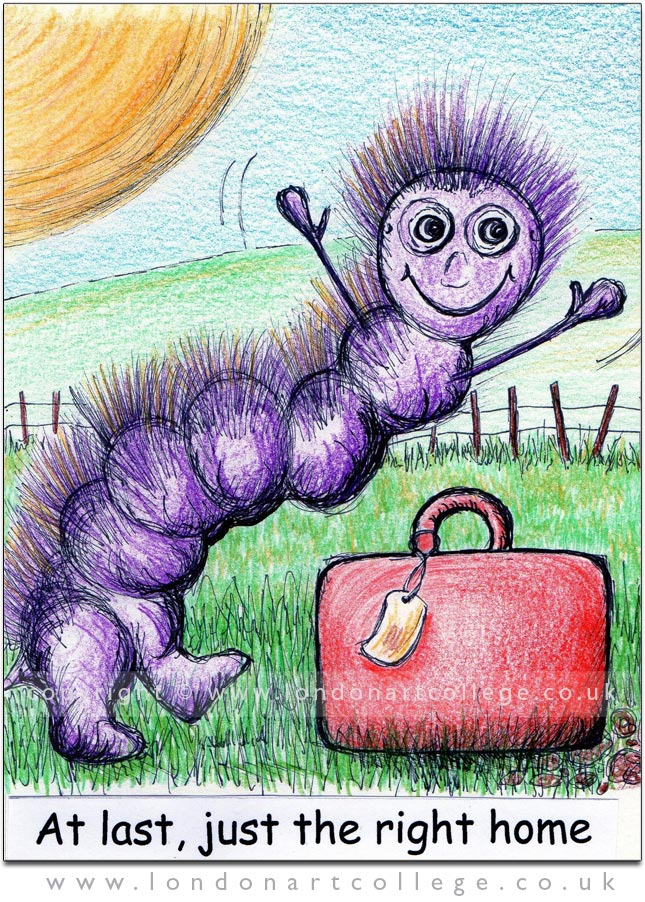 I did quite a few sketches of caterpillars and apples separately, working from some photos of caterpillars that I took in the park last summer, and the apple I bought in the shop. Then I photocopied the sketches I liked best, cut out the images and played with moving the cut-outs around on a background to decide on the composition, which had to be fairly simple due to the text-space and the central fold.
After I was happy with the composition, I transferred it to the final paper using pencil, then inked it in with a fine black liner, keeping the strokes relatively loose. Finally, I coloured in the work using coloured pencils. I decided to draw attention to the suitcase with the red colour, as it had finally been set down out the end of a long journey in search of a home, and tried to use the same colours over the two pages, to unify the caterpillar, the suitcase, the apple and the background.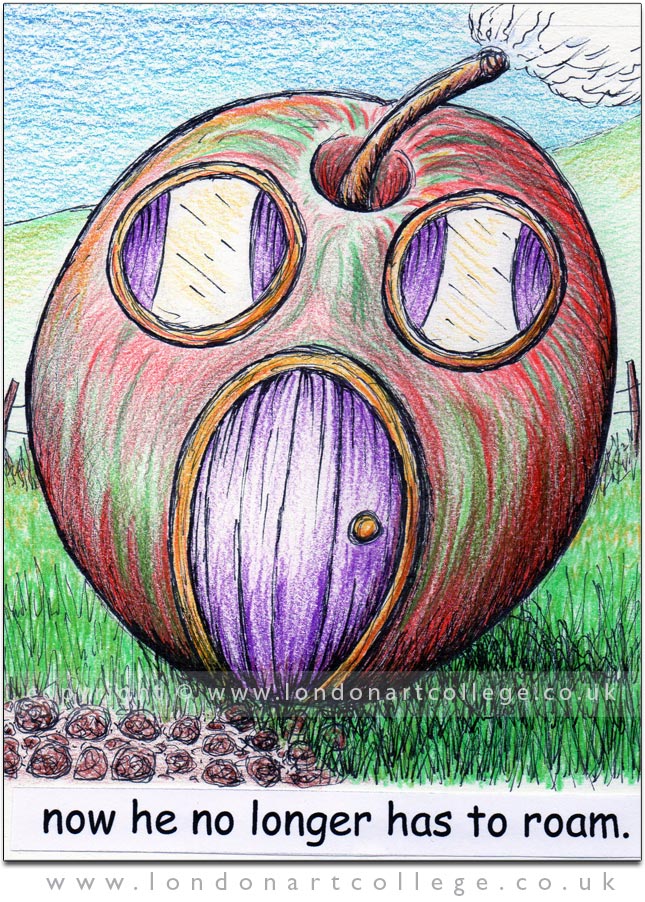 Hazel Morley
Illustrating Children's  Books Diploma Course