We have received a wonderful story / artwork from one of our current students Astrid Nielsch who is currently taking the Science Fiction & Fantasy Certificate Course (C13) We hope you enjoy reading and viewing Astrid's wonderful sketches and artwork.
=========================================================
My name is Astrid Nielsch, I am enrolled in the Science Fiction & Fantasy Art course taught by John Byrne. I am about halfway through the course now. Up to this point, I have been largely self-taught as a visual artist: the main reason I signed up for the course, was to find out what I have missed by not going to Art School. So far, I have been finding it very useful in pushing me out of my comfort zone, and challenging me to try things I might not otherwise have attempted. Some of the works created for the course really make a strong addition to my portfolio!
I have been interested in Fantasy and Science Fiction, and also in physics and astronomy, ancient cultures and mythology, since I was a teenager (a little while ago). My A levels in high school were Physics and Ancient Greek, and my professional ambitions, at one time or another, included physicist, astronomer, or archeologist – but then I very wisely decided to become an artist instead: I originally studied music, and have been active as a professional performer for many years.
I now live in a rural small town in New Zealand, about an hour outside Wellington (of "Lord of the Rings" fame) – but I grew up in Europe: mainly in Germany, but I have lived in a few other countries, including a three year spell in Brazil and a formative year in London, and I have traveled a lot, with my family, and through my work as a musician. On many of those travels, I would carry a sketchpad, rather than a photo camera: many of the sketches I did were of old buildings, so the assignment I am going to talk about really brought back an old passion!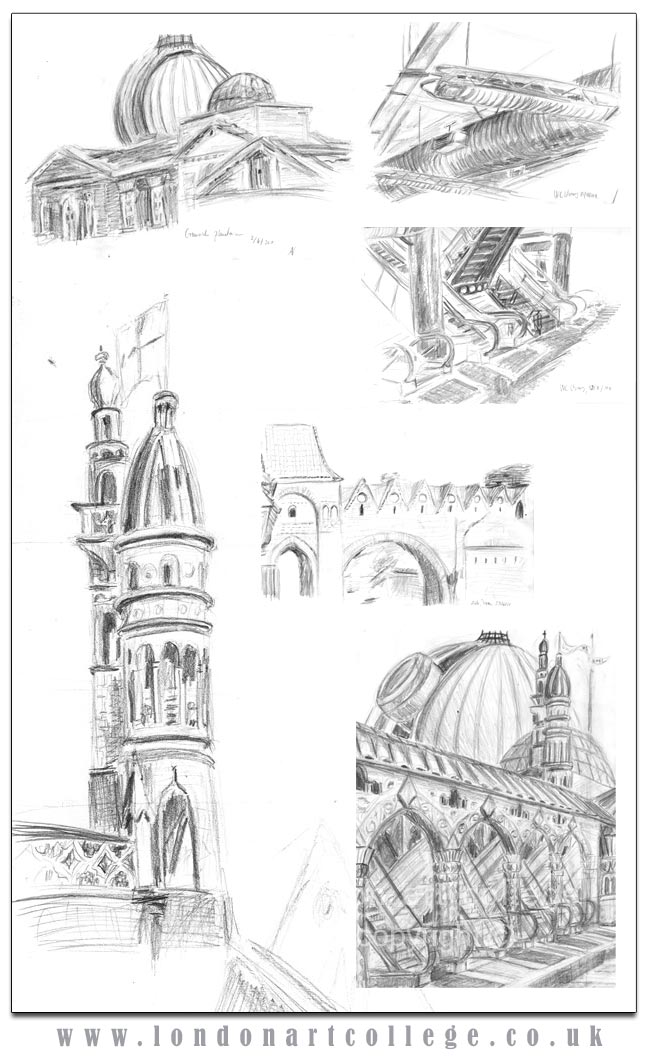 The task for this assignment was to make some sketches of buildings "that look at least a hundred years old", as well as some modern shapes and materials, then combine these elements in an imaginary building, perhaps on another planet.
New Zealand has a lot of inspiring visual features: landscapes, plants, geological formations – but there isn't exactly an abundance of interesting old buildings! At least, if like me, you have been spoilt by living and traveling in Europe half your life. So when I went to visit my family last June, I made sure to pack a sketchbook, and I planned some side trips that would take me past some sketchable architecture.
My flight was to London Heathrow, so it was easy to plan a few days in London. When I had lived there, I had never managed to visit the Greenwich Observatory, so this was a high priority item on my "Things to See and Sketch" list. You may recognize the shape in the finished image!
After a short detour to Yorkshire and Cardiff – giving in to my fandom for the Brontë sisters, and Doctor Who/Torchwood, respectively – I took the train to Belgium and stayed with an old friend and fellow musician in Brugge. I had been looking forward very much to spending an afternoon sketching in this gorgeous old town, but unfortunately by that time I had come down with a bad cold, so the only sketch I managed where those two gothic turrets, but they also ended up in the final composition for the assignment. I also took a number of photos, which I used as reference for the textures on the façade. Of course, I could have worked from photos all the way, but it wouldn't have been half the fun! 😀
One of the medieval city gates in Torún, Poland (which I visited with my parents because my mother had lived there as a child) inspired the shapes of the arches, though I deviated from the original sketch to the point where it is hardly recognizable.
I might have grabbed the opportunity to sketch some modern architecture in Berlin, where my parents live – they've built up an entire new government quarter since I last lived there! – but I left that part of the assignment until I was back in Wellington. Seeing that June/July is the middle of winter around here, I opted for an interior – Wellington City Library offered just what I needed, an interesting ceiling structure that lays bare some of the building infrastructure of heating and lighting and structural supports, and a rather nice escalator staircase, which I ended up using in my assignment. Escalators are such a defining feature of contemporary architecture, yet somehow we rarely think about them as something worth sketching.
The assignment specified that the work should be a pencil sketch, but after I had finished the sketch, I felt an itch to give the image a proper Sci-Fi twist by putting it under an alien sky, and use some colour. The final version is a digital painting done in Photoshop with a Wacom Intuos tablet. For the background, I used an astronomic photograph of the Orion Nebula by David Malin as my main reference. http://www.davidmalin.com/
I have always wondered how things might look on an alien planet with a different solar spectrum and a different atmosphere: the light spectrum would likely be quite different from Earth.
So here it is: The entrance to the Experience Library of the "Earth Studies" department of the University of New Earth, a building from the early 52nd century. Experience libraries, as the name implies, collect experiences – the very building allows the library user to experience some typical Old Earth environments. Not only does the building reference some typical historical Earth architecture, the inside of the building simulates an Earth environment, complete with ozone blue light. Note that this is a transdimensional building, i.e. the inside is bigger than the outside. Those Old Earth escalators actually do go somewhere.
I did mention, did I not, that I am a big fan of Doctor Who 😀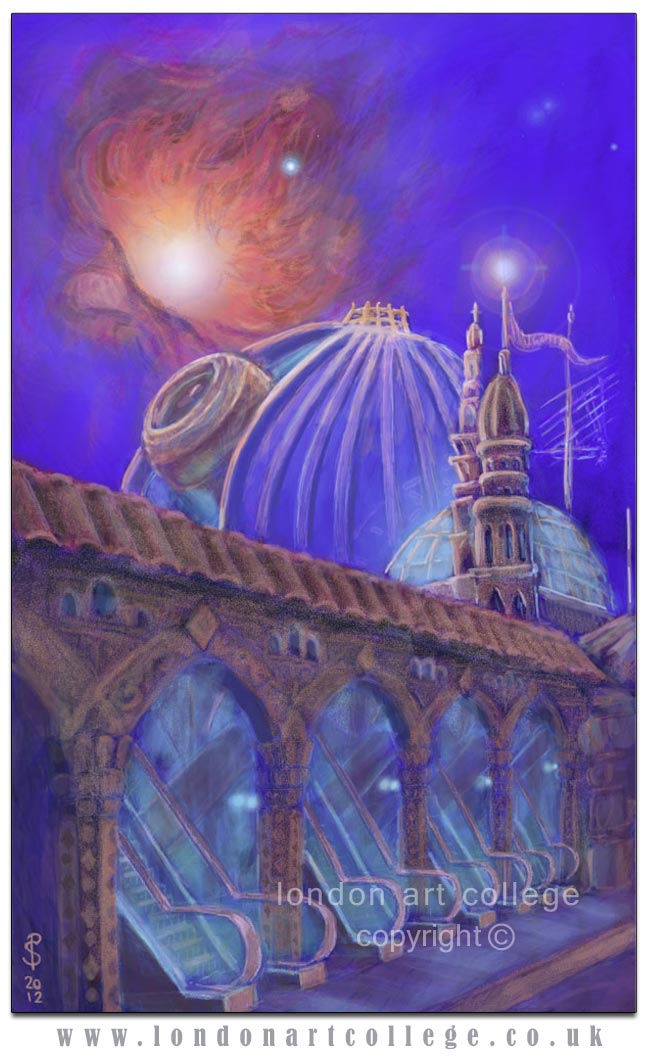 by Astrid Nielsch  Science Fiction & Fantasy Certificate Course (C13)