Sarah Bowie has been extremely successful in the time she has been completing the Children's Illustration Diploma course. Sarah's work is featured in our student gallery and one of her final pieces for the course is depicted below along with a guide of how Sarah created this unique piece of artwork. Sarah has very kindly written a piece for us below and we are thrilled that she has already completed a set of illustrations for a book. We wish Sarah all the best in her future career.

Like so many people I had no idea what I wanted to do when I left school at 17.  Rather, perhaps I knew deep down what I wanted to do, but was overwhelmed with what I should be doing.  Even though I had spent my childhood drawing and writing stories, I ended up studying marketing, which is a subject I had absolutely no affinity with whatsoever.  Of course, the moment I graduated and began working in financial services I realised what a terrible mistake I had made.  It was a slow, long journey – attending life-drawing classes in the evening after a very stressful day in a busy bank.  I thought about going back to art college full-time, but not only was it very expensive, I just didn't feel it was right for me.  After several years of experimenting with various painting and drawing techniques I realised what I wanted to do was children's book illustration and ultimately writing too.  I knew that this is what I had been searching for all those years.  However I found it incredibly difficult to remain focused and put a portfolio together.  I'd get disheartened and give up on pieces before they were finished.  That's where London Art College comes in.  I was idly surfing the web one day when I stumbled across this distance-learning course in children's book illustration.  I signed up straight away!  The course was well structured and gave sample briefs similar to what one might get in real life.  Jan, the tutor, was always friendly and encouraging and really helped me to build confidence in my own ability.  At the completion of each brief I felt a great sense of achievement, and had something tangible to put in my portfolio.  Just before I finished the course I got a commission to illustrate a picture book for a small publishing company.  I'm busy working on that now, and I really feel that Jan and the London Art College were instrumental in helping me to focus and build confidence in my work.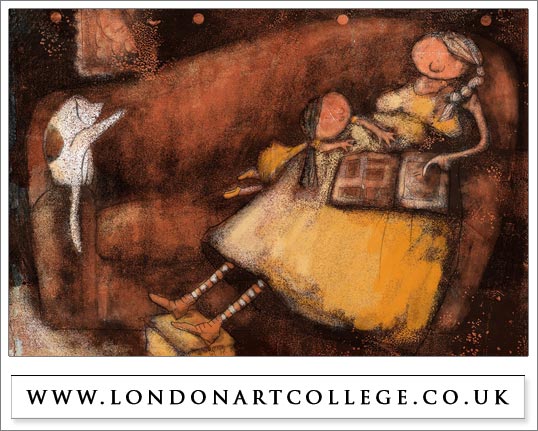 Info Regarding 'Singer of Starlight'
I really wanted to get a 'worn' feel to this picture, like an old print.  While I love working digitally, I love the textures you get from prints, paint and pencils that I just don't think you can fully emulate digitally.  There was no plan as I approached this piece, just a lot of playing about.  Here's what I did:
A pencil drawing (ie girl and granny) done the 'old-fashioned' way on paper and scanned into photoshop
A sheet of sepia watercolour on thick, spongy paper which I tore into with a compass needle and scalpel (to add texture)
A monoprint (simply black printing ink on an acetate that happened to have holes punched in it)
I scanned these in in layers beneath the line drawing, and played around with  rubbing out here and there so that some areas show more sepia and some more black ink.
I then over-painted with various photoshop brushes to fill in the characters and add in more black where needed.
Really this was just a lot of experimentation.  It's handy knowing how to use photoshop and then being able to combine it with more traditional techniques.