Andrea is one of my students on my Pet Portrait Diploma course and As I opened up her work for assessment I saw a wonderful image, hand drawn on a double page of an old book. I was absolutely thrilled to see this inspiring drawing in front of me. I always trying to encourage my students to think for themselves, to think outside the box, go beyond the normal boundaries. Many artists just seem to blend in with each other because they produce the same work in the same style and I try to encourage everyone to be an individual. Andrea has done just this and its a great start to her course. Try to stand out in the sea of artists on the Internet and people will remember you.
I asked Andrea if we could have a back story to her drawing for our blog on how she created the image and I hope that you are not only inspired by her words below but also moved too.

Because of a Storm

I work as a graphic designer for more than 20 years. When I was a child, I used to draw all the time, because my father, despite of being a doctor, is a great artist. After 12, I don't remember drawing any more. Last October I went to Rome to visit my aunt and, as I was going to spend more than a month, I searched a drawing class. After 5 lessons, the teacher encouraged me to start oil painting. As I'm asthmatic, I never thought I could ever use oil tints! But she showed me Artisan, from Winsor & Newton – the odourless tints, mixable with water. I remember that my hands were trembling as I painted the first picture with the teacher's tints. I came back to Brazil – where I belong – and decided that I would give a chance to art. As I LOVE animals and nature, I found Melanie and her incredible pet portraits on web.

Two weeks ago, I went to visit my parents and couldn't come back because of a terrible storm. As I had spare time, I decided to start the first set of Melanie's graphite exercises there. I didn't have proper paper at that moment, so I remembered that I had read this on Melanie's proposition: "Make your drawing unique." So, I asked my mother if she had some recipe book from my Grandma. I chose 2 pages (approx A5 size each): one with a biscuit recipe and other with the word "Tortas", wich means "Pies". Then, I choose 3 small kitchenware: glass jar – that my mother filled with milk – , a bowl with 3 eggs and a whisk. I put all of them on a table with a sheet of paper as background and started trying to create a shadow with a strong light source. I had lot of difficult to reproduce the scene – because I'm not used to draw – and was not sure if Melanie would accept it, as I used that odd paper…..It was delicious to draw while my parents were watching TV. It seemed old times…. I forgot for some hours That I have a husband and kids…..Suddenly I was a child again…..

My Grandmother died some years ago. She was a strong character lady that loved to cook and left her recipes, which are prepared now as a way of not forgetting her. Nowadays I can tell that I admire her. But when I was a teenager, we used to discuss sometimes. As she was born, her mother died and because of that, she was raised up from her grandparents. Life was not easy for her till she met my Grandfather. I think that this contributed for her difficult personality. She is always with me, as I carry her golden medal on a necklace all the time. Art. I don't know where it will take me, but this road brought magic back to my life!  Andrea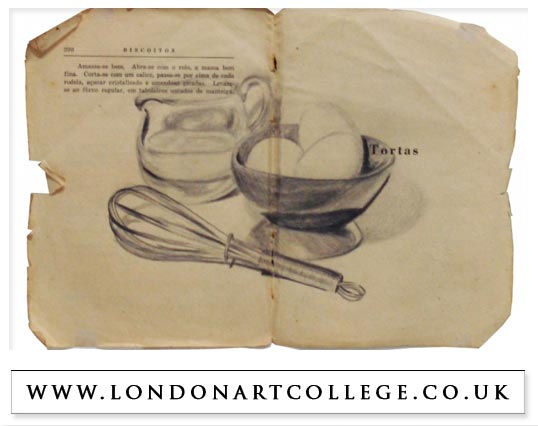 Andreas Drawing above and her grandmothers book below.