Student Jane Tivey completed the Pastel Painting course and these are just a selection from her later assignments. We have added some text to go along with each painting for students to read about the artwork and find out which papers, pastels and pencils along with the colours that Jane used. We hope that you find it helpful and insightful.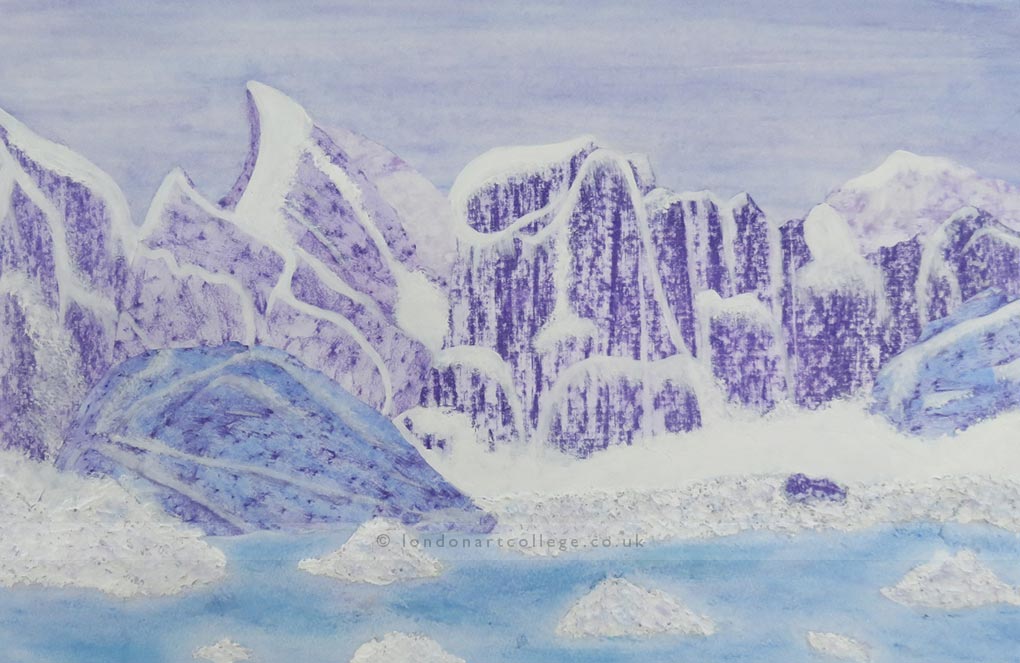 Scene using Frottage
I wasn't quite sure how to approach this; I found it quite difficult to find textured surfaces to use! I found a few but then decided I would make my own. To achieve this I used chopping boards with mainly breadcrumbs and sea salt granules scattered on them augmented by rubs of the (very badly marked) dining table. These gave me quite a few different rubbings. I used small A5 sheets of photocopy paper.

Base was stretched NOT 140lb watercolour paper; stretched size 52cm by 34cm. Rubbings, using SAA soft pastel, were on photocopy paper. Cut to size to fit the image required.  Pan pastels and SAA soft pastels in blues and purples were used. Additional items were sponges, white acrylic paint, acrylic paintbrushes and a toothbrush, plus acid free glue!

Having been very reluctant to start this I found that I really enjoyed doing it; took ages to decide on the scene but as I love icy mountainous scenes I probably made the rubbings fit this idea! Must admit skeletal trees were another option.

Initially I was reluctant to use the acrylic paint but in the end decided that this assignment was really aimed at freeing up your imagination and experimenting with how pastels could be used with other mediums (including water) so went for it!

Sketching in the scene helped and whilst the final picture adheres to the main areas sketched it sort of changed a bit as I found more rubbings that could be fruitfully used.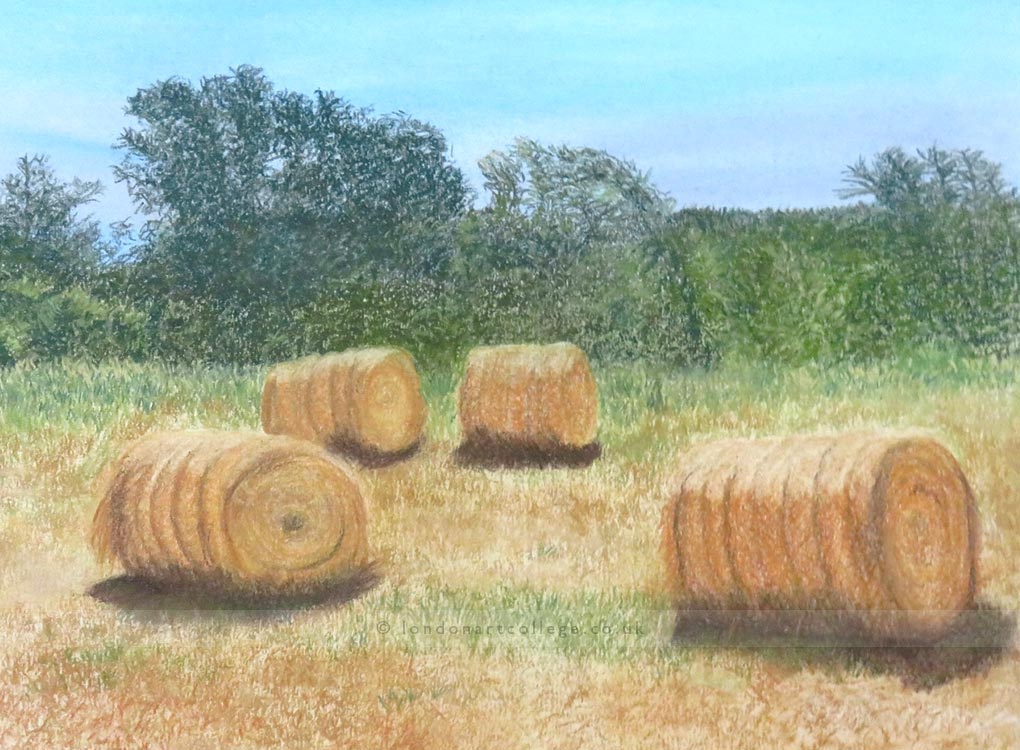 Landscape – Hay Bales in Field
I was fairly pleased with the finished picture considering how challenging I had found it. I did realise that the hay bales weren't in quite the right positions when I was part way through. I debated whether to start again to position them more accurately but decided that I had put too much into the picture so far and as an overall composition I felt it still worked! 
In conclusion I felt that this was a good learning experience but didn't make me want to do many more landscapes! Paper – Cream Canson Mi Teintes – smoother side. The size of the drawing is 38cm wide by 29cm deep.  Pastels – I used a selection of soft pastels including SAA and Unison soft pastels. I can't specify the actual colours as they're not identified on the pastel! I also used a few pastel pencils (Derwent and Pitt) along with some conte hard pastels.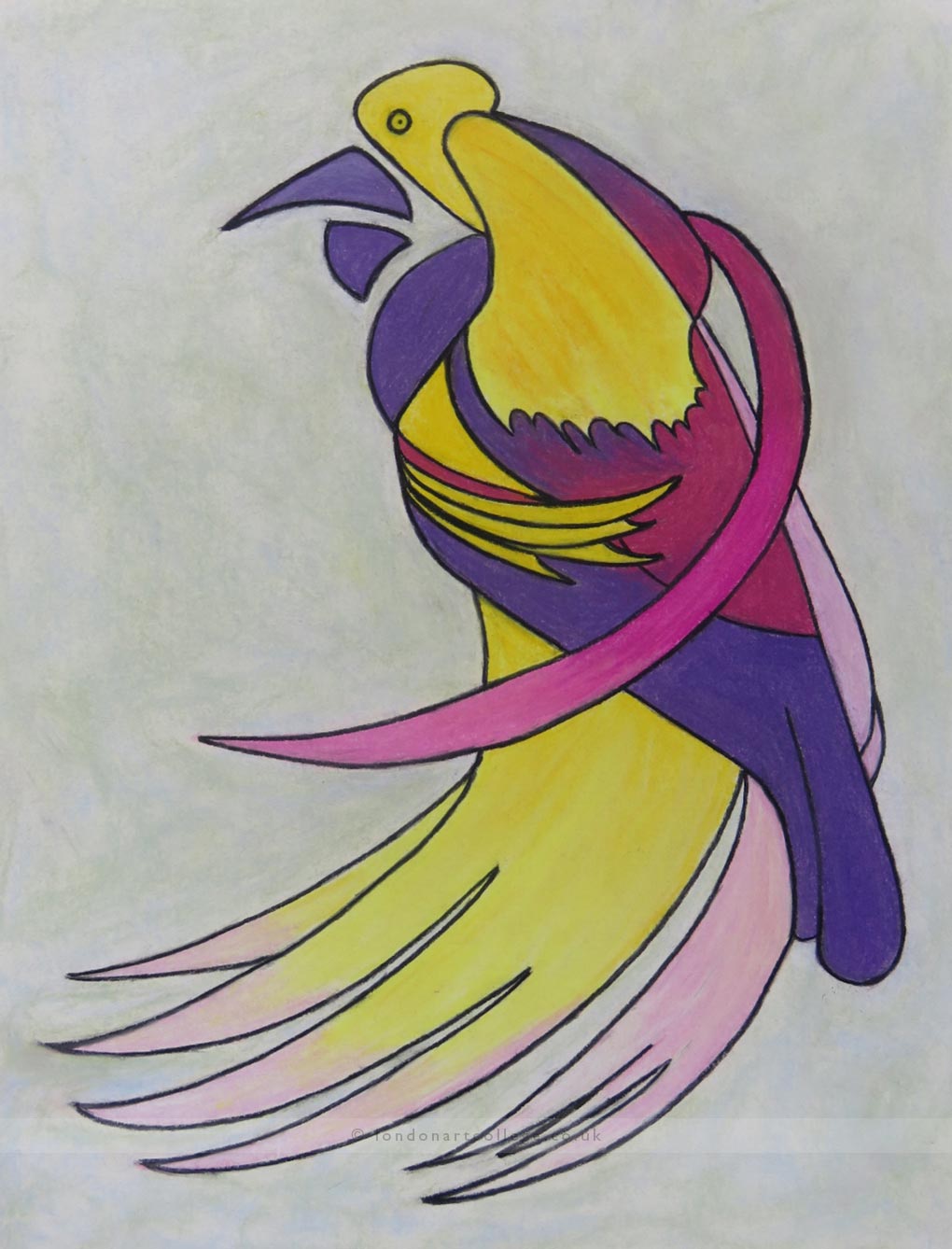 Bird
I decided to try and capture the essence of the bird in terms of the shapes that could be found in the head, neck, wings and tail using colours fairly close to those in the photo but brighter. I initially did some sketches on drawing paper – drawing out the main areas from the head etc. I was particularly keen not to lose the beautiful curve and flow of the tail feathers. Having reached a point where I was reasonably happy with the drawing I transferred it, using tracedown, a light butter coloured sheet of Stonehenge – 10 and 7/8" by 14. Colours used were more or less as seen – the dark purple with the magenta for most of the body with lemon yellow and pale yellow along with some pinks for the tail feathers.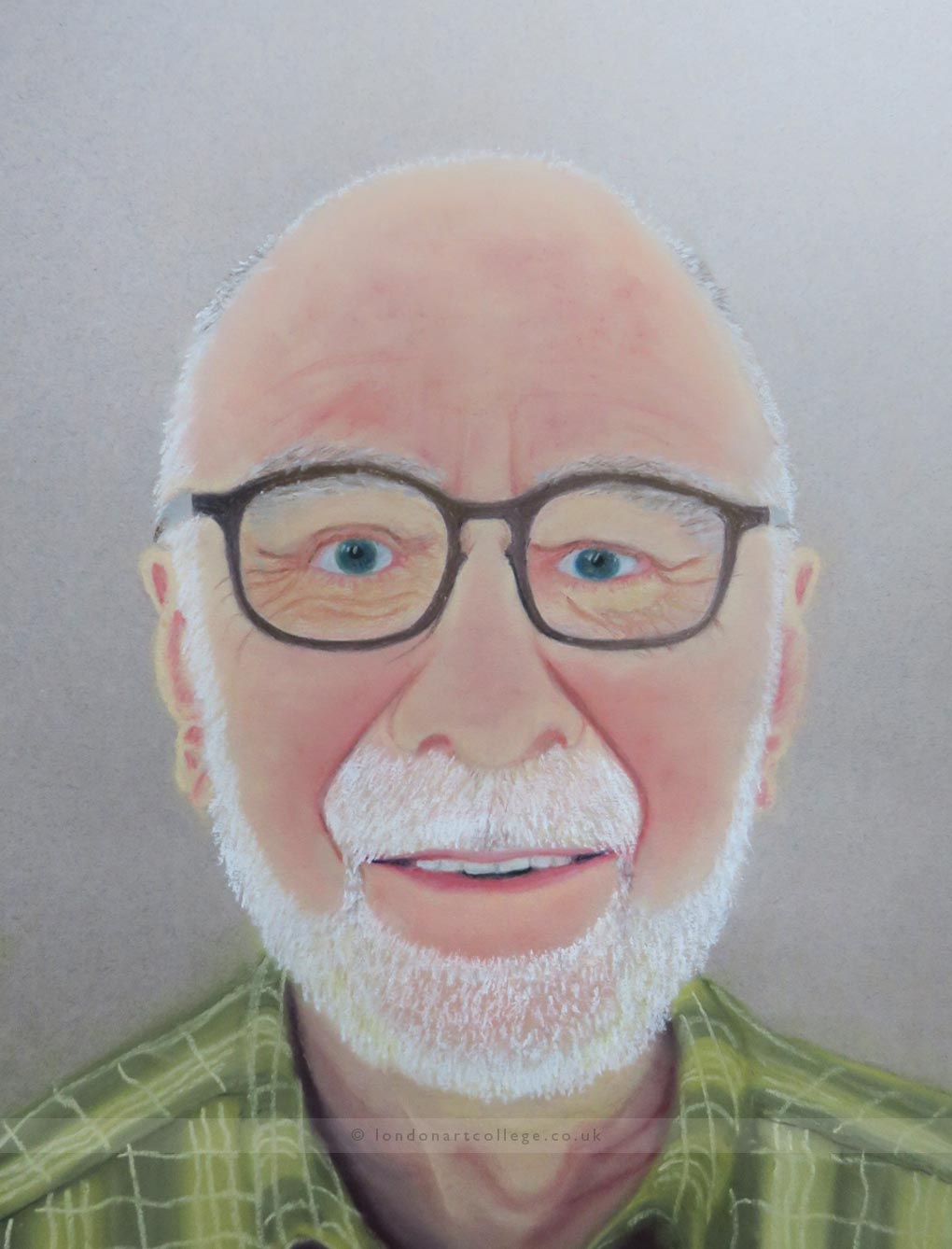 George
This was probably the most difficult from the set of exercises. After trying to find a suitable photo I finally decided to take one of my husband (I do wish I'd made him wear a T shirt on though!) I was quite pleased with the final picture although, to me, there is something about it such that, whilst I recognise it as George it's not quite right! I think it may be because the beard above the mouth is not quite the right shape and the distance between the nose the mouth seems longer than it should be. But I did check against the photo and it seems to be a match!
Paper used: Canson Mi Teintes – smoother side. The size of the drawing is 24cm wide by 28cm deep. Pastels – Pastel Pencils, Mainly Derwent:  Skin, Lips, Teeth, neck – Cadmium Red, Yellow Ochre, Terracotta, Dioxozine Purple, Burnt Sienna, Flesh, Pale Pink, Titanium White, Seal Eyes – Ultramarine, Seal, Black, Olive Green, Indigo. Beard, Hair & Eyebrows – Aluminium Grey, French Grey Light, Titanium White, Raw Umber, Yellow Ochre. Glasses – Choolate, Raw Umber, Black. Paper – Canson Mi Teintes, smooth side, moon stone. 32cm x 41 cm.
If you would like to receive a roundup of all of our blog posts once a week to keep you inspired in your inbox, why not sign up to our newsletter. You can access our sign up at the top of our page. If you are a London Art College student and you would like your artwork featured here, drop us a line at any time.