It all starts with colour. #ItStartsWithColour
All students receive 20% off Chromaflow Pencil Collection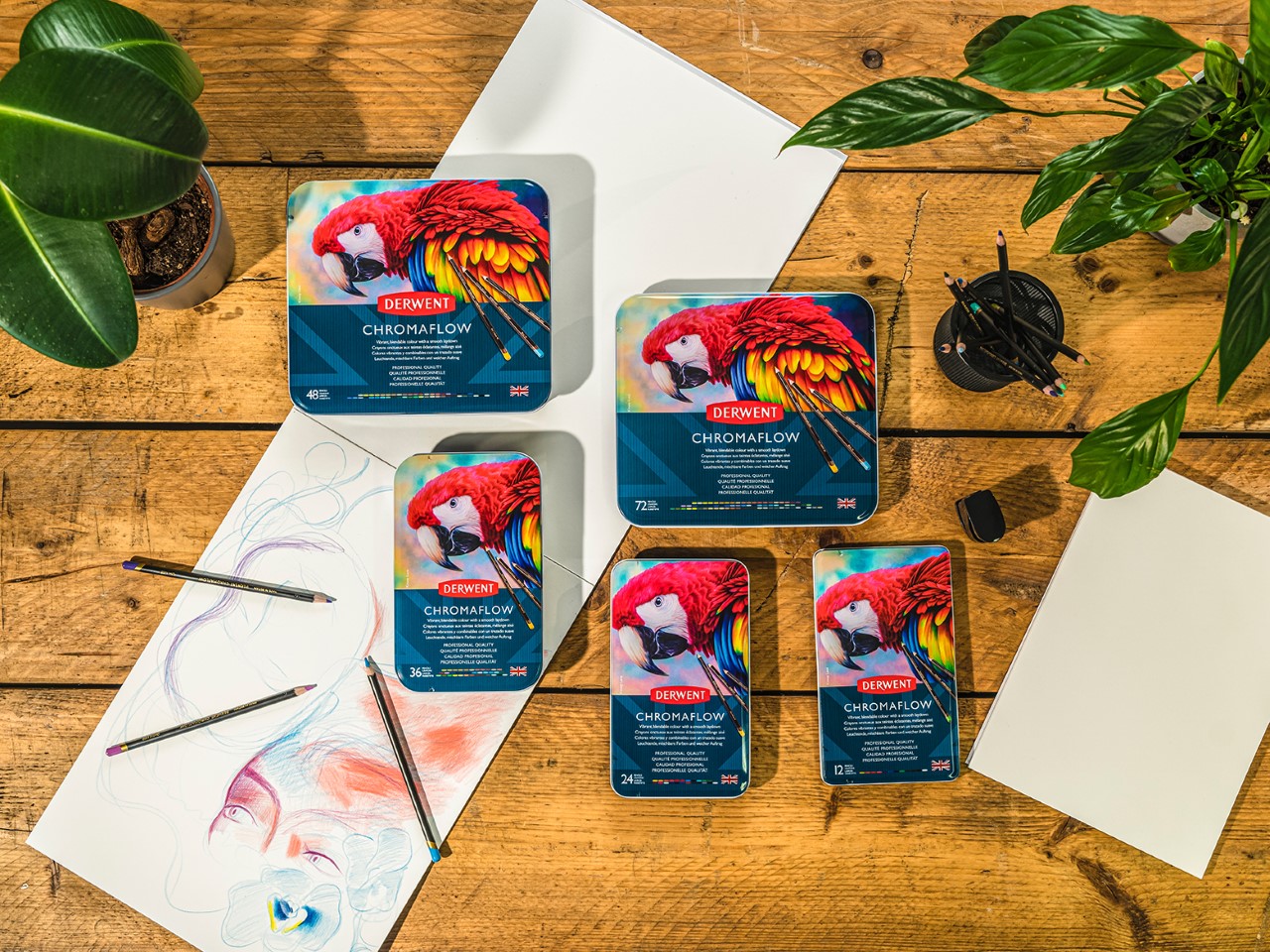 From 4th April 2022, international fine art brand Derwent are launching their extended Chromaflow Pencil collection, available in sets of 12 to 72 pencils on derwentart.com, in art stores, and on the Derwent Amazon store. Currently available in tins of 12 and 24, the Derwent Chromaflow Pencil collection will now include 36, 48 and 72 pencil sets with brand new colours. Recommended retail prices range from £19.99 for the tin of 12 Chromaflow pencils to £119.99 for the set of 72.
In three words, the Derwent Chromaflow Pencil collection is…
Colourful: With its rich and vibrant colour palette, the Derwent Chromaflow collection is a playful and expressive pencil range.
Crisp: Each pencil is highly pigmented to deliver striking work that even stands out on black paper.
Creative: The creamy core can deliver a smooth, rapid laydown that can handle pressure and resist breakage, making easy work of blending and shading.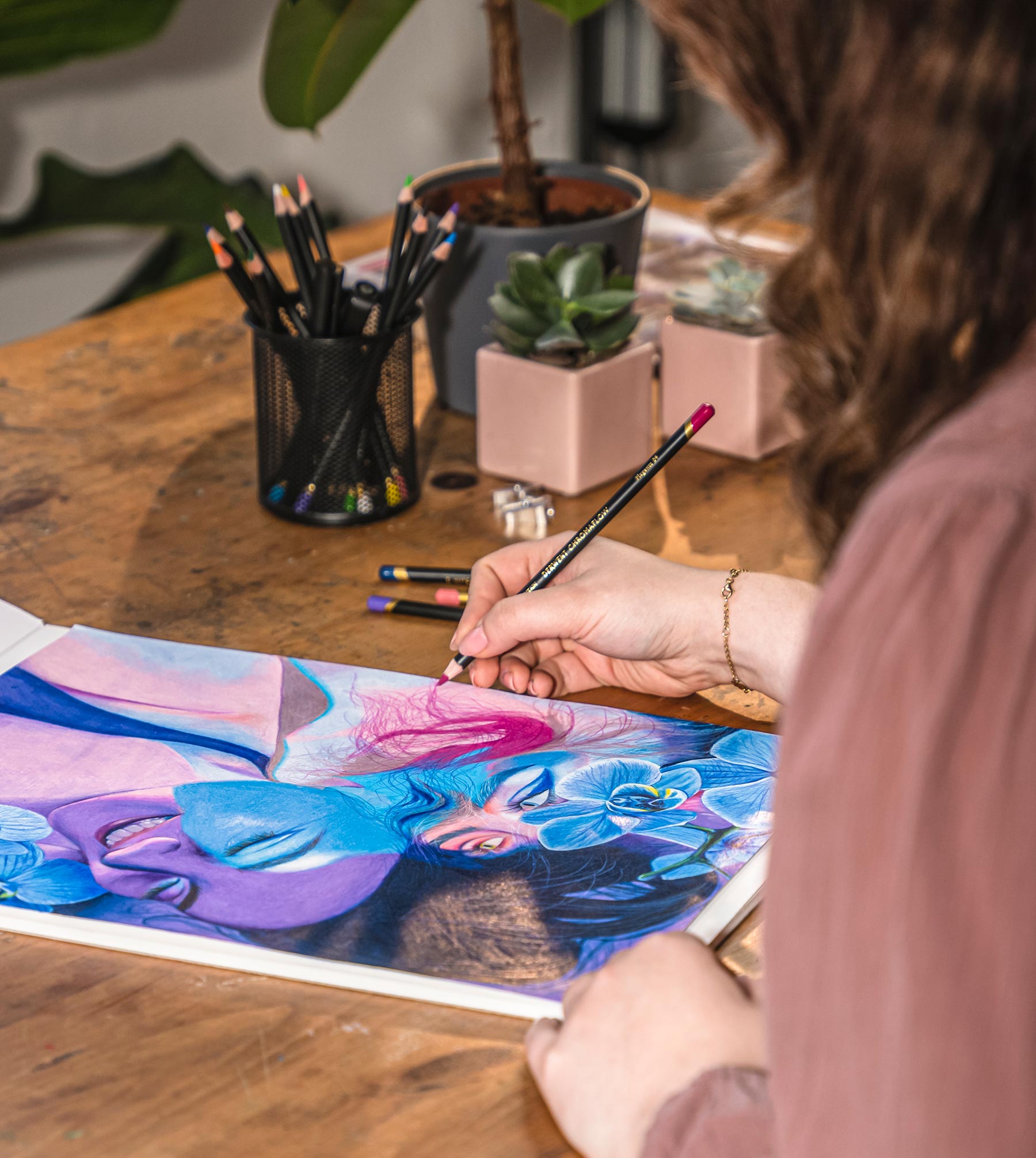 It all starts with colour
Whether they are taking the first steps in their creative journey, or imagining a new concept, the Derwent Chromaflow range will give everyone the tools to unleash the artist within them.
A versatile and fun range, the Chromaflow Pencil Collection is ideal for those who want to take their creativity to the next level – from young creatives and students developing their skills, to illustrators and designers seeking to jot down their ideas – colourfully, quickly and expressively. This pencil collection celebrates the mark-making that matters, the fun without the thinking and the mistakes that make you better.
Shape your brightest ideas in colour
The Derwent Chromaflow pencils will help artists of all levels create images that catch the eye for all the right reasons.
Formulated with rich pigments, the Derwent Chromaflow range promises to deliver bold, vibrant colour, ideal for creating striking creations that even stand out on black paper.
From Sun Yellow to Flame, from Blush Pink to Grass Green, the Derwent Chromaflow pencil sets contain all the shades creatives need to experiment and express themselves, originally, boldly and fearlessly.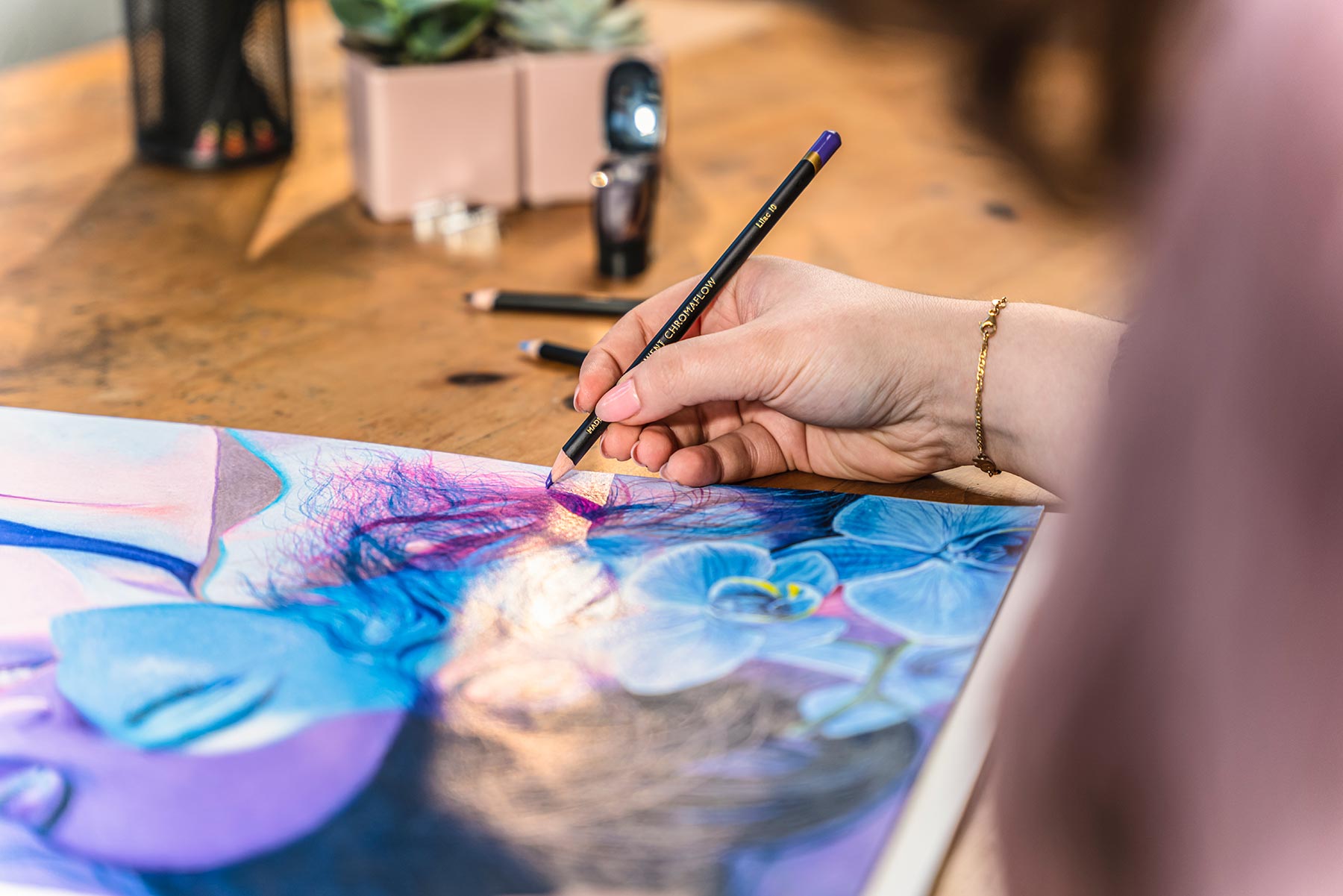 Enjoy quality and colour, every time
With over 100 years of expertise in the art industry and a dedicated Research and Development team, Derwent work hand-in-hand with artists to create their professional grade products. Their pencils are known for being made in Britain and their high quality, and the extended Chromaflow collection is no different.
The creamy core can deliver a smooth, rapid laydown that can handle pressure and resist breakage, making easy work of blending and shading. They are reliable, quality pencils, so creatives can enjoy consistent quality, every time.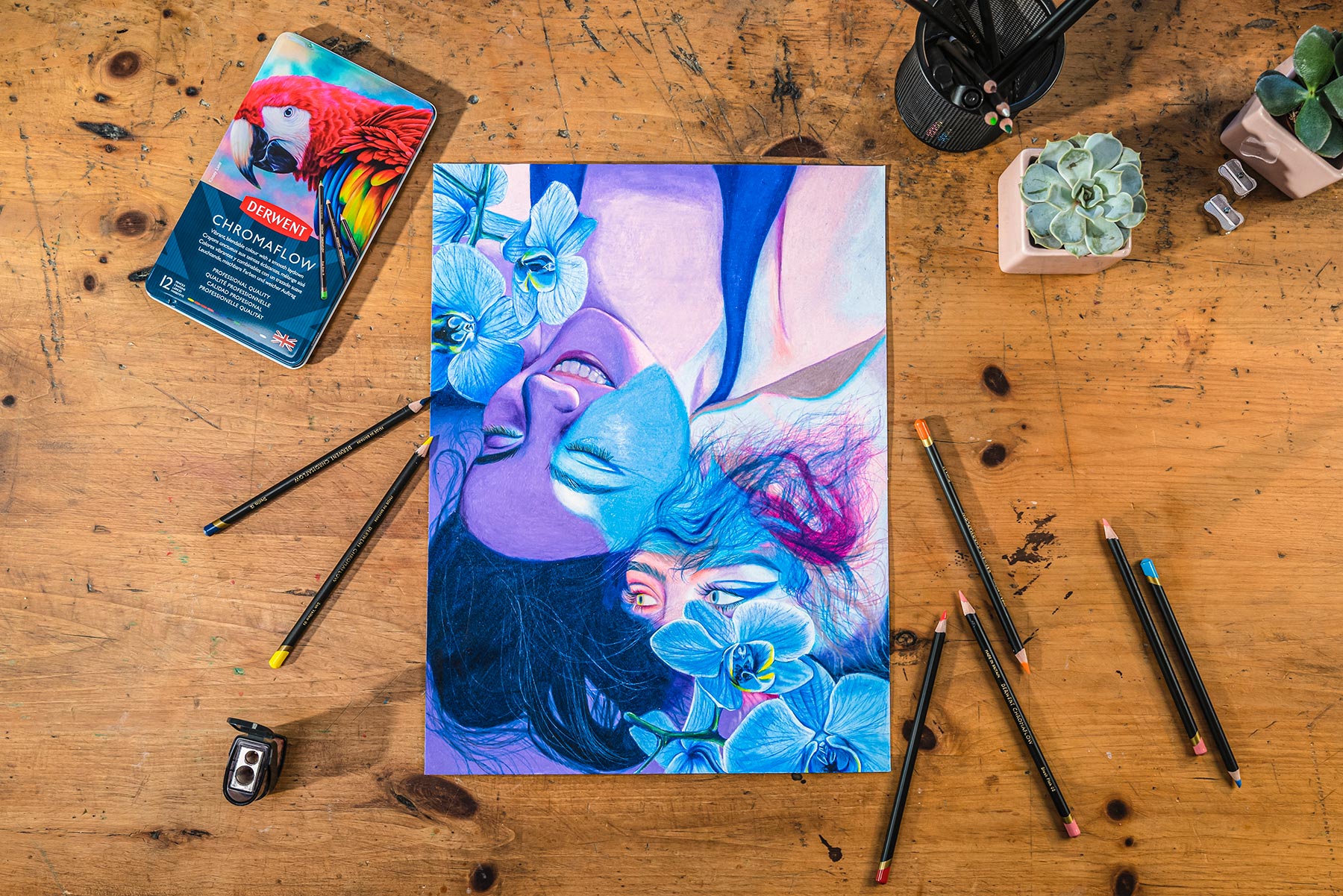 Sustainability
Chromaflow pencils from Derwent are PEFC certified, meaning that they are made from sustainably managed forests and controlled sources. PEFC is an international non-profit organisation promoting sustainable forest management. For further information visit: www.pefc.org. The protective tin they come packaged in should be retained and re-used replacing pencils that get used up with refills available from derwentart.com.
All five sets in the Derwent Chromaflow Pencil collection will be available in art stores around the world, and online via derwentart.com and Amazon store from 4th April 2022. Tins of 12 to 72 pencils. Recommended retail prices from £19.99 to £119.99.
Key information:
When: 4th April, 2022,
Where: Art stores worldwide, derwentart.com, Derwent Amazon store,
Who: for creatives of all styles, including illustrators, graphic designers, fashion designers, product designers, art students and artists
How much: 12, 24, 35, 48 and 72 tins, priced £19.99, £39.99, £59.99, £79.99 and £119.99.
For press enquiries, please contact Marine Costello at Parker Harris: marine@parkerharris.co.uk
For news on Derwent products, please visit the Derwent Art website and follow on social media:
Facebook: @DerwentArtOfficial
Instagram: @DerwentArtOfficial
Twitter: @DerwentArt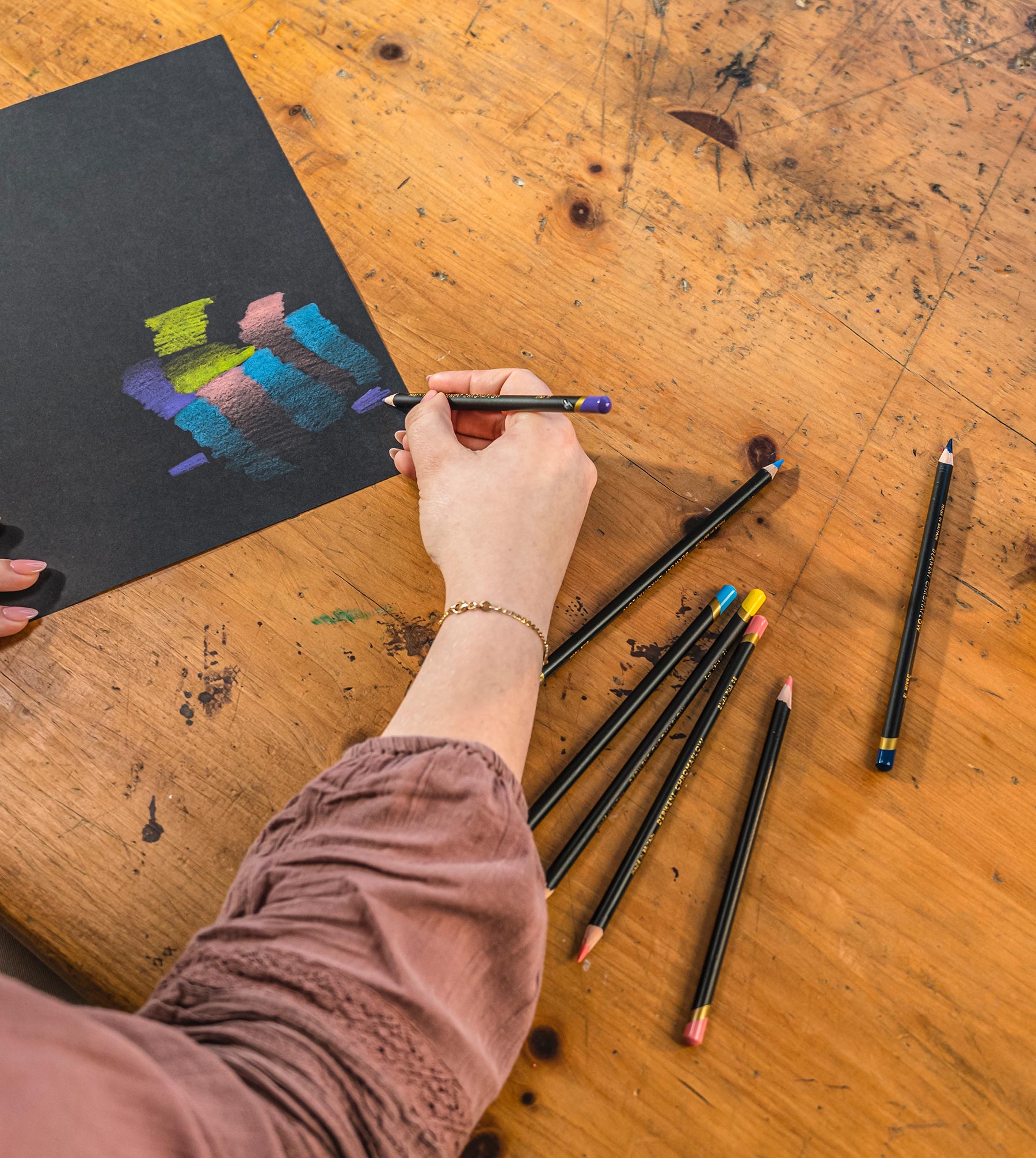 If you would like to receive a roundup of all of our blog posts once a week to keep you inspired in your inbox, why not sign up to our newsletter. You can access our sign up at the top of our page. If you are a London Art College student and you would like your artwork featured here, drop us a line at any time.