A Collection of Litter – I decided to complete this as a vignette rather than try to fill the whole page.  Again using a mixture of Polychomos and Coloursoft, but on a smoother support of 200 gsm cartridge paper. The pencils used for my course are mainly Faber-Castell Polychomos, with some additional colour from Derwent Coloursoft.  The texture of the paper meant that I had to use many layers in order to be able to blend  the pigments into the surface, and perhaps this too has added to the vibrancy of the colours.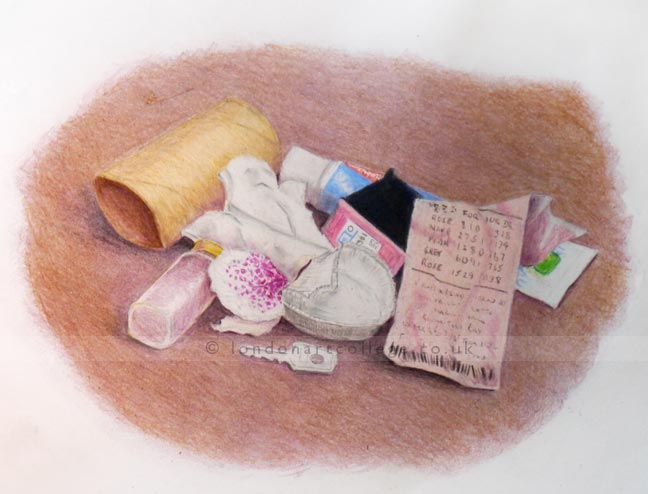 Tree in the landscape  – The setting for this picture is the lake in Birkenhead Park, and is from a photograph taken during the snows of last winter.  On this picture I mainly used the Coloursoft, but with some Polychomos dark green and indigo to form the shadows in the branches of the Cedar.  The paper is 200 gsm cartridge.

Alan McMahon
Coloured Pencil Course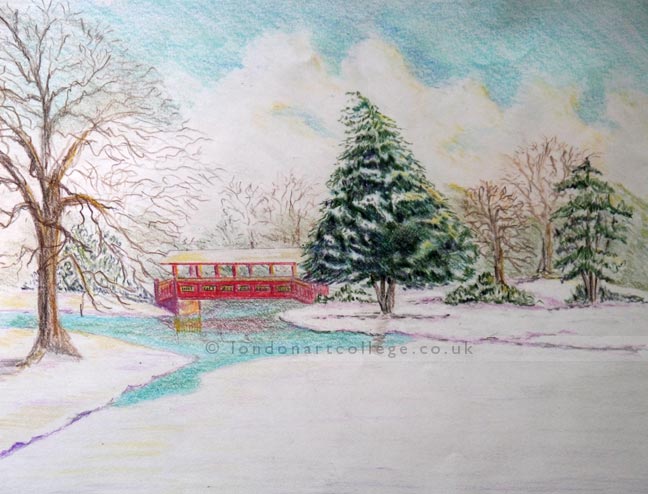 If you would like to receive a roundup of all of our blog posts once a week to keep you inspired in your inbox, why not sign up to our newsletter. You can access our sign up at the top of our page. If you are a London Art College student and you would like your artwork featured here, drop us a line at any time.