Raquel Espinoza has just completed the illustration unit on the Graphics course. She submitted written notes, as well as a series of developmental images (mood board, pencil roughs) and a beautiful finished watercolour that tell the story well. Tutor Vanessa Weaver was delighted with Raquel's submission and you can read parts of it below. We would like to congratulate Raquel on a wonderful submission and artwork and wish her the very best of luck in her future artwork.
Raquel said ….. For the illustration, I chose the travel poster advertising and my country: Peru. The most emblematic place for tourism here is Machu Picchu, so I thought "OK, I'm not doing that". With that in mind, I thought about Piura, north of Peru. There are very nice beaches in Piura, specifically in Mancora. They may not be as beautiful as Caribbean or Greek beaches, but they have become hugely appealing for tourists. So I started with my visual research for my Mancora mood board and got this…..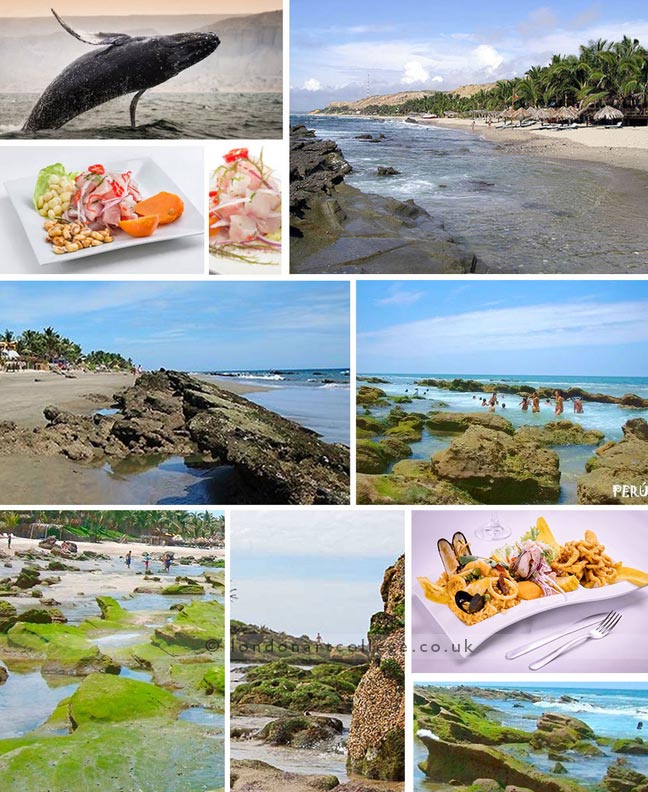 Beaches off the coast in Mancora have warm seas, unlike the southern part of Peru. Some people like to surf there, seafood is amazing, and if you are lucky you could even watch whales. I started sketching some of those ideas (the whale, the dish, and the rocky shore).

But to be honest, the thing that catches my eye the most about Mancora is a beach called "Las Pocitas". It's a very calm place with rock pools (Pocitas means "small pools"). Perfect if you want to relax and unwind. I also like how the rocks have that sort of sea vegetation growing all over them. It gives the shore an interesting colour.

So I tested it with some watercolour pencils and liked how it looks calm even when it's a little messy. Finally, I decided to focus on the rocks and the tidal pools instead of the palm trees and the sand. You can see my illustration below.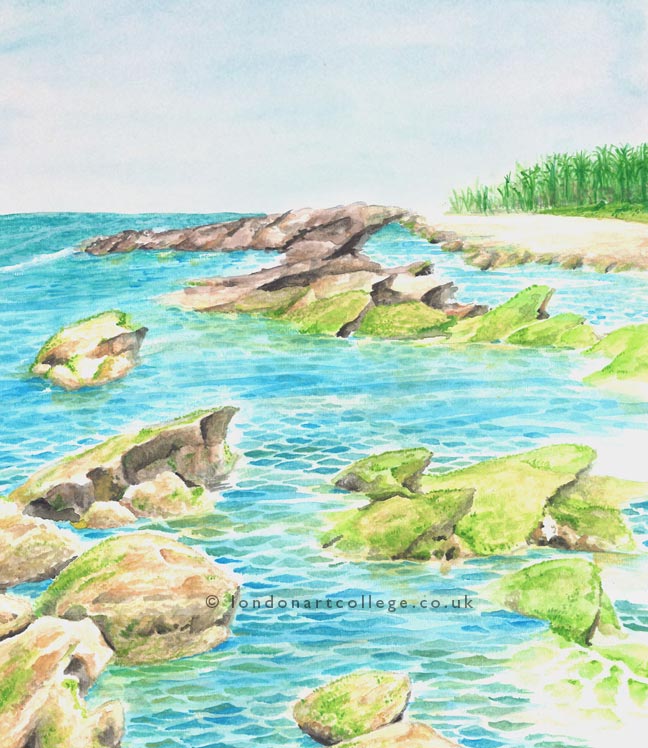 If you would like to receive a roundup of all of our blog posts once a week to keep you inspired in your inbox, why not sign up to our newsletter. You can access our sign up at the top of our page. If you are a London Art College student and you would like your artwork featured here, drop us a line at any time.