We would like to announce the winner of the London Art College 2018 Competition – Michael Masson. The winning painting was chosen at our yearly meeting where all of the tutors voted for a winner and runner up. Mike's painting of his dog Sasha is shown below. Mike has very kindly written about himself and the painting, we hope you enjoy reading it. You can also see a wonderful photo of Mike and Sasha on the red sofa below too!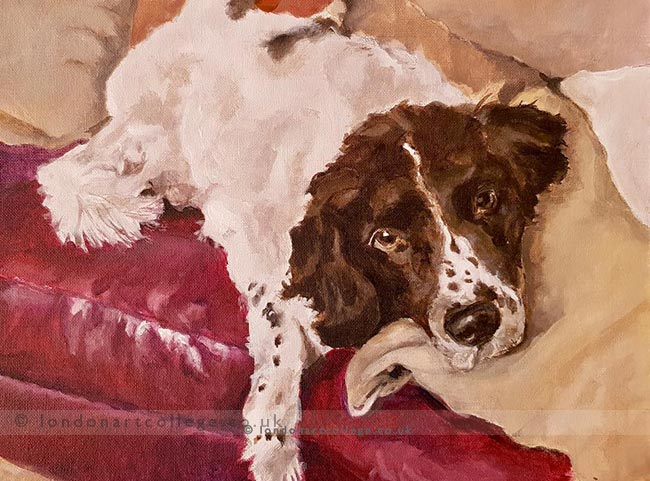 My name is Mike and I am somewhat stunned to have won the competition. I was delighted to have been selected as one of the finalist, so to win is absolutely amazing, especially seeing the quality of all the other entries.
About the painting
I only completed this painting a few weeks ago, Sasha my cross border collie, springer spaniel was looking forlornly at me waiting to be taken on her daily walk, so I quickly tried to sketch her but then took a photo and was lucky to catch her just as she looked up.
Painted using acrylics onto canvas board it took approximately 5 hours to complete over about 3 days and I used both my original sketch and photo for reference. After the news you have given me I will be taking it to be framed so it can take pride of place in my lounge (just above the fire I think).
About Sasha
My 8 year old cross springer, collie (known as Sprollies) has been my faithful companion since a pup. We have 2 dogs the other one being a miniature jack Russell and both have been subject of my painting and drawings many times over the years.
Finally about me
I have always enjoyed art and took A level when I was at college, however work and bringing up a family then took over and I practically gave up for 30 years, which seems to be the story for so many people. With my wife's backing, I decided to enrol with London Art College. There were so many things that I felt I needed to know and many things I had forgotten so I had to strip it all back and start from the beginning.
I enjoy Paul Weavers feedback and instruction which is giving me confidence to experiment and I definitely feel I have improved since starting the course. My intention is to successfully complete the Drawing and Painting diploma before moving on to another course within the curriculum.
I have attached a photo of myself with Sasha on our red sofa. Many regards from a truly delighted student.
Mike
Drawing and Painting Diploma Course