We are following on from our post all about the winner of the London Art College Competition 2018. Now we would like to present the runner up – Rob Leuchtenberger! Rob is taking our Life Drawing and Painting Course and has very kindly written about his painting below. We hope you enjoy reading it and also viewing the larger images of Rob's painting too! Congratulations to Rob for an amazing painting!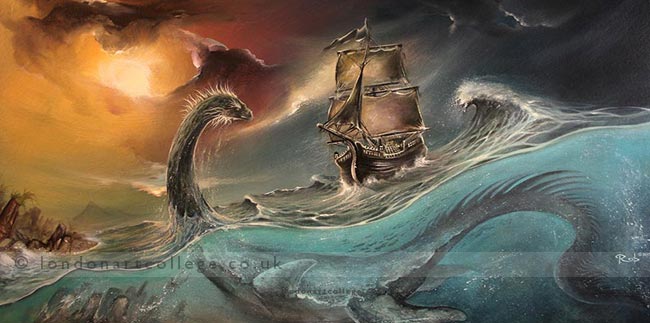 Many thanks for your congratulations. Indeed I was absolutely immensely pleased to be the runner up and I never expect that! Fantasy Art is not everybody's subject and so I am very happy about the feedback I got this way!
I just feel what maybe many artist do – every little success is just one small step forward on a very long path you have to walk… alone in a foggy, unknown land!
About the Artwork "Ocean Snake"
This artwork is painted on fibreboard in 85 x 45 cm (18 x 34 inches). After covering with white gesso I started sketching the whole scene with pencil. Further on Acrylic colours were applied for the different sections of colours. The details of clouds and the underwater objects I also finished with Acrylic (the clouds mostly by using the fingers and the hand clench). All details at the water surface, island, snake and ship are painted
in very thin layers with "Lukas Berlin – water mixable artists oil colours". The whole process took about 70 hours.
About me:
After studying Graphic Design in Hamburg I worked as Multimedia Designer for publishers and also for some months in Birmingham – that was a great time! In 2007 I started freelancing and created 2D/3D artworks for video games. But in my opinion I never found the opportunity really growing up to the artist I tried to be. The world of arts is just getting faster and more digital – but not really better. So 2016 I dug out all my colours, papers and fibreboard and went back to the roots as artist!
London Art College is waiting…yeah!
Cheers Rob
robscreations.com