My name is Emma Allen. A few years after the birth of my daughter I found myself at a crossroads in my life and wondering what to do next. My childhood dream of becoming an Illustrator had got lost somewhere along the way and I had sidestepped into magazine production and then motherhood. But I knew I had more to give and my true creative side had been stifled – the problem was I wasn't sure how rusty it was or how to bring it back to life. My daughter helped me to tentatively find my way back without even knowing it; suddenly my focus was on painting magical murals for her bedroom and children's picture books were finding their way into my home, inspiring and amazing me. I got back into painting and found that I was indeed rusty, but my focus and motivation were gaining new vigour with every passing day. I felt that my journey back to creativity needed guidance and so I started looking into courses. However, with a toddler to look after I didn't have the luxury of heading off to college or university; a correspondence course seemed like the perfect solution. That is when I discovered the London Art College, and enrolled on their 'Illustrating Children's Books' course.
It was like a whole new world for me. I realised how much I had needed this; how much I had needed to use my brain and get back in touch with my artistic side. It was a part of who I was and it needed nurturing back to life. The course was fantastic, with projects that challenged me and motivated me, encouraged me to use art materials that I hadn't tried before, and to think and create outside of my comfort zone. It amazed me how much I enjoyed creating artwork around subject matters that would never have occurred to me if left to my own devices. I would go as far as to say that the illustration course brought me back to life. I had been lost, but Illustration helped me to re-discover myself. The feedback I received from my tutor, Maggy Roberts, was invaluable and very thorough. The student forums were also fantastic; it was wonderful to be able to discuss illustration with inspiring like-minded students. When I won the 'Student of the Year' competition in 2012 I could hardly believe it, I was so thrilled and astonished.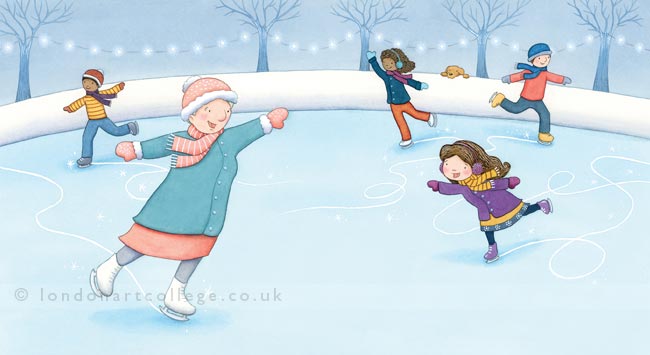 Before the end of my course I was approached by a charity, 'My Mother's Love', to illustrate a children's E-Book. I was thrilled (and a little nervous) and happily accepted. Since then I have illustrated another two E-Books for them, and illustrated web banners, re-designed logos, and continue to have a wonderful working relationship with them. I had realised long before the end of my time with the London Art College that I knew for certain that I wanted to be an Illustrator, and though it hasn't always been easy I have made that life for myself. It has been a steep learning curve and probably the hardest part is to get on the radar of the people who might want to commission you. Making people aware of your existence in the first place is not as easy as it sounds, and there is a lot of competition out there from about a zillion talented artists.
The first year was tough, I earned enough to break even on art materials and work was a trickle, but it was steady. Since then my earnings have increased year on year and I am always busy. I haven't had a break in work since 2013 and I get repeat commissions from happy existing clients which is really great – it is wonderful to know that they are so pleased with the work I have done for them that they want to come back to me for more. There can be a long gap between wages coming in, especially if I am working on a bigger project like a story book which can take a long time to complete, so it is quite feast or famine, but I love it so much that I literally cannot imagine doing any other job now. Being my own boss is fab – doing my own tax returns is less fab, but hey, it has to be done. I've had to learn to do contracts, invoices, spreadsheets, marketing myself, maintaining my website – there is more to it than just creating the art, but strangely I enjoy all of that too.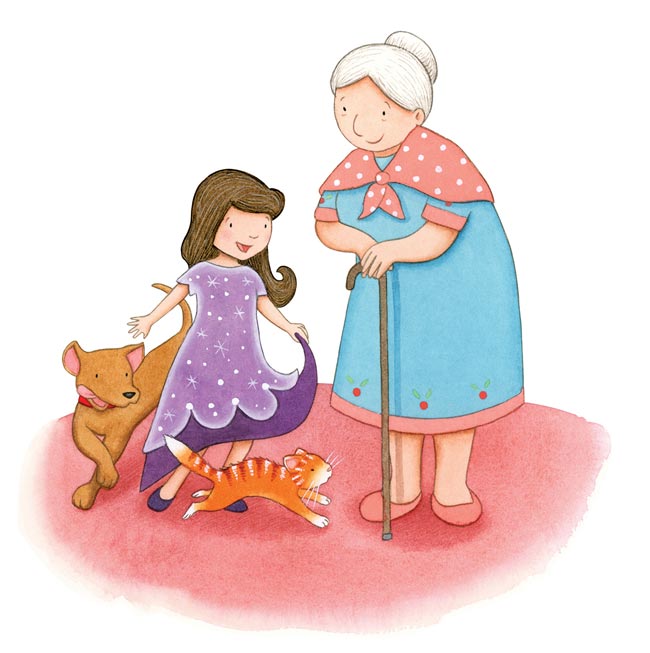 This month a new book I illustrated for the publishing company Clear Fork Publishing has just gone on sale, and I am so excited. It is called 'Sarah's Song' and is written by the wonderful children's author Rosie J.Pova. It tells the story of a sensitive young girl called Sarah who worries about the changes in her grandma as she becomes elderly and how she turns to music to try and get her grandma singing and dancing again. It was a privilege to illustrate the book and is such a wonderful feeling knowing that it is out there on bookshelves where people can buy it. The process of working with the wonderful people at Clear Fork Publishing and helping to create the book has been so inspiring. 'Sarah's Song' is available at the Publishers website and on Amazon.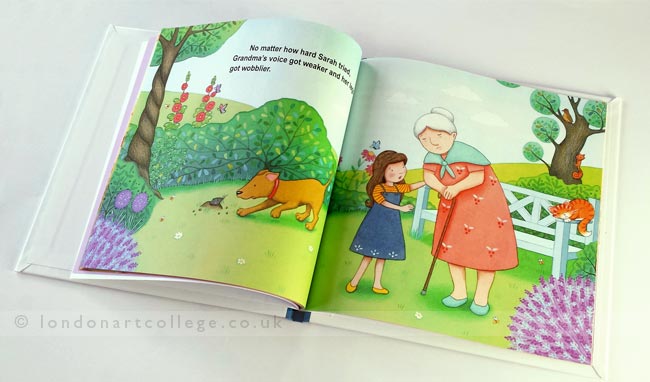 I am currently working on a product related story book for a client in Canada, and also a Christmas themed biblical story book for a client in the USA, which I am thoroughly enjoying. I have some book ideas of my own bubbling away in the background, but finding time to develop them has been a challenge. In the mean time I am happy to be so busy doing something that I feel so passionate about. Thank you London Art College for giving me the confidence I needed to pursue my dream. You can find my website at www.emmaallenillustrator.co.uk
Emma Allen
Illustrating Children's Books Diploma