Edward Javier is currently working on our Oil Painting Course under the guidance of professional oil painter and tutor Alan Dedman. The object of this exercise was to paint a view across an interior, through a door or window and into an exterior. Edward drew the corner of a room with a sofa bed. This has given Edward lots of flat tones and three dimensional shapes to deal with.
Edward said…
I am an engineer by profession and work in IT field. Art is more of a hobby for me, something I do on the side as opposed to making a living out of it. Nevertheless I still want to become good at it and hopefully, someday, I would be able to consider myself an artist rather than hobbyist. I want to go beyond landscapes. I want to be able to paint still life, portraits, animals, etc. Hopefully, I'll be able to achieve these after this course.
Edward has created a fantastic step by step PDF using photos and text, to show Alan how he created his painting. We have extracted parts of it to show on our blog. We hope that our students find it  interesting and learn lots from reading and viewing the images. Let us know what you think, please comment below if you have any questions. We always love hearing from our students!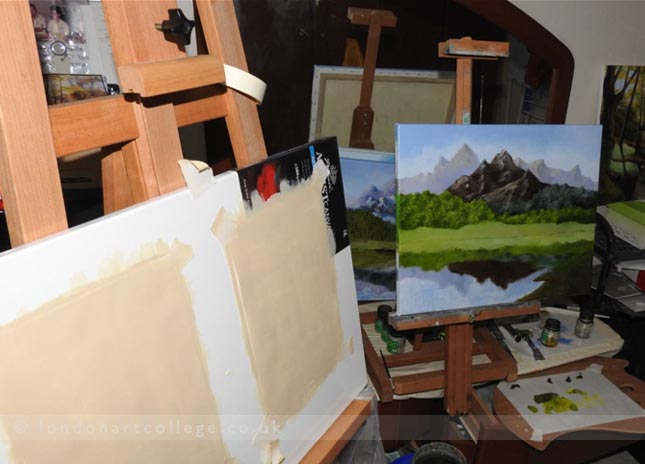 Materials:
A4 size Acrylic paper
White Gesso,
Raw Sienna & Middle Grey Acrylic
Acrylic brush for priming
Water Mixable Oil paints (Lamp black, Raw Umber, Burnt Umber, Titanium White)
Paper towel
Oil Painting brushes
Thinner and Mediums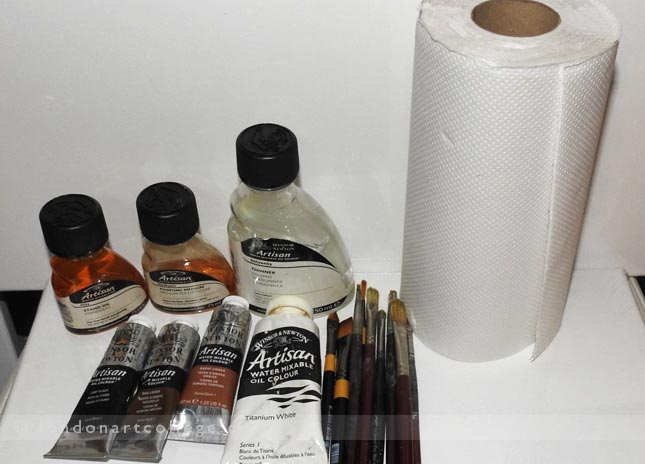 I mixed the Gesso with Raw Sienna & Middle Grey Acrylic. You can see the photo below showing it mixed.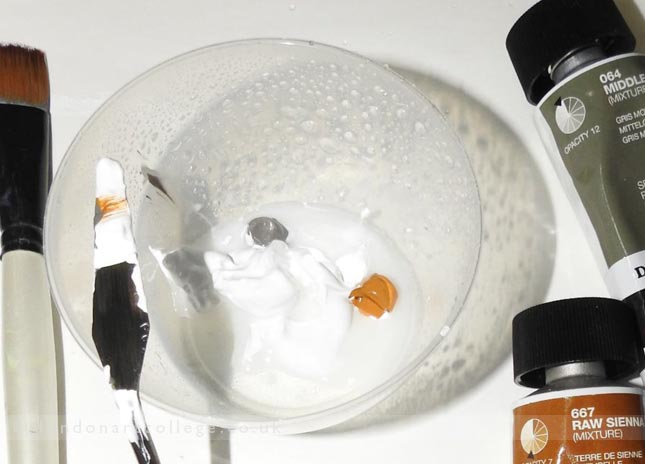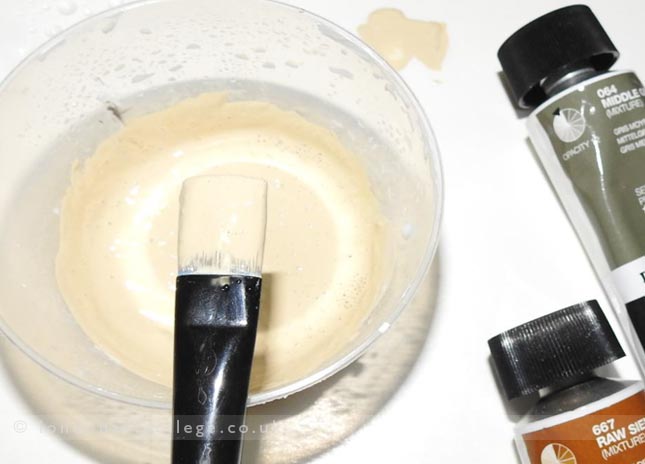 I taped the reverse side of the papers into a canvas so I can mount it on easel. I applied 2 layers of mixture on each of the paper. After the gesso dried, I reverse the paper and followed same process as what I did for the the back. It'll dry in few minutes.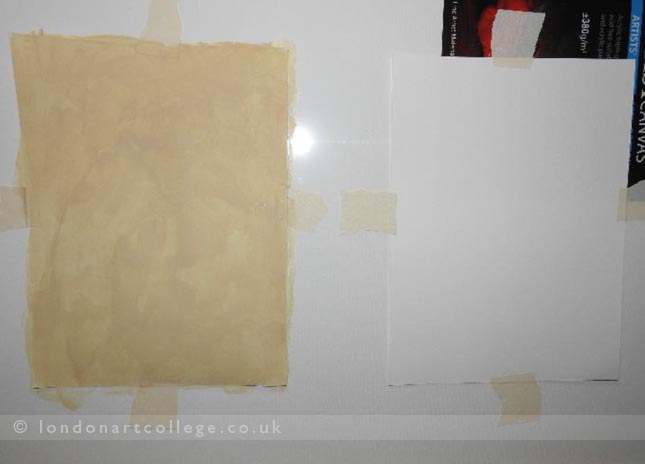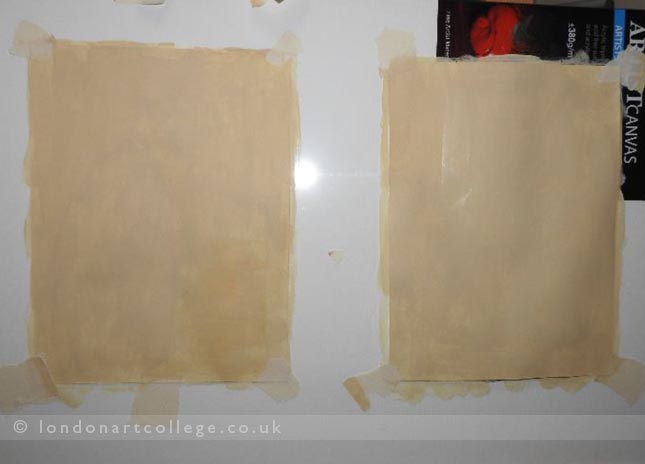 Once the primer is completely dried, I used the limited palette to start blocking in the dark portion of the drawing. I used a bit of thinner to improve the flow. I used flat brush #12 for this exercise.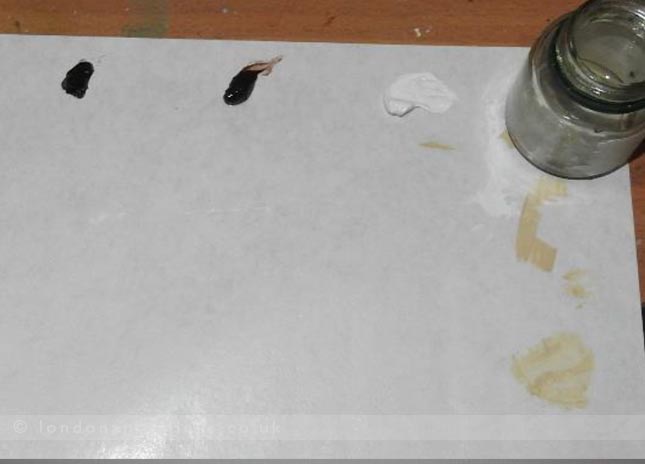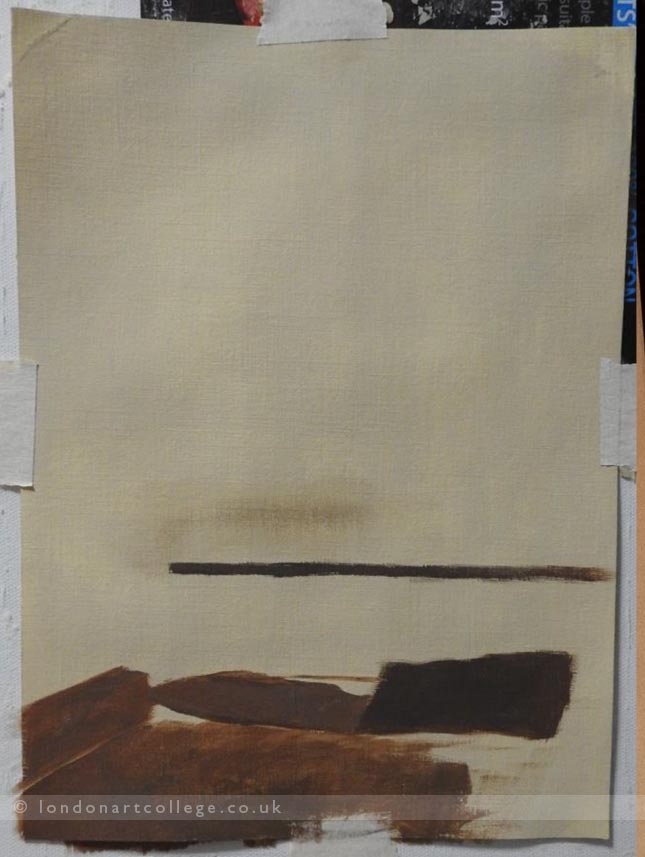 Using the same palette, I have applied another layer of paint on the walls. I have also darkened the bed's railing and applied highlight. I have also applied highlight on the pillows, bed and bolster. I used a sword shape brush size 1/4″ for this exercise. I have also skipped using thinner for fat over lean rule.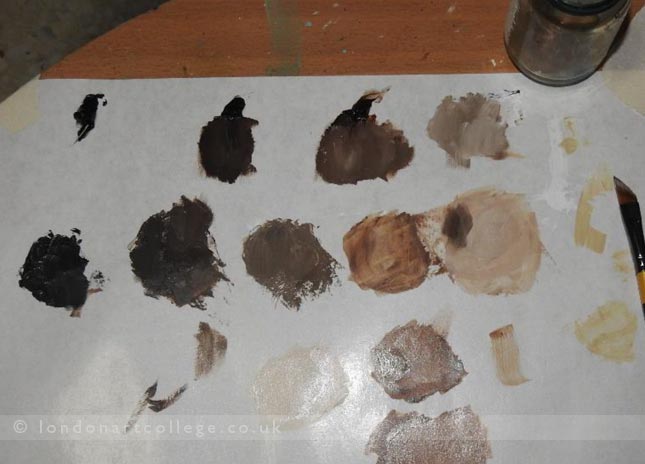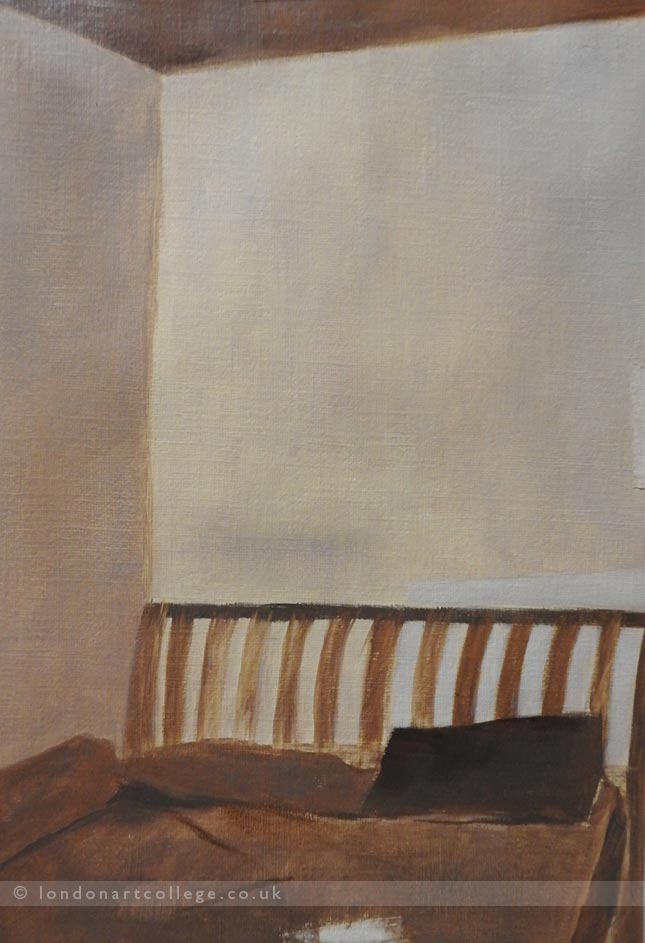 Finished Painting