Hello friends I am Vinaya from India, have Joined recently Drawing and Painting Course from the London Art College. I am very new to this professional art college, but my passion towards art is from my childhood. I used to participate in all drawing competitions held in school and won prizes too. The support from my parents, friends and teachers made me to enhance my interest or love towards art.
Basically I am from a engineering background, not from art profession. But as a hobby I do attempt in pencil work, pen work charcoal work, water painting and acrylic paintings. The London Art College is such a fabulous platform for artists, comprising talented tutors and students, I am happy for being a part of it.
I am very happy to say that now I am a student of Drawing and Painting Course of the London Art College, which is inspiring me to exhibit or explore my art works. Progressive self study units and supportive feedback from my tutor Paul Weaver, are really making me to build a strong foundation for my professional art. I hope I will do the best throughout.
Here are some of my attempts on charcoal works and acrylic paintings.
The following charcoal work of vegetables is from still life objects. First roughly I drew outline sketches of all vegetables placed in front of me using HB pencils. Then shading is carried out by charcoal pencils very lightly in first layer. In second layer, I highlighted the dark portions of the vegetables. To express the reflection of light over the vegetables wherever required, I slightly remove the dark portion from putty rubber. Finally ended with light shade of the vegetables opposite to the direction of light. Wherever required I used paper stump to blend the shade. Time taken for this work is around 1.5 hrs.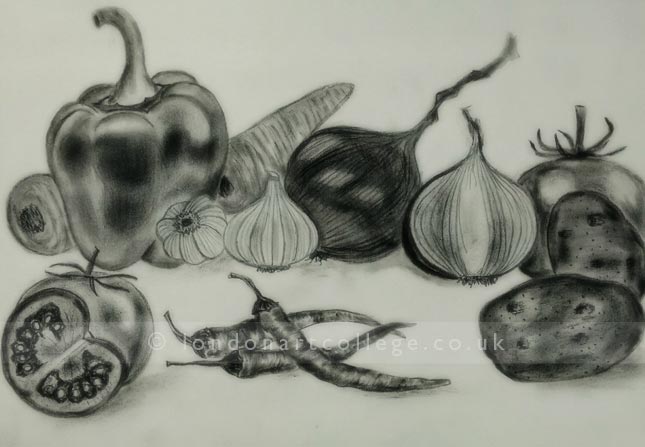 Three more portraits of charcoal works are, one is of an American singer Taylor Swift , the other one is of bollywood actress Deepika Padukone and last one Aishwarya Rai. Here all the works are photographs based. Using HB pencils I drew first all basic elements of face. Then using charcoal pencil I did the shading carefully. I enjoyed a lot while shading the curly hair of Taylor Swift. I used kneaded putty rubber to remove the dark portions especially to get hair texture accurately. Drawing eyes of human faces is one of my favourite work. I loved while drawing the beautiful eyes of Aishwarya Rai , which show sadness in her eyes. The time taken for first two works are 4hrs each and 1.5hr for third.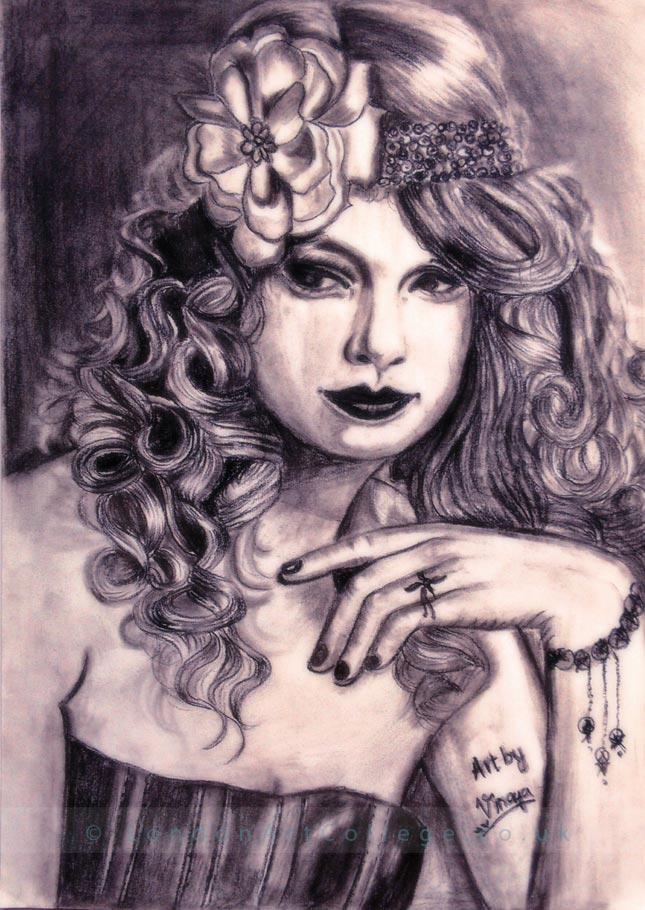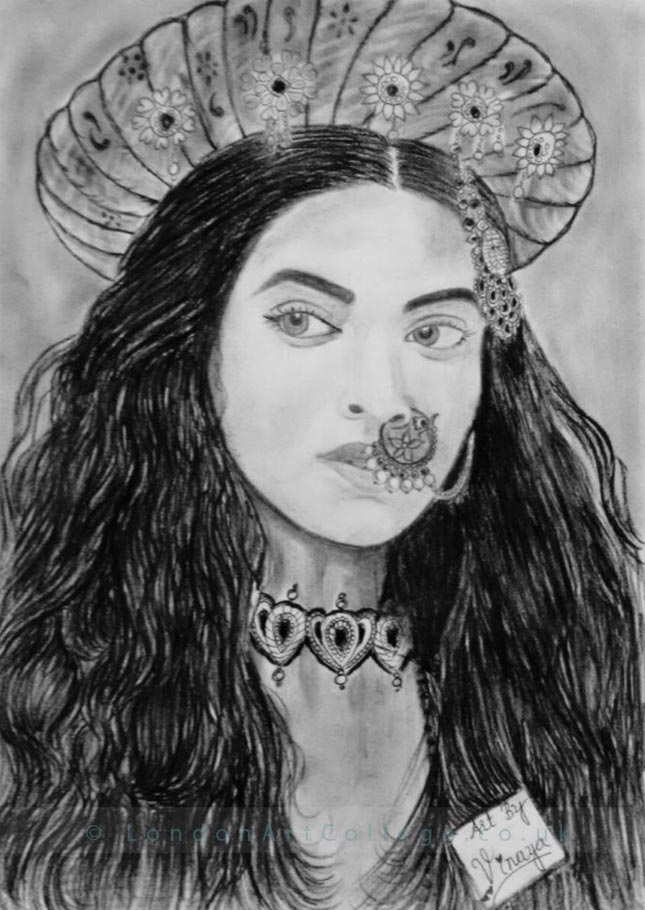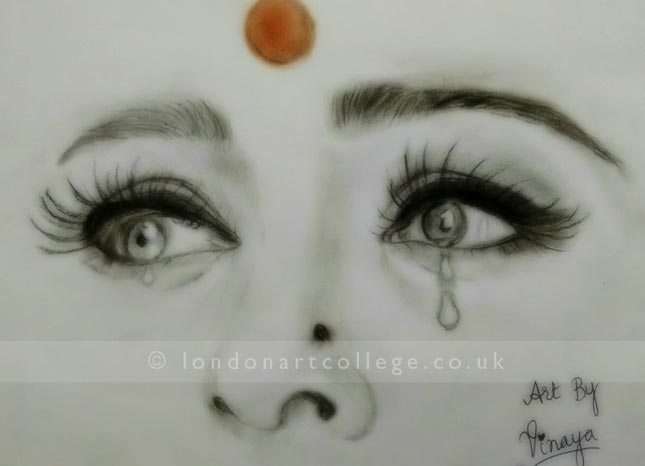 Coming to the acrylic painting of strawberry fruits is, from still life objects photography based. First I drew outer sketching of strawberry fruits and leaves very lightly using HB pencils. The basic colors here I have used are yellow, red, brown, green and white. I first colored fleshy receptacle of fruit with light red by leaving the achene, followed by dark red. Then using yellow color, I highlighted the achenes over the fruit. Lastly light is reflected with white color. Color mixing is done according to each phase of painting. Blending of colors plays very important role in realistic paintings. While doing highlights try to apply single stroke of color. The time taken for this work is 3.5 hrs.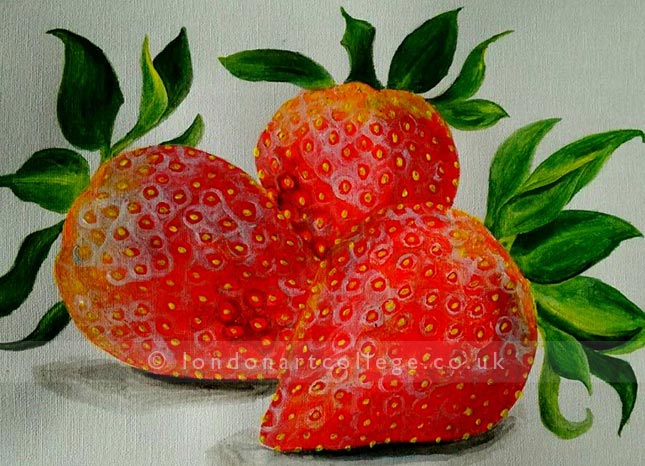 The one more acrylic painting of water fall is of my native place GOKAK-FALLS, KARNTATAKA, INDIA. Since I have born and bought up there ,the beautiful nature all the time inspired me to go through this work. The colors I used here are yellow, green, black, white, brown and red. In this work major portion is of water flow and water fall. So I colored first scenery followed by water. To highlight the waves of water I used the flat dried brush with white color very carefully. I allowed it to dry for some time. Finally again I applied a single stroke with white color with dried brush wherever required. It took around 4 hrs to complete the work. Truly speaking while doing these paintings, I enjoyed a lot experimenting with colors.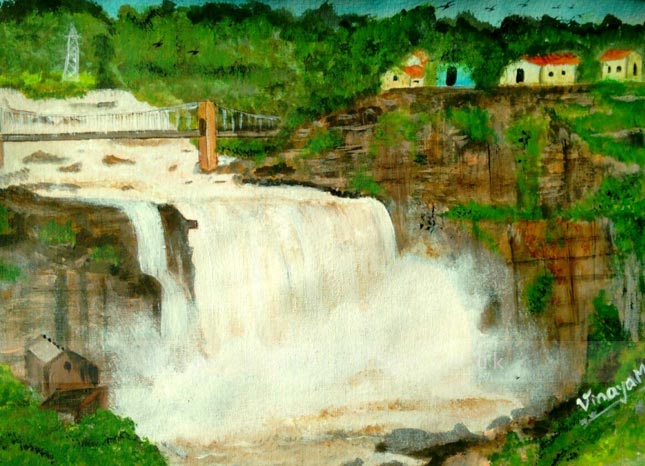 I truly believe in exchanging thoughts, comments and individual's experiences in the art as it is a completely progressive journey. Since I am new to LAC which is comprising of talented artists, I would like to appreciate your suggestions. So that it will be very helpful for me to improve my skills in this art profession. I believe the art is something to be enjoyed, loved, entertained, appreciated and treasured. I hope I am getting all these by joining LAC and developing new skills too. Only my dream or aim is to become a fantastic artist by reproducing marvellous , fabulous works and enjoying with experiments with pencils, pens and paints. I hope I will get it progressively with continuous efforts.
Here is the link of my art works on facebook page https://www.facebook.com/theartofvinayam

Vinaya Deyannavar
Drawing and Painting Course