The London Art College run a popular Still Life Online Art Course. Student Ailsa Long has been creating colour studies both as practice pieces in her sketchbook and more finished studies as you can see below. This one was completed to go along with one of Ailsa's assignments for her tutor to view. Tutor Alan Dedman is the personal tutor for the Still Life online art course and he himself enjoys painting and drawing still life artwork.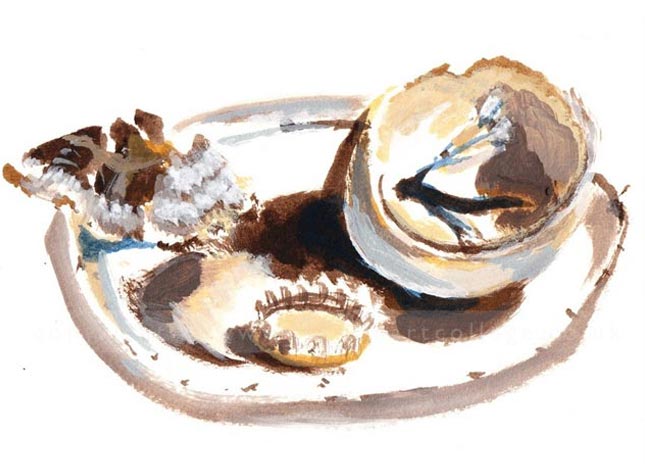 Still Life by Paul Cézanne
Alisa's painting and study actually reminds me of a painting by Paul Cézanne – Still Life with Water Jug circa 1892-3 which is an oil on canvas. You can see the similarities between both paintings, in the style of mark making and the colours too. Paul Cézanne Still Life artwork can be viewed on the Tate website – Paul Cézanne Still Life and you can also see an abundance of other artists still life paintings on their still life page and gallery too.
Viewing artists works when learning to paint and draw can be very beneficial. It can not only spark ideas for your own work, but also help students to look at the composition of the paintings along with the tones and colours used. As we already know, Paul Cézanne created his paintings from a number of view points and we can see this technique being used in his still life painting below.
Paul Cézanne painted a number of Still life paintings similar to this, there are a few using this actual jug too. Some are more in depth as this one is more of a study and perhaps can be classified as an unfinished piece. If you would like to see more of his paintings, there are some fabulous pieces displayed on the National Gallery Website.