We have had a set of learning pen and ink videos on YouTube recommended by one of our students. The videos have been created by professional US based artist Alphonso Dunn. The video below will interest London Art College students who are learning pen and ink while on their creative journey with us. It can be a tricky medium to master and is covered in a number of our online art courses.
Alphonso Dunn has written and illustrated a book currently selling on Amazon which has 5 full stars and 36 happy customers. You might like to check it out here – Pen and Ink Drawing: A Simple Guide Amazon have written about the book which says…..
Pen & Ink Drawing: A Simple Guide covers the essential aspects of pen and ink drawing and more. It explores basic materials and instruments; fundamental properties of strokes and pen control; key elements of shading; and indispensable techniques for creating vibrant textures. As a bonus, a chapter is devoted to what the author refers to as, the secret Line of Balance. This book is not just written to instruct but also to intrigue and inspire enthusiasts of pen and ink drawing.
Learning Pen and Ink
In the learning pen and ink video below, Alphonso shows students how to create a variety of textures in cubes. These very simple studies are very effective. Why not view and pause the video to have a go yourself.
Students could also find different textures around their home and and garden to use too. Create your own 3D squares and see if you can fill them with your style of drawing and textures. We hope you have fun. Let us know how you get on!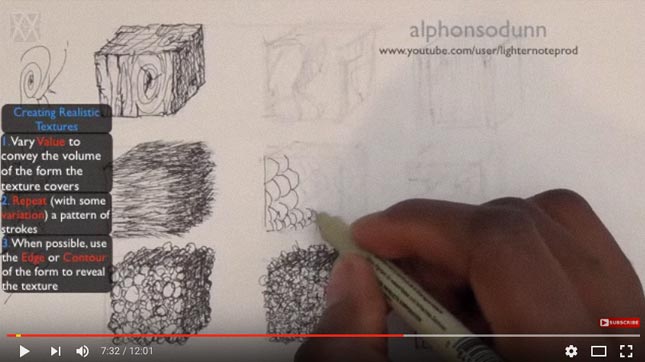 DISCLAIMER: Please note that LAC cannot be held responsible for external sites and any of their content. Alphonso Dunn, his book or videos have no affiliation with the London Art College.