My name is Yvonne Ryves and I have spent almost two years working my way through the Colour Pencil Course. When I started I had never used the medium before and at first found the slowness of it frustrating especially after watercolours. Once I had let go of this though, I found working with coloured pencils to be almost zen like due to the calming and relaxing effect they had on me, a real bonus.
The method of working is very different to anything else I have done, the mixing of colour on the paper, the way different types of paper influence the way you work, the building up of colour in layers to create depth, all took some getting used to, but now my favourite moment is when the pencil I have laid down stops looking like pencil and becomes vibrant, deep colour. It is a moment of magic.
There was a lot of choice in the final set of work but I chose to do a pet, a portrait, a wild animal in a setting and people in a scene. All of these were things I felt would stretch me and be a challenge, many of them things I had no experience of perviously. For all of the pieces I worked from photographs I had taken myself.
The pencils I have used are a mixture of Derwent Coloursoft and Faber Castell Polychromos and the paper is either Bockingford HP or Fisk Bristol Board with the coloured paper of the pet portrait being Fabriano Ingres.
I had never attempted a pet portrait before and having lost our last pet some years ago needed to work from a photograph with no chance to look at the real thing. I began with the eyes and believe it is important for these to be right whether it be an animal or human portrait. It is the eyes that help me to capture some of the essence of the individual and if they are not right this will never happen. I spent a lot of time asking my husband if it looked like her. I found the white fur great fun to do, looking for all the colours that make up the white and then making it look realistic, but getting the markings right involved layering colour both within and outside of the markings and was much harder. The finished painting now hangs in pride of place in our home.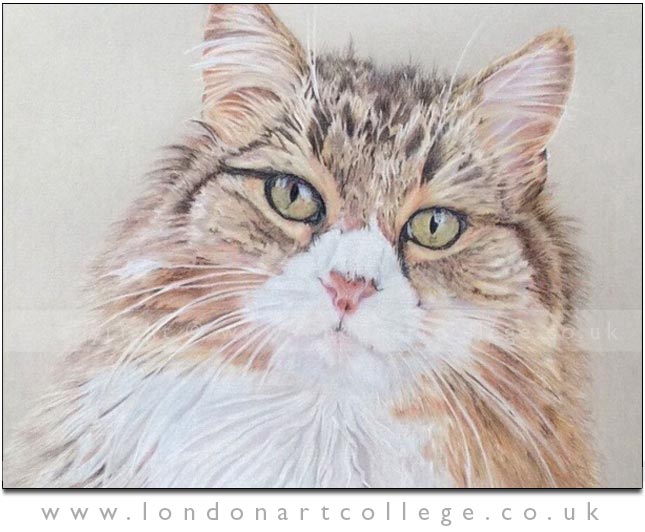 The portrait was only my second one in any medium but I have, through the use of coloured pencils discovered a love of portraiture that I might not have found otherwise as it was not a subject I had ever considered. This portrait is of a woman I came across telling fortunes in Havana, Cuba. I was drawn to her energy, the way she held herself and of course her clothes. I understand from my tutor how deeper, darker darks and lighter lights would have made the face more rounded though. I still have much to learn. The lace blouse was much easier to do than I had expected and getting the right greys actually involved lilacs, blues, pinks, yellows, cream and reds and no greys at all.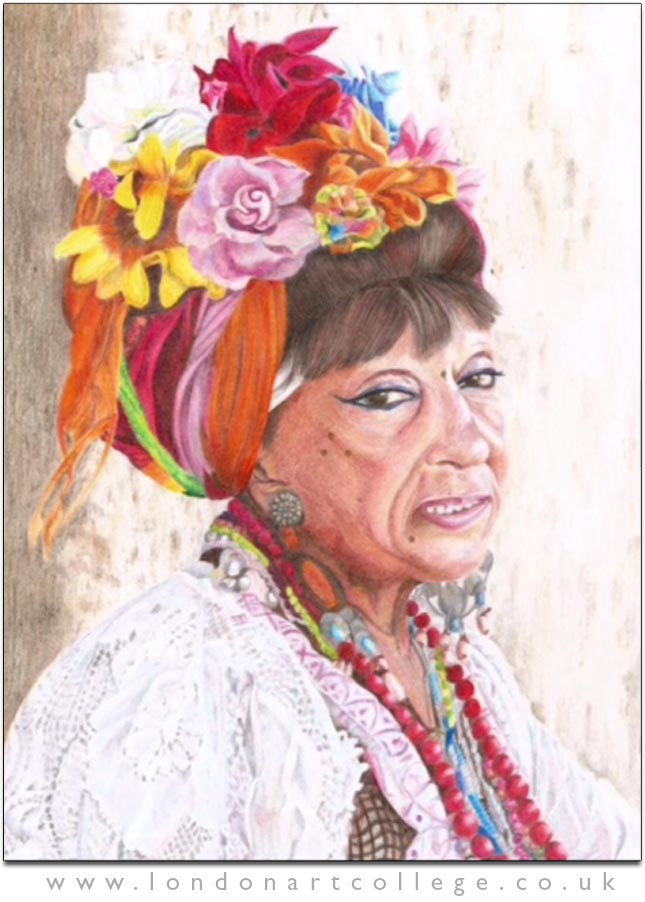 I chose a Lilac Breasted Roller for my wild animal in a setting because of its colours and this was the first time I had attempted a bird of any kind. I found the feathers hard to get right in places, to make them lay properly and look realistic and from my tutors feedback can now see how some darker areas would have given the feathers more shape making the bird more 3D. The need to have more tonal value is something my tutor has pointed out and that I need to be mindful of. The really dark areas, without resorting to black which can be very flat, do take many layers and some surprising colour mixing.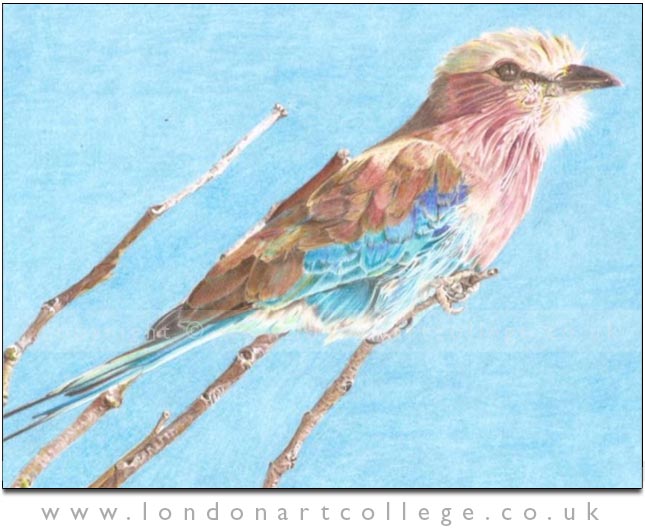 The final piece of the final set, people in a scene, is probably the one that I spent the most time on, somewhere around 60+ hrs. It was certainly the most complex piece. The reference photo was taken in Amritsar, India. The part of it I enjoyed doing the most was the Banyan Tree and one day I spent around 3hrs working on a section about 2 inches by 1 inch! I found myself avoiding the faces for a while but they were surprisingly fun to do, the cloth of the robes less so although I am pleased with the end result.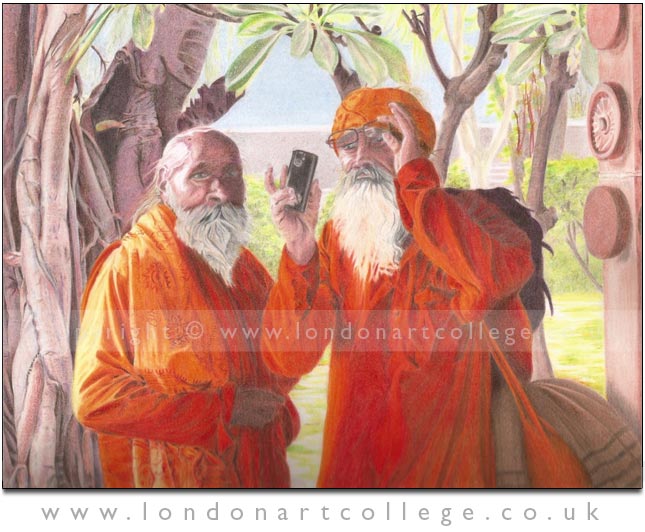 Having finished the course and looking back I can see how much it has improved my drawing skills and how differently I am now looking at the colours that make up the overall colour of something. It has challenged me and stretched me in so many ways both in terms of how I work and the subject matter.
I am now looking forward to doing some mixed media work so I can combine coloured pencils and watercolours to see where it takes me. My next piece though is currently a work in progress. I have almost finished the coloured pencil part and am planning on working with watercolour pencils for the background which will give me a little more control than actual watercolours. Although at a workshop the other week I saw the effect that sanding watercolour pencil onto damp paper can have so that technique will undoubtably find its way into the background too.
By Yvonne Ryves
Course Completed – Colour Pencil Course
Facebook page is –  http://Facebook.com/YvonneRyvesArt
blog – http://yvonneryvesart.wordpress.com