We would like to announce the winner of the recent competition we ran in conjunction with author Jim Pinnock and his novel 'Sparrows with Vertigo'.  Congratulations to Dale French with his winning design below!
Students were asked to create both a front and back cover following a brief set out by Jim which you can read about here >>  Dale's design will now be used for the published book in hard cover and 50% of the royalties will be donated to Help For Heroes.
All the entries can be viewed on our website, along with a message from Jim Pinnock and his comments about each entry. 'Sparrows with Vertigo' Competition Entries >>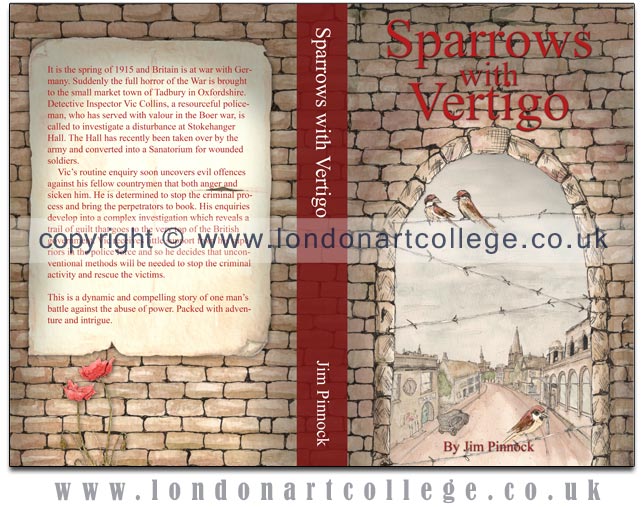 Dale has written  a piece for us, about himself along with his winning book cover and the components to his design. We wish Dale the best of luck with his future career as an illustrator. If you would like to see more of Dales's work visit his website at www.dalefrench.co.uk  and Facebook – D.French Studios.
————————————————————
It's a dream come true!
Since the age of four I have been studying artists from all over the world. I used to sit up in my room and copy their drawings and compositions. I remember at the age of 7 trying to paint a copy of Da Vinci's Mona Lisa and getting frustrated that mine didn't look like the original (Although it would have been an accomplishment and a half to copy the Mono Lisa at the age of 7) but sadly I had to face reality that it was not possible. Since then art is my passion, hobby and one day my living.
It is an honour to be selected as the winner for 'Sparrows with Vertigo Competition' and just a delight to work on.
The medium used for my illustration in the competition was Watercolour. I started off with separate drawings for the town, brick work, sparrows, poppy and paper backdrop. Once I was happy with the drawings and their compositions, I then went other them in finer detail using Indian Ink. Once dried they were all individually painted in Watercolour.
When I was happy with the paintings, I scanned them into my computer at a high resolution and transferred them into Photoshop, so I could piece the book cover together. After adding a couple of effects and changing some of the levels within the colours I then added the spine and text to the finished cover.
The town was the best part to paint as I tried to future some buildings that were in the book itself, like the town hall, the police car and the gentleman's club. To get the feel of an older town and one fitting to the book I decided to research what Oxfordshire looked like back in world war two.
It has always been my dream to one day become a published illustrator and this competition is my first step there. I would like to thank Jim Pinnock for choosing my illustration, Maggy Roberts my course tutor (Although I am yet to complete my first assignment I am nearly there and the first steps of the course and been really knowledgeable) and finally the London Art College for hoisting the competition and allowing 'us' the students to take part.
Dale French BA
Components of the final piece created by Dale.