One of my pet portraits students sent a wonderful piece of artwork through to me this week to be critiqued. The brief was to create a surreal portrait and Barbara has created a fabulous portrait of her cat Chef Athos. Such a lovely story behind it too, I asked Barbara if she would like to write about it for the college news blog. I hope you enjoy reading about the painting below and viewing Chef Athos!
Chef Athos
I occasionally foster stray kittens, raise them and find them a home. Last year they brought me 3. They were barely 2 weeks old and had to be bottle fed every two hours. The rescuers said they were the ugliest kittens they had ever seen! I think they were just sick. One died soon afterwards.
For the first two months of his life, Athos was very sick and close to dying. Given he was sick and his brother Noisette had a condition which needed periodic checking, they were formerly adopted by us and became part of the household (2 humans, 6 cats, one dog and a parrot). With time Athos just blossomed into one of the cutest and craziest kittens I had seen in a while. One of his funniest quirks is eating veggies and fruits. At first, we just noticed plums, cherry tomatoes, strawberries, diced courgettes and more would mysteriously disappear from the kitchen counter, but one day we caught the thief: Athos the kitty! He especially loves pumpkin and melon and patiently waits for me to give him small slices which he proceeds to eat under the table, growling at any creature that dares approach him.
Athos was perfect for a surreal animal painting. I thought about his behaviour and looked at lots of paintings, photographs and settled for a "chef version" of him. I wanted a slightly "pop" style and I chose strong colours and, for patterns, a cupcake with white dots to kind of match the natural design of strawberries. I made a few thumbnails and thought I needed some lines in my drawing, which I got with the edge of the table, the knife and the direction of Athos' body. Although I love coloured pencils I wanted vibrant colours and so settled for acrylics, which are very versatile, giving you freedom to paint over mistakes or changing details.
I did not have a perfect picture of Athos in the right position, but I studied photographs of other cats and took many snapshots of him. I'm not quite sure I conveyed the "poker face" he puts on every time he's caught stealing something…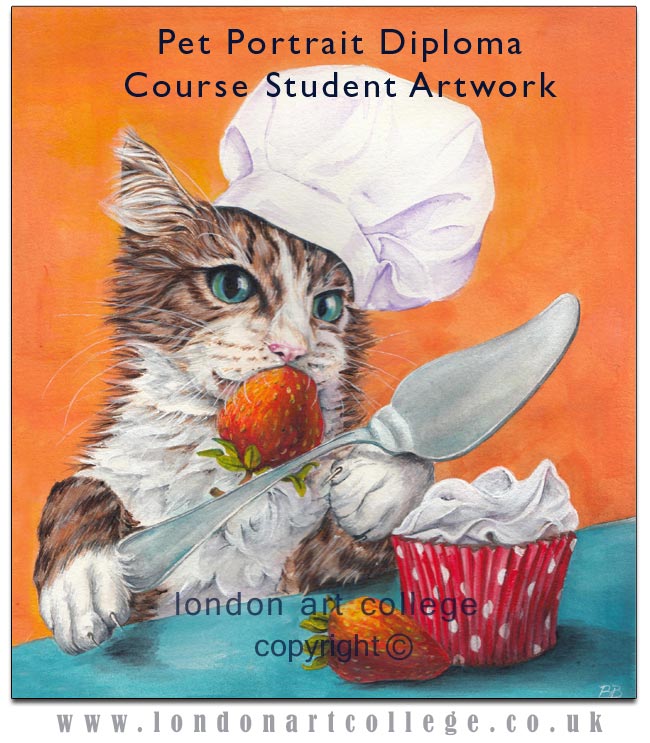 Barbara Bacci
Pet Portrait Diploma Studnet