Ian Emerson has recently completed our graphic design diploma course with Vanessa Weaver and mentioned to Vanessa that he had been involved in a wonderful project with the 'Living Memory Association'. Read and view Ian's story below along with viewing his work. Inspiring!!
—————————————-
My boyhood passion for comics has never really gone away and a lot of my interest in drawing stems from their influence. For me, a lot of the art work of the 1960s and 70s in comics such as The Wizard and TV21 is the best the genre has ever produced. Stories are not always politically correct to our 21st century eyes but there is a tremendous excitement and skill to the way these illustrators interpret the tales.
Move on a few years, okay quite a few years and after a career in I.T. I am semi-retired. I'd never given up my art work though. Needing to fill some of my time, I began to volunteer for an Edinburgh based charity called the Living Memory Association. It's a project that works predominantly with older people to record their memories and life stories – 'giving people a voice' is their motto. Fascinating work that has seen me interview, amongst others, an ex-artillery man who fought at El Alamein and Monte Casino and a woman who worked back stage at Edinburgh's Empire theatre in the late 1940s.
The project has produced many publications over the years, from straight forward life story books to histories of Edinburgh. They are always looking for new ways of interpreting stories. With this in mind Miles Tubb, one of the Living Memory Association workers suggested we might like to 'have a bash' at a graphic novel based on some the stories in the projects archive. I had completed two of the London Art College courses (Science Fiction & Fantasy certificate and Graphic Design Art diploma) and felt considerably enthused by the experience so I readily agreed.
Its been a very different and hugely enjoyable process. Miles would write the script; this consists of a description of what each page will be, plus its dialogue. It stretched my skills at times, which I think has definitely been a good thing. Interpreting someone else's visual ideas has pushed me into new directions.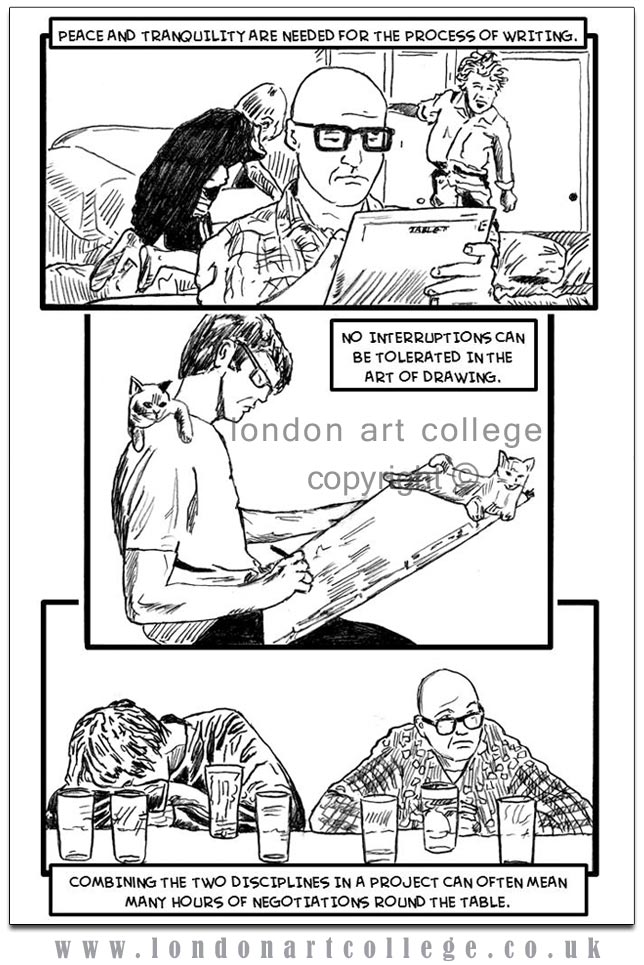 The finished book, 'Fallen' is a largely fictional story but its sense of place and period is based on real interviews. The setting is Leith, the docks area to the north east of Edinburgh and the story is set over a two day period in 1928. Reception to 'Fallen' has been very exciting. We've had good press coverage and the book is in two of Edinburgh's major bookshops. Sales are very encouraging.
The confidence gained from 'Fallen' has been terrific. I am currently half way through the art work of a longer 66 page science fiction based graphic novel and later this year Miles and I will start on a second book for the Living Memory Association. This one will be based on wartime memories.
Its been a worthwhile experience for all concerned. Its reinvigorated my art and has meant I really am drawing for a purpose. The LMA have gained publicity, income, another way of presenting people's memories and older people a sense of pride.
Ian Emerson
http://emersonbooks.webplus.net/index.html