The following text and images are by Claire, a very talented student who has just completed both the  Illustrating Children's Books (D6) and the follow on Extension course. We would like to thank Claire for taking the time to write a piece for our college news blog and we wish her every success in what looks like will be a very exciting career for her.
———————————————————————-
My name is Claire Westwood. Painting and drawing was all I'd ever wanted to do.
Having a degree in art, then having four children, I'd dabbled in professional art/illustration before  ( I did some greeting cards, fine art and magazine work) but I now felt that I fully had the time to dedicated to my art.
I had always thought my heart laid in illustrative art and was thrilled to find the 'Illustrating Children's Books course at London Art College.The assignments gave me the right direction and set the challenges I needed. I was delighted to pass the course with merit and even more excited to be offered a place on the extension course with my Tutor, Maggy Roberts.
It was so good to talk to other students and compare work and ideas. I am now friends and still in contact with many course members. We also meet on facebook where LAC now has it's own page.
During the extension course I developed my own ideas for a children's book which is quite a process! It's great to know how to present and create a book. I may eventually try to publish  my book 'Natty Bob and Mrs Wiggins'. It was an idea that I'd had for some time and with Maggy's help I was able to express my ideas with illustrations to a more professional standard. The course also provided briefs that I could then add to my website, at this stage I also started a facebook page for my art. This gives a good indication about which art is popular, as people can 'like' my images and offer comments.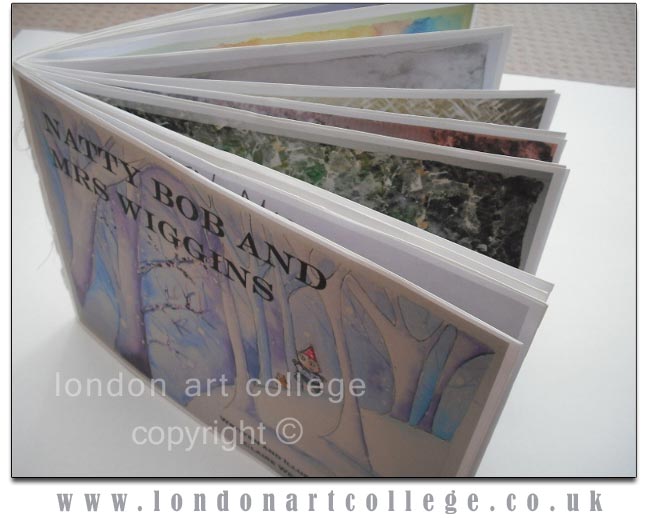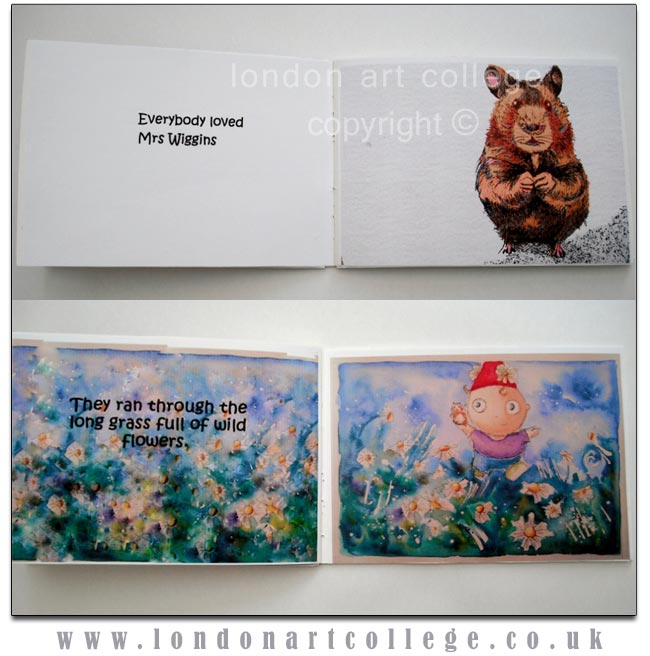 The course confirmed that I wanted to pursue illustration, the extension course allowed me to experiment and gave me a direction to encourage my further development.
A lot of my art consists of pen with watercolour, acrylic and now digital mediums. My style has grown quite pattern like and my images often come from dreams, my imagination or inspired by things around me. I like to interject some edge to my pictures and often add light or mist to create mood. My recent work has a contemporary style with a traditional feel.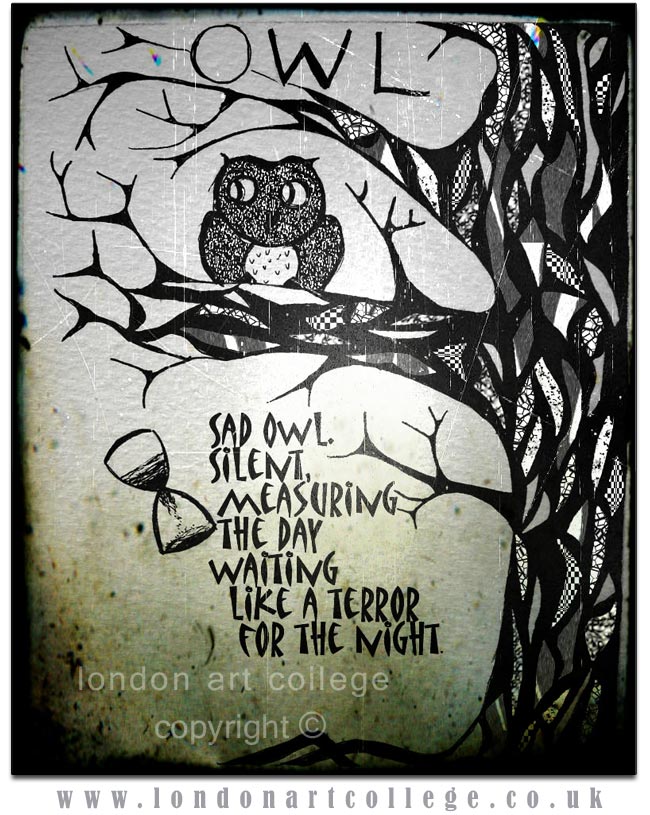 As my website grew I was attracting more commissions and have recently illustrated a Children's book called 'The Hippo club'. A friend of a friend had seen one of my pictures and then took a look at my website. This led to me working with him, after many meetings and lots work, I have now completed the illustrations. The book is currently being sent to various publishers.
I have also begun working in Art workshops in a local art gallery. In the new year I am beginning workshops in illustration with adults who are carers and use art as a means of therapy and a chance to meet others carers.
This illustration extension course fine tuned my ideas and gave my style a chance to fully develop. My portfolio and website expanded and I became more confident in my abilities. This enabled me to send some examples of my work to illustration agents.
I finished and passed the course this week and am happy to say that I also signed an agreement contract with an illustration agency! I am at present working on illustrations for them.
I would strongly recommend the illustrating Children's Books course to anyone. I have learnt so much and had so much fun with great support. If you are passionate about art and illustrating like me, then you must keep creating. I have basically unleashed my imagination and let my artwork express my true feelings!
Claire Westwood – Illustrating Children's Books (D6) and the follow on Extension course.