We add students to our honours list on our website regularly with students who have passed their course with flying colours. This week was the turn of a drawing and painting diploma student called Ulrike and when I saw her work, I thought we just have to have here here on the blog to show case it. I emailed Ulrike to ask if she would write something about her work and she has kindly write the text below. I hope you enjoy reading it along with viewing her wonderful paintings.
———————————————————————————————-
About the both oil portraits I can say I painted those men I love most O:-): my husband and my father.
Let me start with my husband. The original is just 20 x 20cm. I painted on gessoed MDF and used watersoluble oil colours. I just had photo as basis with quite a lot of light on the right. It's never easy to get the features of someone you love right. Besides, painting glasses is difficult if you use lots of paint. O;-) I usually use less. The background was the last I changed. First it was too dark. Later I thought about the complementary contrasts and changed it.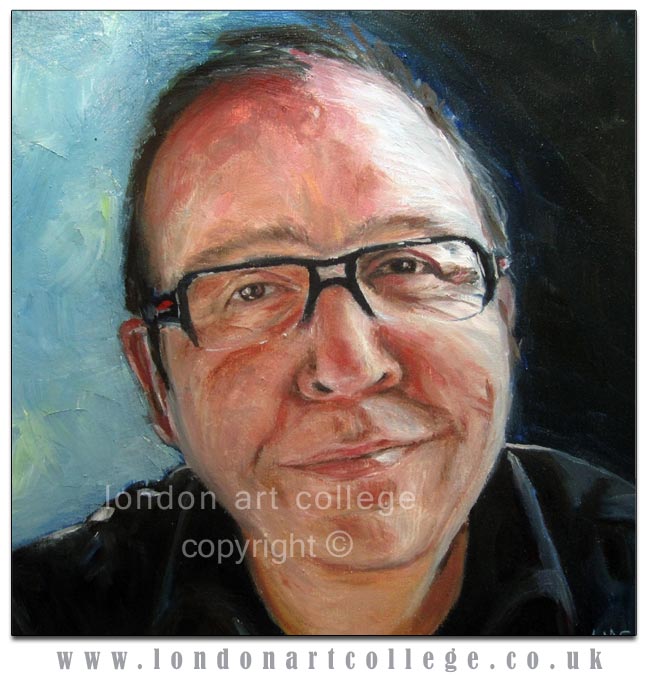 For my father I had the real man in front of me for the start, but it was a cloudy day and we sat at a table. So, I started my work with a pencil onto a stretched canvas but was not happy with the result. I took some photos and got back to the studio and added an ochres under painting before going on. I was surprised when I found out that the portrait hadn't taken a long time. Perhaps it's because I know him so well O;-)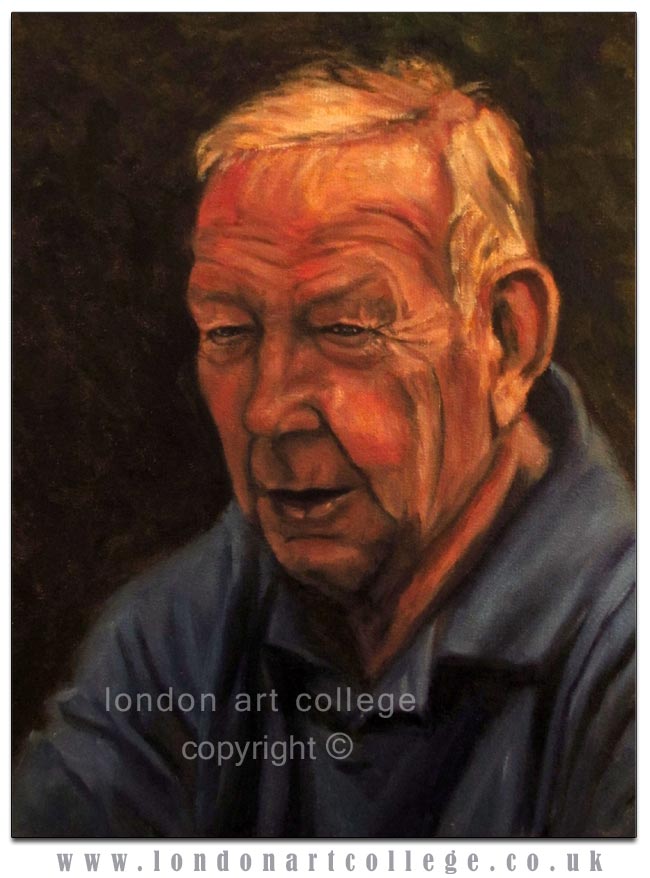 When I started painting seriously in 2004, I took over my husband's acrylic paints. I've still got some of them because I began reducing my palette soon to just 8 colours (Titanium White, Black, Lemon Yellow, Cadmium Yellow middle, Crimson red, Vermilion Red, Ultramarine Blue, Phthalo Blue) because it's a good exercise to mix your colours and it's less expensive. O;-)
About my subjects I must confess I hopped around and I still can't say that I'm just happy with one kind of subject. Furthermore, I went over to watercolours and pastels and two years ago I made my first steps with oil paint. I always struggle with a new medium, but I never give up.- Ok, I'm not fond of charcoal O;-)
At the moment I'm having a love of still life's with just a few or just one subject and I like to paint small. Perhaps you'd like to have a look on http://www.ums-arts.com or on my blog http://carpe-mundum.blogspot.com. There you'll find some more of my work.
Ulrike – Drawing and Painting Diploma (D1)