Our Illustrating Children's Books Diploma tutor Maggy Roberts sent me an email from Rachel Quarry, one of her students, letting us know about an illustration competition she and 6 other illustrators had entered and won. I asked Rachel if she would write about it for our college news blog and she has very kindly send the text and illustrations below. We hope you enjoy reading and viewing Rachel's wonderful artwork!
=================================
I am a student on the diploma course in Children's Book Illustration. Although my background is in languages and finance, I have been interested in painting and drawing for many years and wanted to take a BA degree in Illustration. However, work and family commitments meant it was difficult to get to college every day, so I was thrilled to discover that this home study diploma was available.
Last year a writer friend of mine told me about a new Illustration competition called 'Undiscovered Voices' run by the SCBWI (Society of Children's Book Writers and Illustrators).  The competition was open to all unpublished illustrators, and the brief was to create a black and white illustration to the theme of 'Undiscovered Voices' to accompany an anthology of children's stories aimed at the 7+ market.  Among the judges were a children's publisher, a children's book agent, and Nick Sharratt the illustrator.
I had recently written my own children's story about a baboon who loves to sing, and this inspired me to create a picture of a singing baboon for the competition.  A few months later, to my surprise and delight, I received an email telling me that my picture was one of six winning entries.
In January the six winners were invited to a portfolio workshop to prepare ourselves for the launch party, where we would get the chance to meet art directors and illustration agents and show them our work.  I learned a huge amount – how to select and arrange pieces for a portfolio, and what art agents and directors look for.  The judging team seized on a couple of black and white exercises that I had done for this diploma course, and told me to create more like it.
I spent a busy month creating three new black and white pieces, adding the final touches to other pieces of artwork, building a website and designing my own business card.  The launch party at the beginning of February was both daunting and exciting. 200 book agents and publishers had been sent a copy of the anthology and were invited to the event. Unfortunately the event clashed with a major MA Illustration show, and it seemed that most art directors and agents had gone to that, so we didn't get as much exposure as we had hoped.  However, I did talk to one art director who was very encouraging and gave me some good advice.
I am looking forward to building up my portfolio on this diploma course. I am about to embark on my third project.  I have hugely enjoyed working on the first two and been very grateful for Maggy's encouraging and insightful feedback.
Anyone who is interested in entering the second 'Undiscovered Voices' competition should keep an eye out for the announcement on www.scbwi.org early in 2013. Good luck!
Rachel Quarry – Illustrating Children's Books Diploma (D6)
Rachel's Illustrations:
1 – Winning illustration for 'Undiscovered Voices' competition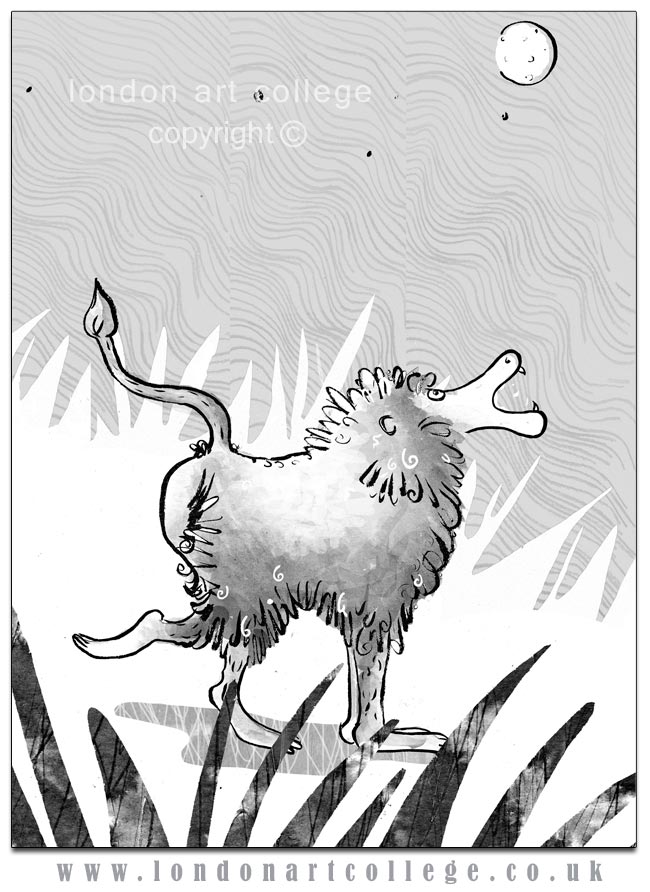 2 – Diploma course character exercise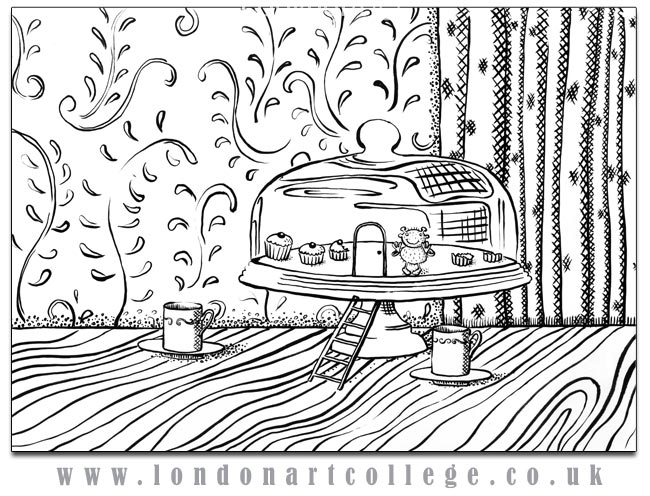 3 – Diploma course texture exercise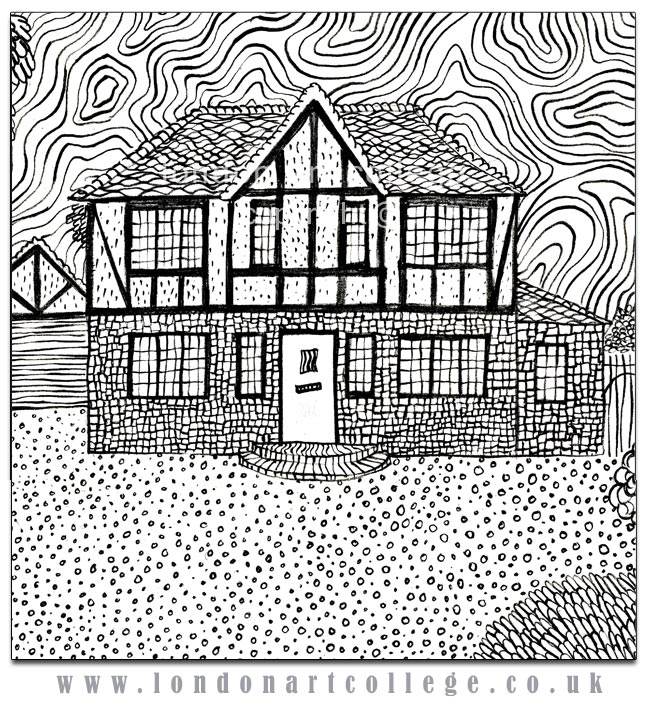 4 – Baboons laughing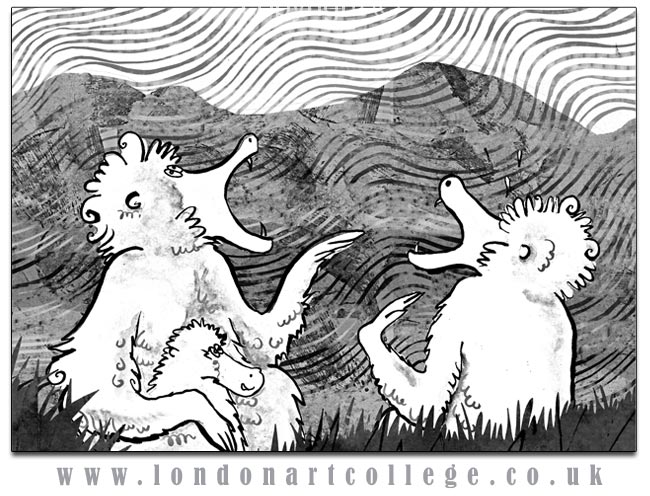 5 – Archie's pushchair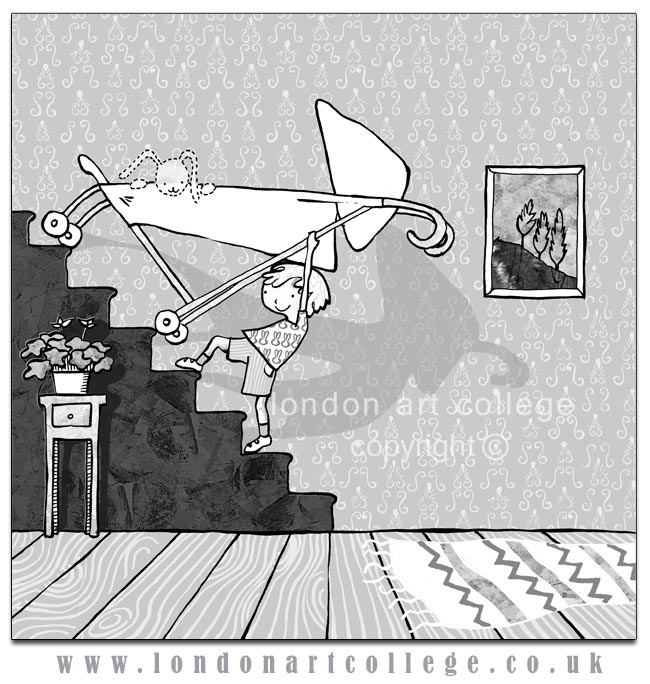 6 – My business card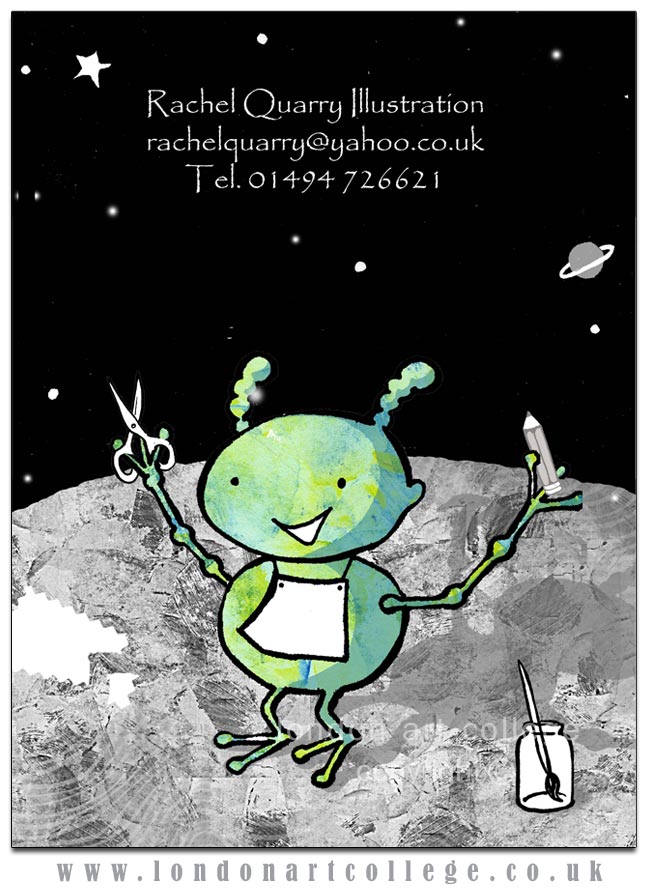 7  Undiscovered Voices photo