My name is Nicola and I am new to the Illustrating Children's Books Diploma. I must admit, I was tentative about starting. I hadn't drawn or put pen to paper in years and I was unsure as to what I maybe able to deliver. I had seen so many impressive submissions from other students and was wondering what I would come out with.
The picture I put together was for the first brief: "Tiny Seed" and left alot for artistic interpretation. This is what I love – letting my mind work overdrive and getting silly with ideas. I was obviously very out of practice and just thought…."ok lets have fun with this, and if it doesnt turn out right then think of it a learning curve". This enabled me to relax and get into gear. I have always been very cheeky and like to add humour to all my work……and life. So, the "silly cow" idea was born.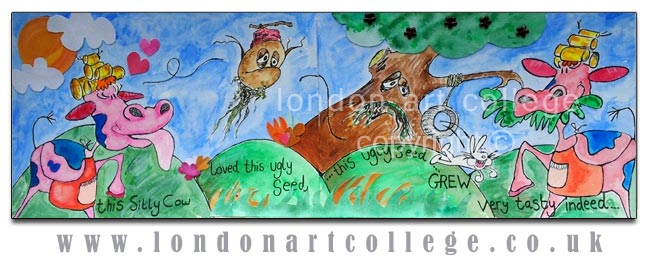 I have never used water colour before and was excited to try the new medium. Firstly, I had to have the idea, and once the idea was there the rest was free flowing. (albeit with plenty of  hiccups). Firstly I discovered the wonders of quality paints. This was suggested by Maggie in the course material, and she was unsuprisingly correct !! I had tried the first exersize using my 2 year old sons 99p paints and the colours are so dissappointing. So I invested in some quality water colours and brushes and it was well worth it.
I pencilled my drawing straight to water colour paper. I used a thin nib so I could rub out mistakes easily and then I went over the drawing using a black ink art pen. The next part was to add the colours and my quality brushes made life so much easier for me. The brushes held the paint so well and were excellent at the areas which required detail. I was very worried that it would "bleed" and smudge but this was not the case, and I thank my wonderful tools for this.
I am huge fan of contrast and texture, and there was NO WAY I was going to paint the cows the standard black and white. This was where my first bit of training has come into play. I used the wet on wet collage technique that is discussed in the first part of the course. I loved it and Maggie asked whether I would use it for future illustrations…..and the answer is "yes".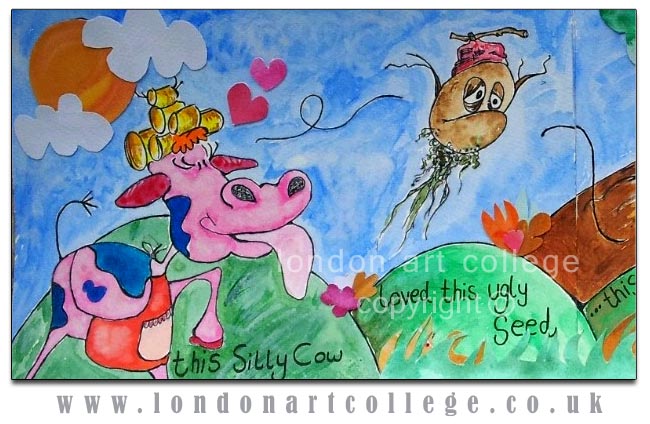 The grass, clouds, tree, flowers and hearts are all on seperate water colour paper and stuck on with glue. I really enjoy this technique and think it really adds to the picture. I have only really started the course and feel I am learning so much already. I would certainly recommend it to any future budding artist, and if anyone is like me and has doubts at the start or any lack of confidence then fear not: I truely believe the best art is delivered when you are just having fun and experimenting.
By Nicola – Currently taking the Illustrating Children's Books Diploma (D6)