We asked Julie Mulholland if she would like to write a little about herself and her artwork and this is a very inspirational piece and a 'must read'! Thank you Julie, for sharing it with us.
ABOUT ME – by Julie Mulholland
How thrilled I was to be asked to write a piece on my final brief for the Children's Book Illustration Course. This is a little about where I come from and how I got here. Please don't get bored but read the full story as it may help some of you 'younger' students to realise your dreams NOW.
From a very early age I wanted to draw. Everything I could get my hands on I used to draw on. We were quite poor growing up as my father had a stroke at the age of 37 and my mum had 3 little girls and a disabled husband to look after, whilst also having 3 jobs to keep a roof over our heads. As we couldn't afford drawing paper, my mum gave me wallpaper remnants which I drew on the back of (and which I still have).
My dad was a brilliant artist but never got the chance to pursue it, it was different in those days, it was about going out and getting a wage and handing it over for your keep. Then he had the stroke and that put an end to it completely.
When my parents realised I had this talent and I wanted to pursue a career in art they wanted to make sure I had every opportunity to do so. With their help and encouragement I left school and went to college to do a diploma in Graphic Design which I passed with a distinction.
I had a tutor who saw that I also had a talent in illustration and in 1984 when I left, he got me an interview with a local publishers who gave me a very small job of drawing a simple sheep. You might think this is a simple thing to do but at the time I was quite naïve and didn't quite 'get' what they were asking for. I had never taken a brief before and felt really under pressure to get things right, especially when they gave it me back to redraw. I never got the job and have spent the last 28 years in the graphics industry. I never really bothered illustrating too much after that and my parents always say I am wasting my talent.
As I am sure all you frustrated artists understand, that dream never went away and I started to look for something to fulfil my long lost ambition, that is when I came across this course. Encouraged by my sister, I signed up there and then.
Since starting the course, I have really taken off, it has encouraged me to draw again and the support and constructive critique received from Maggy have really boosted confidence in my ability. Now, once again I draw at every opportunity and that has been the key to re-inventing the artist in me.
My final piece for the course, Freddie's Happy Ending was a brilliant brief to work on. It gave me so much scope to do whatever I wanted and to be as imaginative as I liked. The idea came to me via another sketch I was working on, just a kind of 'nothing special doodly' type sketch. Sketches are important, when I get a character idea, I scribble something down in a book I carry around with me and also scribble a rough idea of the story I am thinking of. I believe you can't have a story without a character and vice versa. So from one of these sketches grew my final illustration.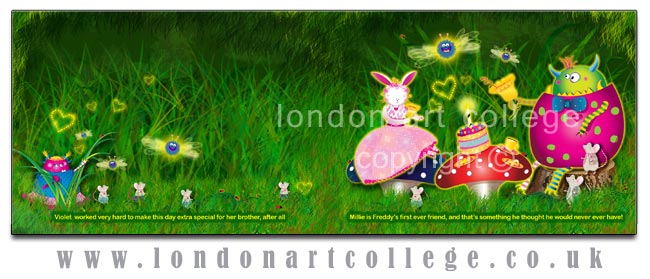 The hardest part of this illustration was deciding which medium to use. Eventually, because of the glowing effects, I decided to do it digitally. It is a mixture of Illustrator and Photoshop. I drew my characters in pencil then scanned them in to draw over. I combined the two and did the last piece in Photoshop. I was pleased with the result but would also like to try doing it in Gouache.
During this course I have had so many other ideas which I have kept to one side, one of which I have developed into a book and already sent to publishers. This is something I never would have attempted prior to the course but I will be pushing very hard to sell myself.
I am aware of the very difficult market at the moment but will keep trying to reach my ultimate goal because finally…I believe one day it will happen and I now have faith in my talent!
Finally, the one bit of advice I can give is never give up on your dream. You are never too old (I am 47) to start drawing but if you have that talent and you are leaving college or University, really believe in yourself and push as hard as you can to get what you want. It is a little bit of luck but also a LOT of hard work. It won't just come to you – keep trying and believe.
Thanks Maggy for all the encouragement.
Julie Mulholland
Pass with Distinction
Two details of Julie's Freddy's Happy Ending Below.