We would like to congratulate Suzanne Prytherch on passing her Botanical Coloured Pencil Diploma and have added her final assignments below with the accompanying text as we feel that it will give insight to our other students in how Suzanne worked on each piece, their creation and the colours used. Suzanne very kindly took a photo of some of her paintings and certificate for us to use on our website too, which you can see below. We wish Suzanne the very best of luck for her future paintings and drawings!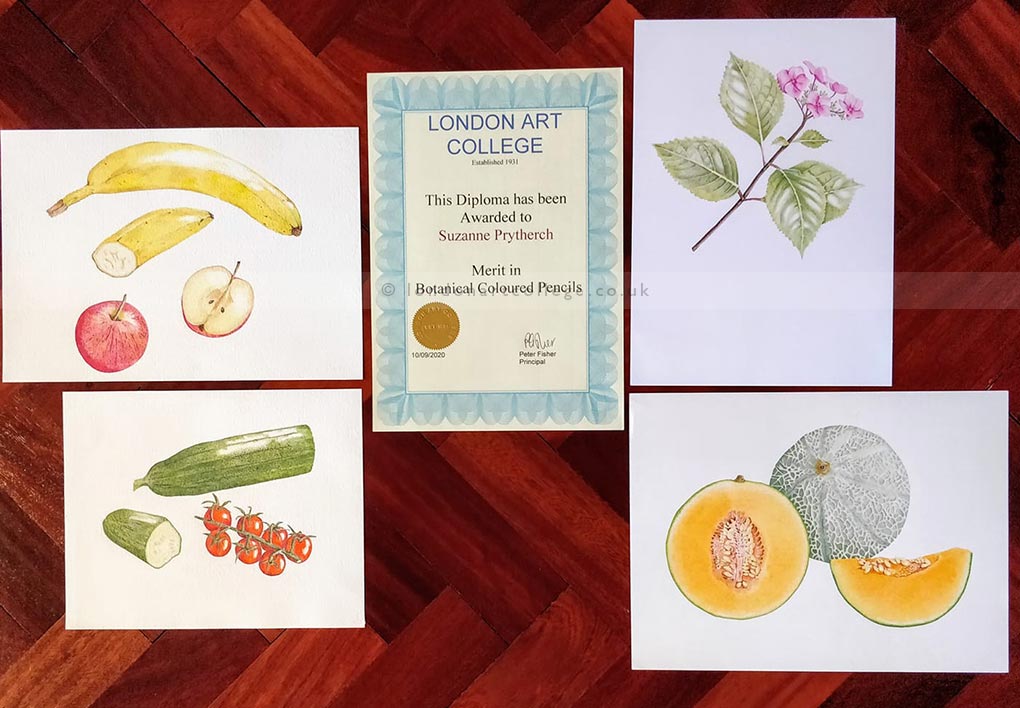 I can't believe this is my final assignment! I feel I have raced through this course, having taken a while to initially get started and then leaving myself with only 8 months to complete it. However, I have had a lot of time on my hands during Covid-19 lockdown and therefore it's been lovely to be able to concentrate on my drawing. I am pleased with my progress and feel I have improved my observational skills and am now able to put down on paper a pretty accurate representation of what I am looking at. I have enjoyed exploring the use of graphite pencil, pen and ink, and artist quality pencils.
I have also enjoyed exploring plants and flowers in much more detail during this course. I was fascinated to see how the leaves and flowers on a fuchsia, that I was drawing, grew from the stem in groups of three. And on the Hydrangea, how the leaves grow in pairs.
Hydrangea macrophylla, "variety unknown" Lacecap Hydrangea
Deciding which flower to draw took some time and I actually started out drawing a fuchsia. However, having drawn it twice I wasn't happy with either outcome, so in the end I decided to draw a Lacecap Hydrangea. I did a line drawing first then traced the image onto tracing paper so that I could repeat the image onto my art paper. I used an embossing tool (Pergamano) for the veins on the leaves. I left the paper white for the highlights on the leaves.
Paper – Frisk Bristol Board 280 gsm Pencils (Faber Castell Polychromos)
Stem:Van Dyck Brown FC176 Walnut Brown FC177 Magenta FC133 Dark Red FC225
Leaf: Earth Green Yellowish FC168 Chromium Green Opaque FC174 May Green FC170 Cream FC102 Dark Red FC225
Flower: Warm Grey II FC271 Fuchsia FC123 Pink Madder Lake FC129 Magenta FC133 Skyblue FC146 Light Green FC171 Chromium green opaque FC174 Walnut Brown FC177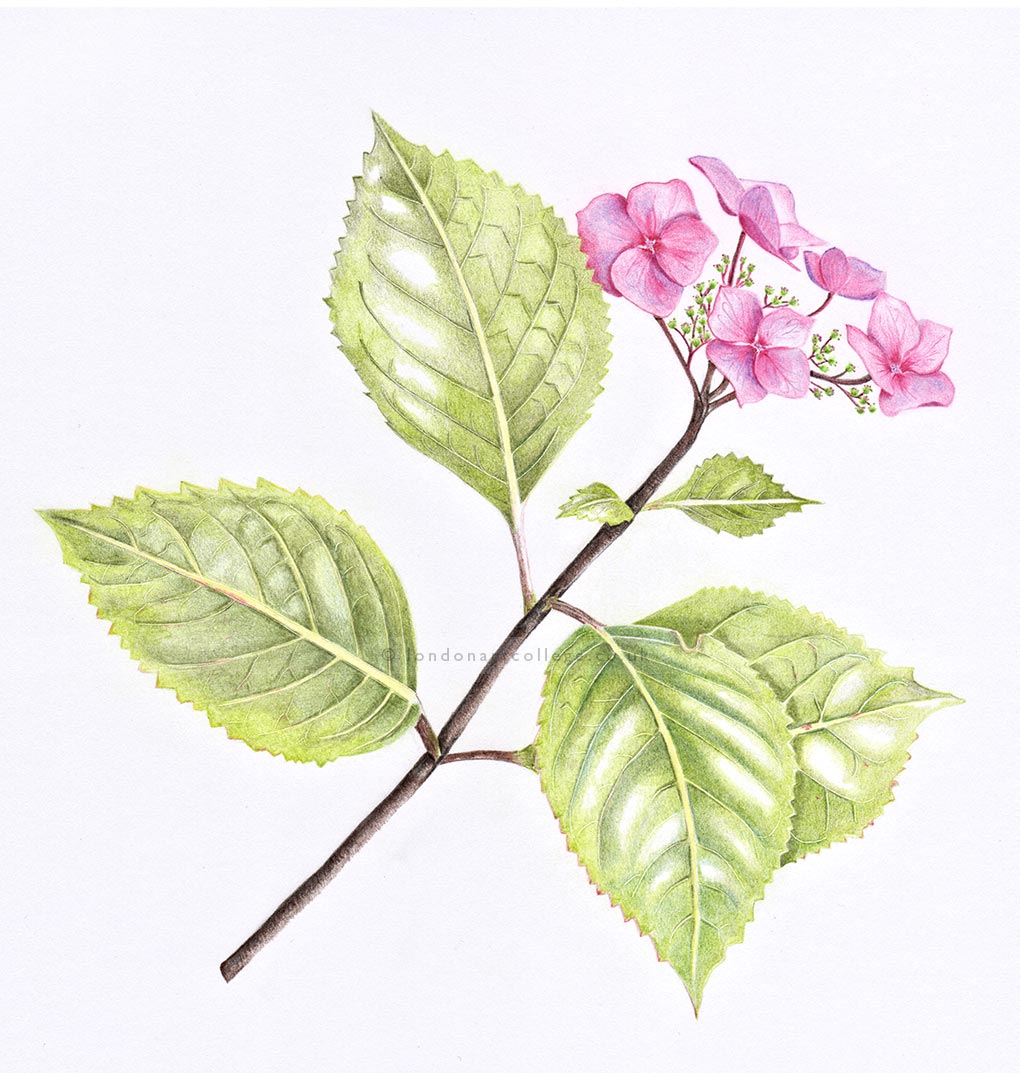 Cucumis melo var. cantalupensis, "Cantaloupe Melon"
I purchased three melons for this assignment which lasted well in the fridge between drawing sessions. I have enjoyed exploring the texture of the skin and love the vivid colour of the flesh. I wanted to show the inside of the melon, displaying the seeds and getting depth to the centre. My first drawing attempt had the whole melon to the left of the cut half and the three pieces very close together. The way the ribs ran down the skin made the melon look elongated and the composition looked wrong. I sketched out various layouts and decided to move the pieces further apart to give space and balance to the composition. I used the first drawing to experiment with my colours. I used a Lyra Rembrandt Splender blender pencil to finish off the flesh of the melon.
Paper – Bristol vellum surface heavyweight 270 gsm Pencils (Faber Castell Polychromos) –
Skin: Warm Grey II FC271 Ivory FC103 Earth Green FC172 Chrome Oxide Green FC278 Dark Indigo FC157
Flesh & Rind: May Green FC170 Juniper Green FC165 Dark Chrome Yellow FC109 Cadmium Orange FC111 Sanguine FC188 Cinnamon FC189
Seeds: Cream FC102 Burnt Ochre FC187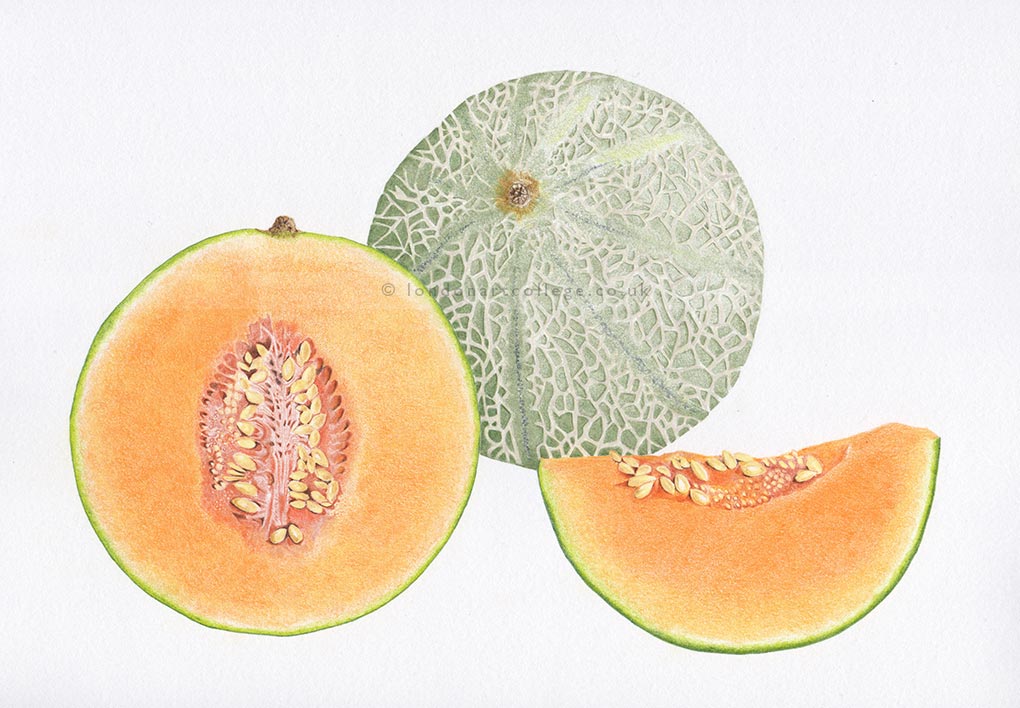 If you would like to receive a roundup of all of our blog posts once a week to keep you inspired in your inbox, why not sign up to our newsletter. You can access our sign up at the top of our page. If you are a London Art College student and you would like your artwork featured here, drop us a line at any time.