Nina Tadsen is currently completing our Watercolour Diploma course. Tutor Ida has been so thrilled with Nina's artwork she has asked her if she would consider enrolling the Botanical Watercolour Course. You'll see why! You can also read about the beautiful artwork from Nina below too.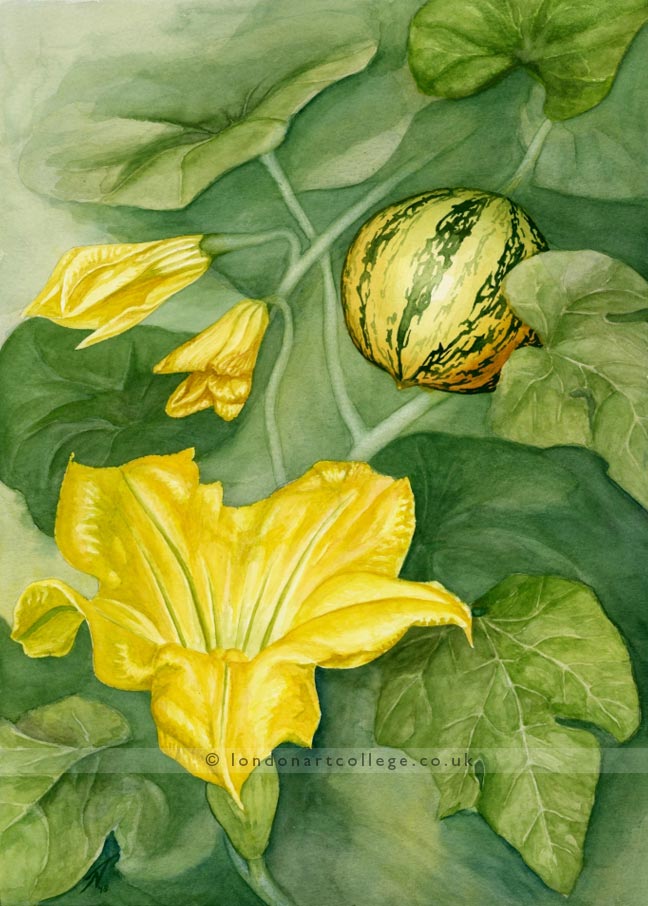 I love flowers and gardening, so naturally my garden is a source of
inspiration for me. This summer I grew ornamental pumpkins and took photos while they were both blooming and bearing fruit.

I did not copy one photo exactly but used several photos and drew some sketches to plan the composition for this assignment.

It is painted on Bockingford paper roughly A3 in size. The main colours for
this painting are cadmium yellow, french ultramarine and Windsor blue for the yellows and greens. Some cobalt turquoise was used in the mix for a cooler background and burnt umber for the darker areas of the pumpkin.

Nina Tadsen


If you would like to receive a roundup of all of our blog posts once a week to keep you inspired in your inbox, why not sign up to our newsletter. You can access our sign up at the top of our page. If you are a London Art College student and you would like your artwork featured here, drop us a line at any time.