My name is Richard and I have been studying the Pet portrait Diploma with the London Art College.
Art was far and away my best subject at school. This did not mean much as I was awful at pretty well everything else! It was also a long time ago, a time when my school considered art not an "academic" subject and so there were no "O" levels or "A" levels to be worked for and work did not appeal at that time. Yes I could and probably should have changed schools but I don't intend going the "if only" route. Suffice to say I had other things on my mind at that age and by the time I was made to realise by someone I respected enormously that to get anywhere you had to graft, I was in my early twenties and already committed to the business world. This period however, left two lasting sentiments; firstly, despite my regular, maximum marks for my art homework the end of term mark, which was based on homework, was always lower than those not sitting at the back of the class with the lads as I did. The second was a portrait of my hero, Bobby Moore I produced then. I still have it now somewhere and still think it wasn't bad for a teenager.
This is not intended to be a biography so fast forward to the time approaching my recent retirement. I worked for an excellent company that has a programme of preparing people for retirement. Having already taken up watercolours in a small way, I took funding for an art course and I selected the London Art College's Pet Portraits Course which would combine my love of animals and my increasingly dominant hobby of art. I had, by this time, sold one or two landscapes but nothing of the volume or value to even consider changing my 'amateur' tag. Other hobbies in fact tied in nicely. Music I could listen too while painting and archaeology for which I was getting a little old for the physical demands of digging, although it had given me my fifteen minutes of fame when I found the remains of a stone age baby at Chedworth Roman Villa.
I found the Pet Portraits course interesting and enjoyable, however I was becoming very frustrated with the work I produced. Remembering all the advice from art instructional books about 'keeping it loose' and 'letting it flow' I was doing ok, but not to the sort of level desired. Then two things happened virtually at the same time. Firstly my domestic situation changed requiring my return to full time employment, the second and most relevant point was a huge "eureka" moment and it was Bobby Moore who helped. Although he had sadly passed away by this stage I decided to do one exercise in the same 'style' as that used to create his portrait, taking my time and going into great detail using graphite pencil, noting fur direction and facial contours. The result was the basset hound which you can see below. Ok this will not win Artist of the Year but it was enough to convince me to concentrate on character and detail.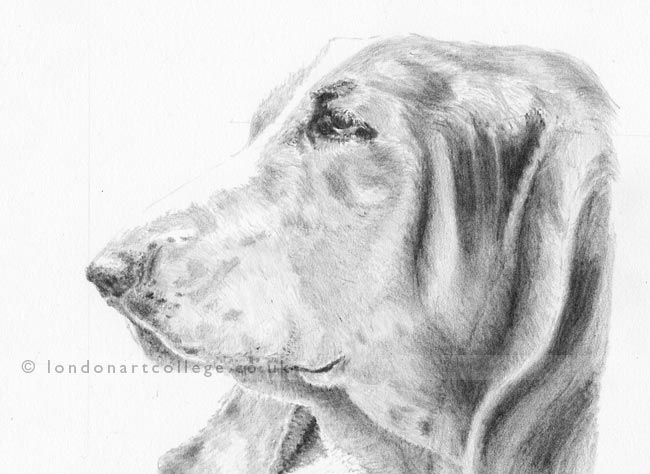 Due mostly to work commitments I was unable to sufficiently advance in my chosen style until actual retirement came along and I started painting again, in graphite mostly and re-visiting the style I had chosen, although I was still very conscious of the seemingly constant message of 'keeping it loose'. At this point my elder daughter inadvertently had a huge influence on what is increasingly becoming a new career. Her future mother in law has a wonderful caring dog through Canine Partners. If you haven't seen one of these dogs in action it is worth putting yourself out to do so, they are wonderful. Well, the subject of a lasting memento of the dog came up and my daughter, in the type of fatherly love that is so blind to reality, volunteered my services – thanks Abi! I have never before had the responsibility of producing a portrait with sufficient accuracy to please the client and was very nervous about the outcome. By this stage my daughters had left home and I lived alone with my Labradors and had time to give the project my full attention. After and great deal of attention to detail as well as time, I produced the picture and nervously handed it to my son in law to deliver. The picture is attached with apologies for the quality of copy.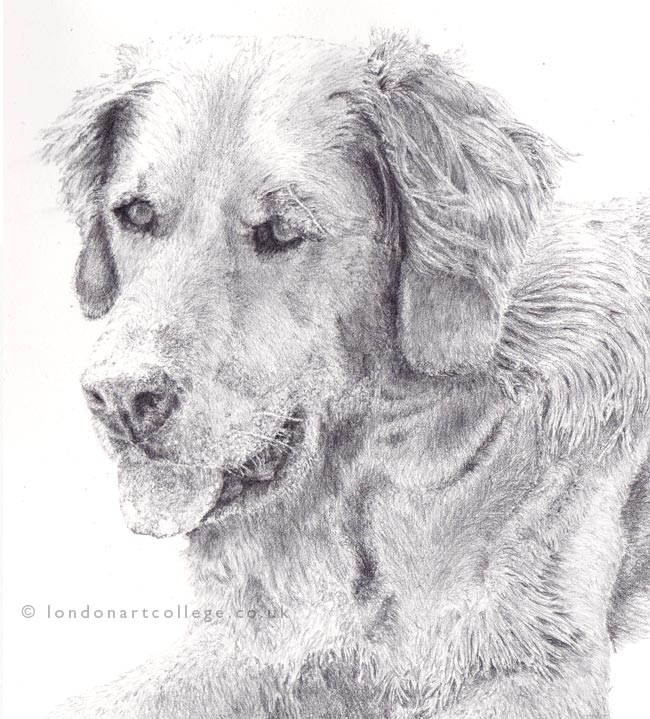 Well they loved it! Not only that but others saw it and asked for me to produce their pets in the same style. My daughters once again influenced things by suggesting I begin to charge for the service despite my own reservations about my ability and acceptability, surely no one would be interested. Well like a good Dad I did as I was told and people did indeed start to pay for portraits I produced. Not just dogs but also cats and horses and between commissions I have begun to produce wildlife portraits.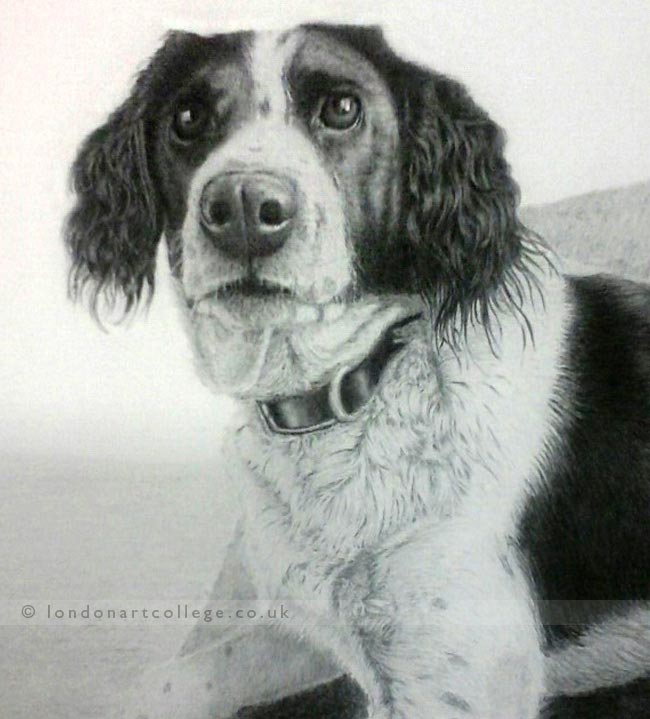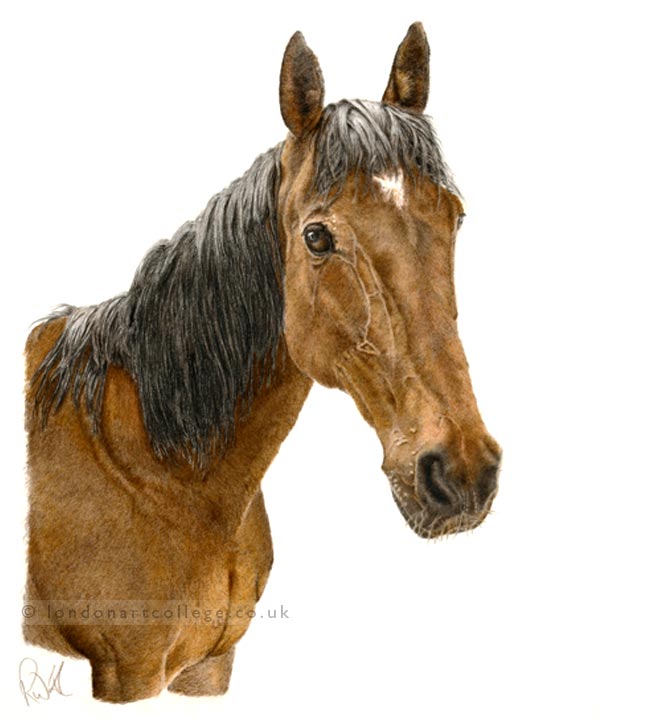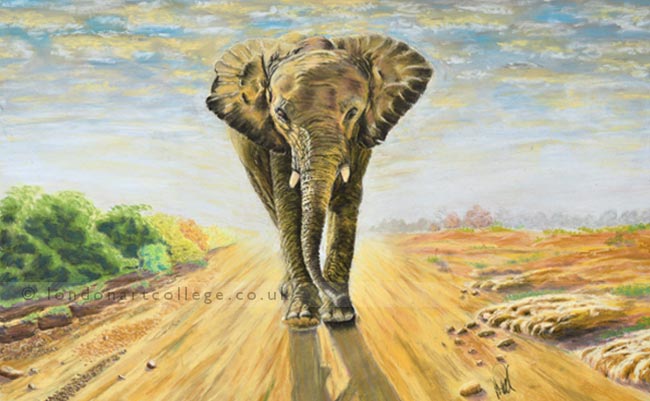 One element that I had not anticipated is the number of requests for portraits of pets that have passed away. On one occasion a gentleman requested a portrait of a spaniel that had passed away suddenly, as a Christmas present for his son. His plan was to leave it unwrapped, propped up, in the lounge. Apparently the son walked in to the lounge and burst in to tears! Although you feel for the owner in this situation, there is a certain amount of gratification to such a spontaneous reaction. On another occasion a cat portrait was assumed to be a photograph.
Not all commissions get feedback but those that do serve to increase the confidence and the desire to produce more. I no longer feel the need to be more 'loose', although I frequently go back to watercolour just for a bit of a change. I have been able to use my 'style' with coloured pencil, pastel and pastel pencil as well as graphite.
I have also discovered other artists with the same approach, the same style. The style does not lend itself to producing quick works or sketches but is none the less extremely satisfying.
I now have a website and Facebook page both using the title "RWJCArt". Finally I recently attended a small local event where I was able to exhibit my work and am anticipating a positive outcome following the interest shown, so much so that I have booked a stand at a large forthcoming country show locally. Most importantly I thoroughly enjoy my art and producing work that gives pleasure to others as well as myself.
Richard Collins
Pet Portrait Course
www.rwjcart.com
www.facebook.com/RWJCArt