Joanne Lindley is currently studying the Watercolour Diploma Course and below are some snippets of her recent painting of a landscape and seascape based in Australia.
I chose a personal photo from a trip I did last year along the Great Ocean Road in Victoria, Australia. This was a new challenge for me as I have only previously painted fruit and flowers! Photo shown below.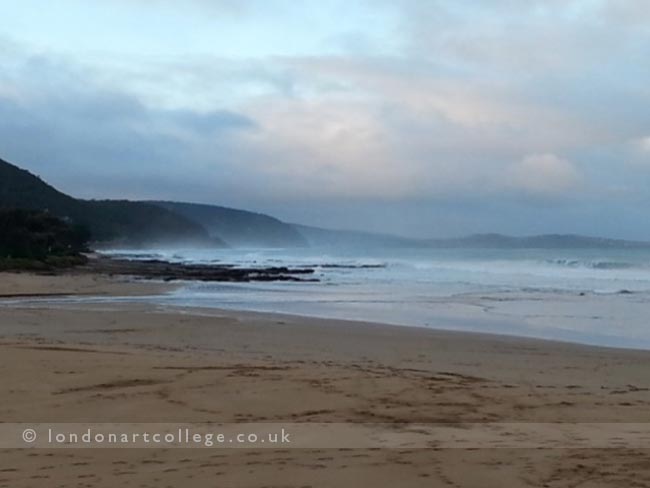 I started with a quick watercolour wash using a mix of raw sienna and ultramarine blue. I decided from there that I needed a drier mix into the wet for the sky to avoid the 'cauliflower' effect. The closer hills needed to be much darker. The distant hills needed softer edges. The hills needed to be less height. Negative painting was needed for the crests of the waves. A darker tone for the distant sea. Try some dry brushing for the sand.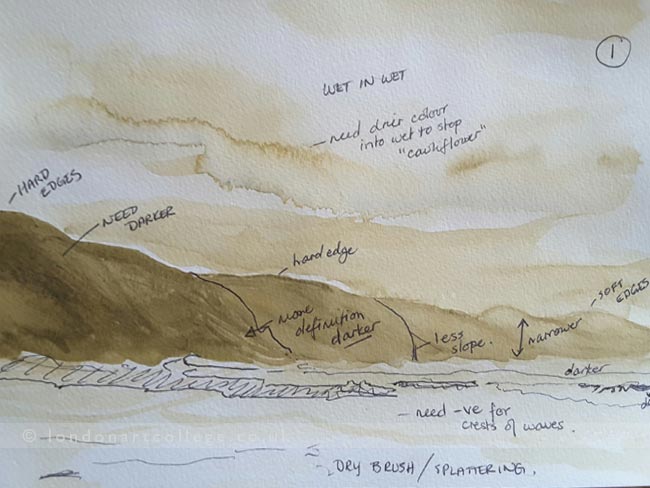 Colours :
SKY – pthalo blue / paynes grey / bit of madder rose
HILLS – burnt umber / yellow ochre / pthalo sapphire
SEA – pthalo sapphire / aqua green
SAND – yellow ochre / burnt umber
BRUSHES : Neef, squirrel mix, round size 10 and 2.
PAPER : Arches 185gsm
Technique :
Firstly I wet the sky area, trying to leave some dry sections. Dropped in some pthalo blue and paynes grey trying to use a greyer tone closer to the hills. I used a tissue to blot out some colour around the blank paper. I used the same blue over the sea and then when dry I glazed with the aqua green, trying to leave some white paper for the waves, then using a darker tone under the white. I used a wash of yellow ochre for the hills and sand, then layered darker tones of burnt umber for the hills, using a finer brush on the crests to suggest trees/bushes. I tried to vary the tone of yellow ochre for the sand and dry brushed in bits of burnt umber. Finished painting below.
Joanne Lindley
Watercolour Diploma Art Course