My name is Lionel Meyringer and I am studying the Illustrating Children's Books Online Art Course with the London Art College.  It's coming up to Halloween, a good time for a scary story — in this case the very scary Children's Book Illustration assignment five! Aside from being enormous fun, this course has really helped hone my working method. I'm always interested to hear how other people manage their creative process, so I thought I'd share mine. Here's what I tell myself:
1. Stop procrastinating and start scribbling!
Before I start any project I have a fear that I'm not going to come up with anything at all. I find excuses not to start. This brief was no exception. I don't think this fear will ever go away — important is to start!
To get this assignment kicked off, I studied scary stories and watched scary TV, scribbling down ideas as they came to me. Don't write them down later — write them down now!
To this end I have an old clipboard loaded with copier paper to keep notes and drawings — loose sheets make it easier to use anything good later.
I carry on till my scribbles start to cohere, and I'm itching to get on!
2. Follow the brief and find a story.
I now have a harder think about the Brief. In this particular case, a great big hole in the middle for text, black and white, and creepy — and I start sketches that conform to the brief, referring to my previous scribbles.
I also like to have a story to work towards, even for the exercises. It can be as simple as a background for a character. It keeps me focussed and out of trouble…
I go through periods of frustration at this stage. When I realise, I stop — carrying on is counterproductive. I'll take a step back to figure out what's happened. Usually I've been trying something that isn't working, over and over.
Eventually a story starts to develop, and I home in on an idea. A couple more sketches, and again I'm itching to go on.
3. Figure out what to do, and do it!
I now come up with a layout, using a light board, tracing paper and printer/copier to rearrange things till I'm happy, and end up with a line drawing. I make copies to try out shading / colour etc.
What I have now will look bad compared to what's in my head, and I will get a touch discouraged. Time for some more junk TV as I experiment!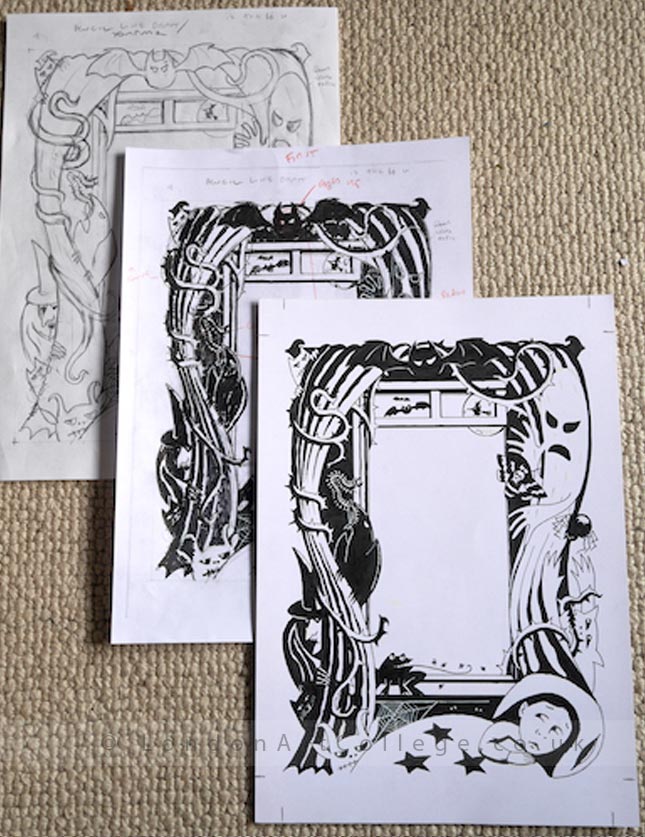 Once happy, what I do depends on the technique I've chosen. In my experience it's risky to use something I've just bought and need to justify — say Japanese bamboo-bristled brushes. I ended up choosing ink (black and white), using brush and pen.
I always remind myself anything can be fixed, nothing is wasted, and above all, to enjoy the creative process!
Lionel Meyringer
Illustrating Children's Books