Alison Huges studied on our Coloured Pencil Online Art Course and created this lovely still life piece using coloured pencils. We love Alison's attention to detail throughout the piece. The deep vibrant colour of the background and the green colours of the jewellery bag stand off beautifully from the red background.
We can see that Alison has successfully achieved each objects texture and shine and they all look and feel very three dimensional. It is an outstanding drawing and we are certain that Alison's tutor was thrilled.
When submitting artwork for her tutor to critique, Alison took a photo of the scene she was drawing. This can be very helpful for our tutors as they can actually see what you were looking at and how you translated it when creating the artwork.
Many students do work from life and this is always the best way to work. However sometimes this isn't always possible and you need to work from photos of your set up. Its really important to have the correct equipment and the ability to take photos for your own artwork. If students need any help and guidance, they can ask questions in the 'Common Room' about their photography. Or why not take our photography course! Find out more on our website…London Art College.
We hope you like Alison's artwork and you find it inspiring to have a go at something similar yourself.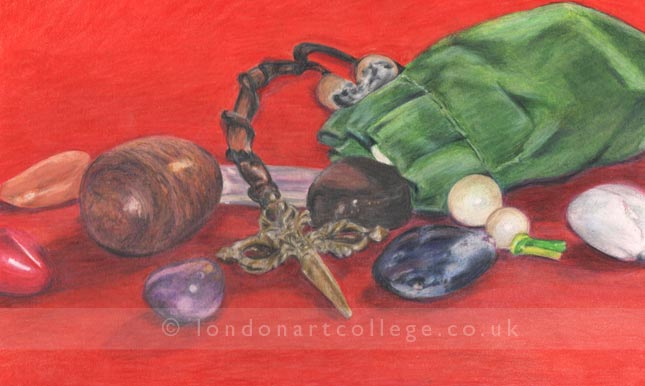 A photo of the still life setup