Most artists have faced the dreaded blank page, canvas or screen at some point and experienced that moment of right brain freeze. You want to create something, but you are stuck for ideas. As a conventional artist you can resort to what you see around you or the ever present 'spare hand' (which is actually an excellent and complex subject). If you are a cartoonist or an illustrator you need more to fill that vacuum, as you are not only looking for a subject, you are seeking a story or a joke.
On the Illustration Diploma we provide guidance through the assignments and study units including song lyrics, poems, business ideas and stories. When the student has to pick something of their own we suggest that a comic or comic strip of the events of their day, their favourite joke, or perhaps their version of a folk or fairy tale are all valid vehicles to test out their illustration skills.  I have a different approach for creating cartoons, but for flexing those illustrative muscles one approach I recommend is Rory's Story Cubes. If you have not discovered them already they are a set of dice with storytelling symbols on them. The base set on my iPad app has nine cubes each with six symbols on it, and a quick roll of the dice yields this: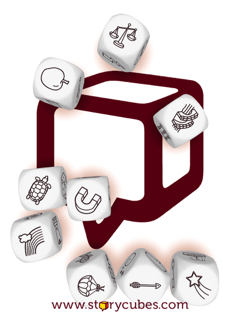 The idea now is that you rearrange the cubes however you like then tell a story with them. It's a superb creative tool not only for writers and illustrators, but also as a game for all ages. There are many more sets of dice you can add to this base set, and they even have themed versions on the market now. Check out my Batman Story cubes I got for Christmas!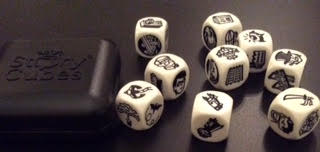 The cubes are widely available and the app is also affordable and works on both Android and iOS devices. I have the iOS version, and it is a superb interface with stunning animation that really gives the impression that the cubes are rolling inside your iPad. You can easily buy additional themes then tailor your set accordingly.
Yes I know I sound like a salesman but that is because I am genuinely enthused by this simple yet effective tool. The next time you are truly stuck for ideas why not try them out? Sometimes all it takes is a creative nudge to get those juices flowing again, and these cubes certainly do that. Now I have to go and write a story about a turtle named Rainbow who sets off on a quest to find the magical magnetic arrow to enable his village to attract the lucky shooting star and save their apple orchard from blight……
Written by Spencer Hill
Illustration Diploma
Digital Illustration Diploma