Although it was only launched at the end of January this year, one keen student has recently completed the new diploma course in Illustration.
Tracey Thomas, who also successfully completed the Digital Illustration with the college last year and was recognised by the ABCC (Association of British Correspondence Colleges) as an award winning student. In the past six months she has completed six assignments illustrating everything from song lyrics to a children's book stopping at poetry, graphic design, comic books and a magazine article in between.This is one of her illustrations for the magazine article '10 Winter Boredom Busters for Chickens' which forms Assignment Four.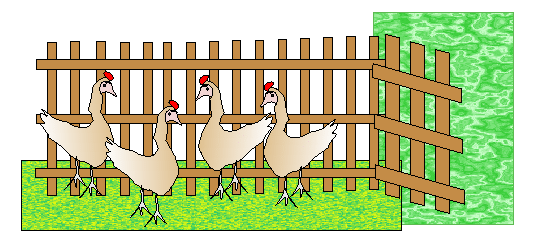 Tutor Spencer Hill explained that the purpose of this diploma was to introduce students to illustration through a series of projects which get increasingly challenging and touch on a variety of disciplines. Tracey has Cerebral Palsy and uses a head pointer to produce her drawings, but she does not let her disability limit her creativity, instead she used Corel Draw to produce a superb portfolio of illustrations including a comic strip about herself and her dog Lola. Throughout the course Tracey continued to share her sketches in between assignments and always responded positively to the feedback…sometimes even trying an assignment again because she wanted to improve her work.
Tracey told us:
Doing courses with Spencer at the art college has given me so much courage. The Illustration Course, the one I have just completed was my favourite course because Spencer allowed me to develop my own way of drawing. The course was so much fun. I enjoyed being told what to draw and doing my best to come up with the best image. Spencer encouraged me so much and he said I can continue to show him my work.  He is one of my heros.
Tracey is planning to continue developing comic strips with the intention of one day publishing them. With what she has learned on the course and Spencer's continued mentoring we hope to report on her success in the near future.
Written by tutor Spencer Hill
Digital Illustration.