I recently helped Geraldine Suggett with a few problems she was having with uploading her artwork to The Art Room. Geraldine emailed me her work and I was so impressed I asked if she would be able to write something about them for our college news blog. Geraldine has written a wonderful piece and woudl like to encourage all of our readers to have a look at Geraldine's artwork – its wonderful! Enjoy!
———————————
About Me
In 1972 I passed O Level Art. After leaving school, I did nothing more artistically until a few years ago. I have only really been a 'doodler' and until only a few months ago, I didn't know what type of art I wanted to depict. All that changed when I stumbled upon a book by Billy Showell. As soon as I saw her work, I knew that it was plants, flowers and vegetables that I want to draw and paint. I have a long way to go, but I feel I have at least got one foot on the rung of the ladder by attempting this diploma course.
About assignment 3 for the Botanical Painting Course
I started the process for this assignment by selecting the tulip that I wanted to depict and drew what I saw and then made adjustments using measurement and dividers. To help me to see the tones, key and colours, I decided to use watercolour pencils for my sketch. I don't colour in and then apply water with a brush. Rather, I apply the pigment to my brush and then paint just as if I was using my watercolour tubes or pans, using glazes of water and pigment from the pencils. Once I had successfully sketched what I needed I was ready to move on to the proper painting and transferring process.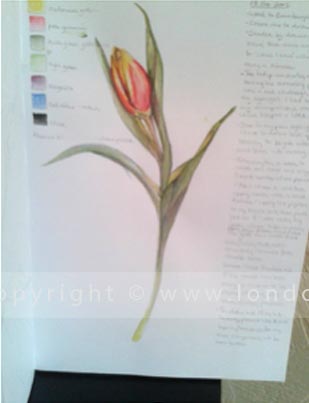 Above – Sketchbook image
I traced the image from my sketchbook and then transferred the lined image to layout paper. I'm not sure if this was necessary but it certainly helped my hand and eye to get used to the shape of the flower and the leaves. When I was happy with the outlines that I had done, I then went on to transfer the image to two pieces of pre-stretched watercolour paper that I had already prepared. I used The Langton extra smooth hot pressed 300 gms. I slightly altered the position of the left had leaf nearest the flower, in order that it would give the appearance of cradling the flower a little more than the original image.
The first monochrome painting didn't take very long to complete, which surprised me. I then followed the same process for the second painting, taking as much care as I could to reproduce the tones in the second image as they appear in the first image. When dry, I began the colour painting process. I enjoyed doing this very much. Using glazes of just water and then layers of colour I was able to produce the vibrancy of the tulip, to a degree that surprised me. My watercolours usually look much more delicate and so I was pleased to be able to produce a much more brighter image than I am used to.
I like to create a swatch on a piece of scrap watercolour paper, rather than in my sketchbook because the paper quality will respond differently to the water and the pigments.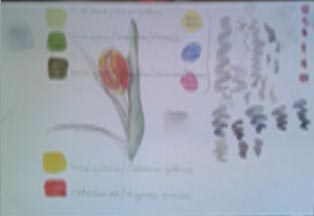 Above – Swatch image
For my greys I used:
Lemon Yellow
Ultramarine Blue
Alizaran Crimson
For the flower I used:
Lemon Yellow
Cadmium Red / Alizaran Crimson
For the greens I used:
Sap Green / Lemon Yellow
Lemon Yellow / Sap Green / Ultramarine Blue
Lemon Yellow / Sap Green / Ultramarine Blue / Alizaran Crimson
I try not to read the course material too far ahead and so I didn't realise that the article by Sandrine Maugy in the next unit recommends alternatives to the cadmium paints I used for this assignment, until after I had finished my tulip paintings. I will endeavour to obtain the hues recommend in time for my next submission.