Astrid Nielsch, who completed the Science Fiction and Fantasy Art Course has written us a truly inspiring piece for our college news blog, along with three beautiful pieces of her artwork below. We are thrilled that Astrid is doing so well with both her artwork and her studies and we wish her every success in her future endeavours!
—————————————————————
One of the questions my tutor asked me when I had freshly enrolled in the Science Fiction and Fantasy Art course a few years ago, was "What would make you feel that taking this course was worth your while?" – I hummed and hawed for a bit, and then settled on "I'll consider the course a success if I start getting paid for my work". I felt a bit guilty about being so money minded. Was I setting the bar too high?
So I am quite happy to report that in the meanwhile, I have landed a couple of paid illustration commissions. I've done several sets of illustrations for the New Zealand Open Polytechnic course materials – an opportunity that opened up because I am studying for a horticulture certificate through the Open Polytechnic at the moment (I think it is a nice combination with my art certificate, as I can now grow my own food! 😀 ) — and my tutor hired me for this job when I told her about my studies with London Art College. So that worked out quite nicely, and yay for distance studies!
Last year, a friend and fellow artist invited me to participate in a group exhibition he was organizing in one of the up and coming art galleries on Cuba Street (Wellington's artsy part of town). Since then, I have  had two more exhibitions at the same gallery, and even managed to sell some of my digital prints! I have also listed them on Ebay and a couple of other online stores, and am making the occasional sale there as well. My next project is to get my website www.starsongstudio.com up to speed and have a proper online store – and make more pieces that I can sell as posters or greeting cards.
But first, I want to finish the project I am currently working on, an illustrated children's book based on a traditional tale from Estonia – where some of my family roots are. It is a project which has been in the drawer for the last five years or so, ever since I wrote up the story for a weekend course on "how to write and illustrate children's books", taught by a local writer and artist.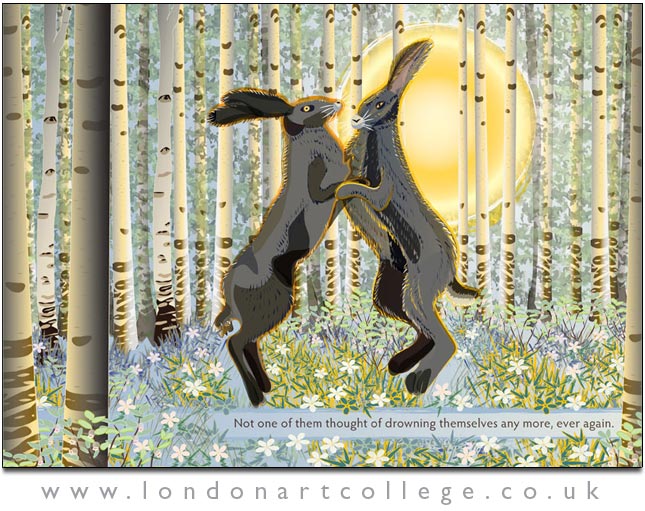 When I signed up for studying at London Art College, I was a bit torn between doing the Science Fiction and Fantasy Art Course, or the Illustrating Children's Books course – which I am sure would have covered the subject in considerably more depth than the weekend class I attended! If I had chosen to do this course, I might have spent less time struggling with the flow of the story, and coming up with a storyboard – or with determining which age group my book would be suitable for!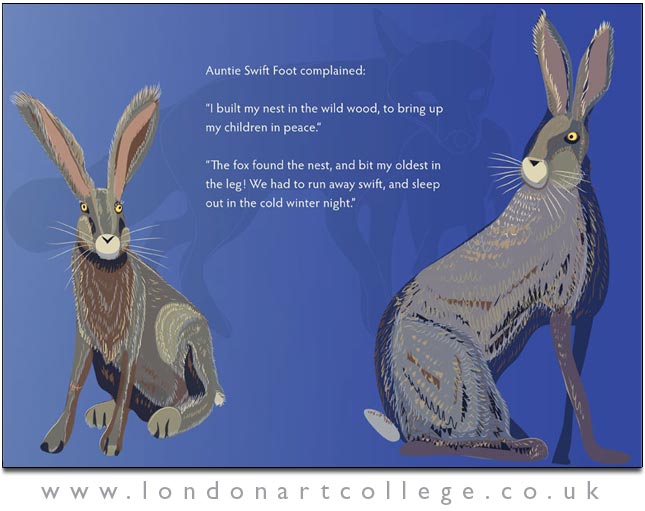 On the other hand, I found some of the techniques I had learned in the Science Fiction and Fantasy Art course very useful for this project – particularly the research aspect of it, finding good reference images and putting them together into interesting compositions, and also the progression from messy pencil sketch to tidy ink drawing to fully coloured version. I fell these techniques lend themselves really well to working digitally, as I do.
A little while ago, one of my artist friends in Europe posted a link to the Key Colours Illustrator's Award an international award for the best children's book concept, organized by Clavis, a publisher of children's books in Belgium. Since it is always easier to work with a deadline, I decided to work toward submitting my book concept for this contest.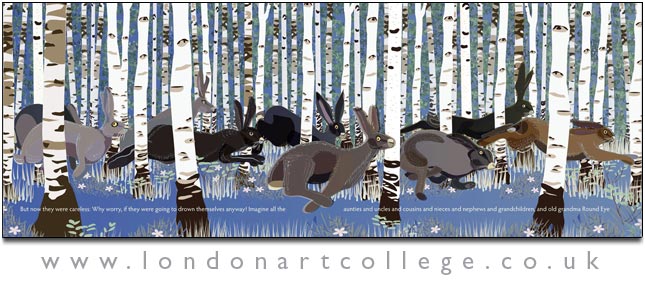 The contest rules were also helpful in another respect: one of the requirements was to submit a full scale, pencil drawn dummy, detailing all the text blocks and illustrations that would go in the book. I had really been struggling with the idea of drawing up thumbnails for a storyboard, and I ended up finding this solution much better: it also forced me to sit down and plan the whole book, rather than just working on one illustration at a time!
To my utter surprise, the concept ended up being one of the 37 submissions which were selected to be part of an exhibition at the City Museum in Hasselt, Belgium!  The exhibition is still running until 5 November – now I am looking for someone who lives a bit closer than I do, to go see the exhibition and send me a photo! 🙂
When I started work on this project, I was assuming that I would probably end up self-publishing the book. But now I am a bit hopeful that I might actually be able to find a publisher. I'll keep you posted on how it goes. You can also follow the project on my Facebook page >>
Was it worth my while to take the course at London Art College? I think it is a case of "exceeds expectations".
Astrid Nielsch
Science Fiction and Fantasy Course