Julie Ann Maguire wanted to share a little about her work and herself with our students and readers and we were delighted to share. Julie has just completed the Coloured Pencil Certificate course and we wish her every success in her future art endeavours.
————————————————–
About Julie Ann Maguire
I have been drawing since my late teens and never had the opportunity or income to follow a traditional academic art route, so attending a local art college was never an option. Instead I became a "long-term" student of London Art College, a vocational route which began for me in 2006. Mostly self-taught, I gained a merit in the Painting and Drawing Diploma (2006), a merit in Graphic Design Diploma (2007), a distinction in Portraiture Certificate (2012) and a merit in Coloured Pencil Certificate (2014).
My favourite CP educators/artists are Ann Kullberg and Lee Hammond. Both have been inspirational and their books have boosted my confidence and CP technique. A member of UKCPS since July 2012, my painting "Cradle for an Ape" won Best Newcomer in the 2013 World of Coloured Pencil at Cumberland Pencil Museum, Keswick, Cumbria. I am influenced by the popart genre and live in awe of Roy Lichtenstein's legacy.
Coloured Pencil is my favourite medium as it is so easy to work with, no mess and quick to put away – three important facets for a full-time housewife and a part-time, hardworking mum with three children and husband.
I don't have a website because I am not a commission orientated artist. I am happy to make occasional financial gain when winning art competitions, however, if my art ideas gain admiration and respect whilst providing enjoyment, enlightenment and pleasure to the viewing public, then I feel that I have succeeded in communicating my gift to the individual. I am "friendable" though on Facebook >> 
About Patriotic Still Life
Working mums always try to provide healthy food options for their family whilst giving them a favourite meal. A regular favourite of the Maguire clan, this oven roasted dish provided the source for my inspiration. As it's a traditional English meal, I was split between a formal or informal composition. Had I chosen informal, the composition may have featured a newsprint set-up! The painting has been renamed from its former "Jubilee in Isolation" title. A few "Ikea" props later, including union jack tea towel and the quintessentially British cuppa, the Patriotic Still Life came into being. The meal was enjoyed by all albeit after several reference photographs were produced! Derwent Coloursoft on A4 White Cartridge, I pride myself in taking as long as necessary to produce an acceptable image, but don't stop-watch the process since this reduces the fun and excitement as the rendering takes shape.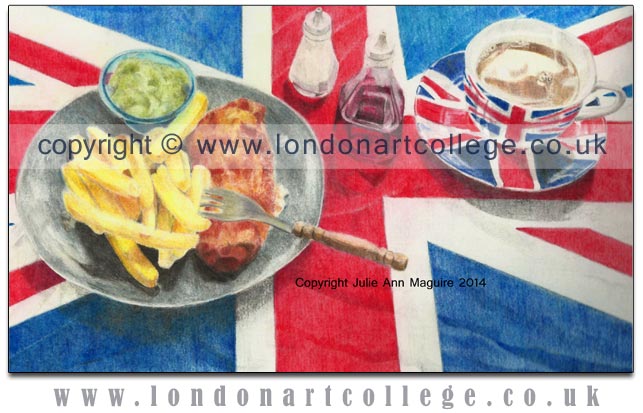 Julie Ann Maguire