Gabrielle emailed me to ask if we could add her artwork to our gallery. We are always delighted to hear from our students and happy to add artwork to our student gallery at any time. Having viewed Gabrielle's images, I emailed back encouraging Gabrielle to enter into this years London Art College Competition – only one month left – and also asked if she would like to write a little piece about one of her illustrations for our blog. She has very kindly agreed and I hope that everyone enjoys reading and viewing Gabrielle's artwork below.
———————————————————————————-
I wanted to tell a story as much as i could with this illustration so it flows from day and night as you look from left to right across the spread, suggesting that time of the day… bed time!! It represents a child all safe and comfortable at home in bed with her cat curled up at the end, and drifting off to sleep entering dream land. The sheep jumping over the fence suggests this, as the idea goes when you "count sheep" to fall asleep. And as the sheep are jumping over the fence and into dream land, so simultaneously is the little girl.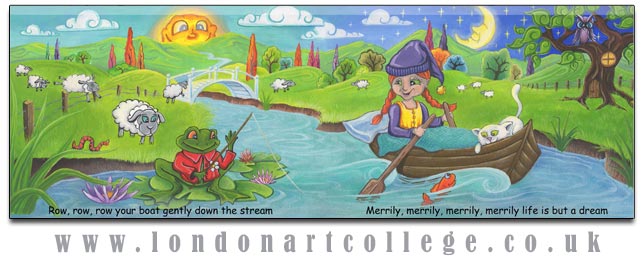 What i love and get inspired about is that children get incredibly intrigued and excited by simple things in nature that adults often walk past and take for granted. So, I wanted to have some of these things that she might have discovered during the day before on the farm that would have fascinated her. Animals such as frogs, caterpillars, owls or fish, and have them turn into dream like characters. The medium I used for this assignment is acrylic paints.
I am an artist from New Zealand. I have been drawing and painting all my life, and have been a professional artist for the passed 10 years having experience in many different art projects. My main focus is my oil paintings that i sell as limited edition prints in exhibitions and markets.
I have always dreamed of branching out into the market of childrens book and book cover illustration! This course has taken me this direction, finding my feet again in style and imagination that appeals to children. I am thoroughly enjoying the new adventure!