I asked one of our students who has just completed the 
Illustrating Children's Books Diploma (D6)
 and received a distinction for his work, if he would write a little about his work and experiences through the course. It has been an extremely interesting read and I hope al budding illustrators out there, find it as interesting as i have. Thank you Rob for doing this for us and good luck in your follow on course with us.
—————————————————–
Hi, my name is Rob Wilkinson, and I have just finished the 'Illustrating Childrens books Diploma', and am thrilled to have recieved a distinction for the course. I thought I would talk about a couple of the briefs, and how I approached them, and better still, what I learned about my artwork via the process.
For the third assignment, 'Fiery Fred', I had looked at many submissions on the
forum
from other students, and I wanted to be original in my efforts. I used a Rotring 0.35 Technical drawing pen to achieve a range of shading effects with cross-hatching and dot-stippling. This is quite painstaking, but I do like using pen & ink, so it gave a satisfying result. The drawing was done in a vignette style, and showed the young dragon looking guilty after setting fire to all and sundry. I like humour, and my cartoony style fitted this well. The problem of then taking a well-executed black & white drawing and colouring it is a common one I face. Learning to paint in  built up layers of watercolour or any painted medium is and has been a challenge. I opted for watercolour pencils and water wash, and the final result was very pleasing. The point to note here, is that in my quest to be imaginative AND as original as I could, I lost sight of the brief. In publishing, this is very significant, and I did not represent the thatched cottage as requested. The lesson was a hard one, as I feel very close to my 'Fiery Fred', but I allowed too much deviation from the brief.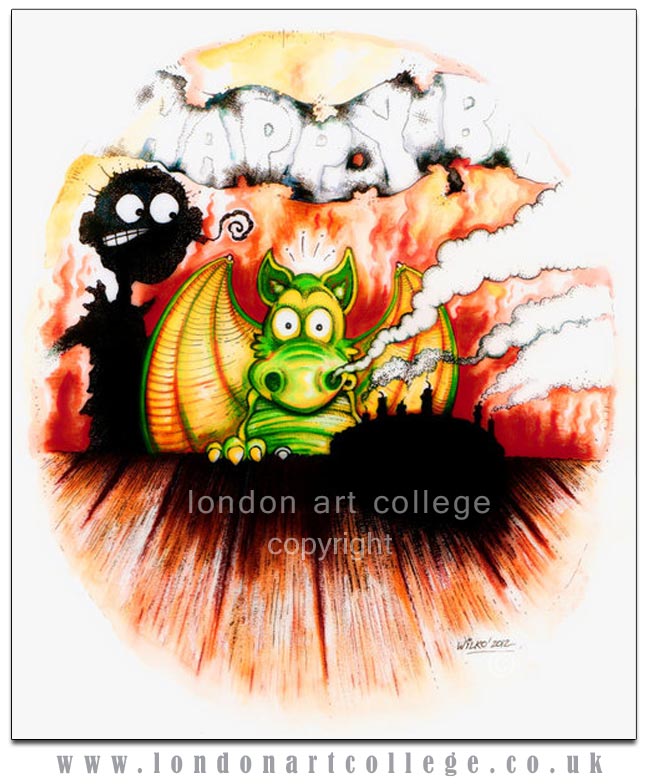 The next three assignments came thick and fast, and I stuck much more closely to the brief. The spooky brief was relatively straightforward as I am used to using Ink, but in 'Cow & Bird' and 'Freds happy ending', I tried to challenge myself, painting with arylic paint and taking much more care over finishing touches. I often posted work on the forum, and tried to use suggestions and comments as a constructive boost to help with my work. I include the first sketch, done in pencil, then painted usinf a No 2, and 4 sable brush with black acrylic. Again, adding colour was a challenge, and I opted for a more limited pallete for my night time view of the Moose and companion at the end of their magical day. I changed the use of colour to show reflections, and added a corona to the moon (all things suggested by other students).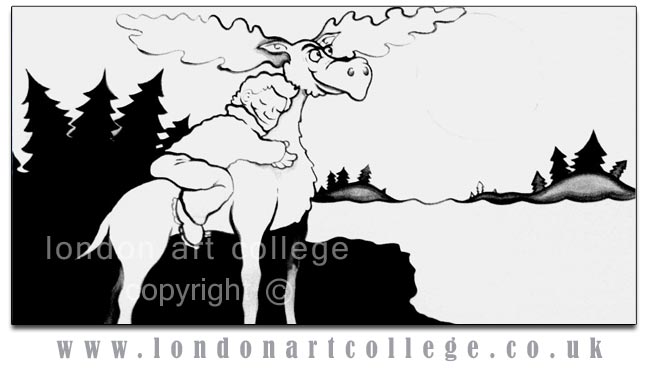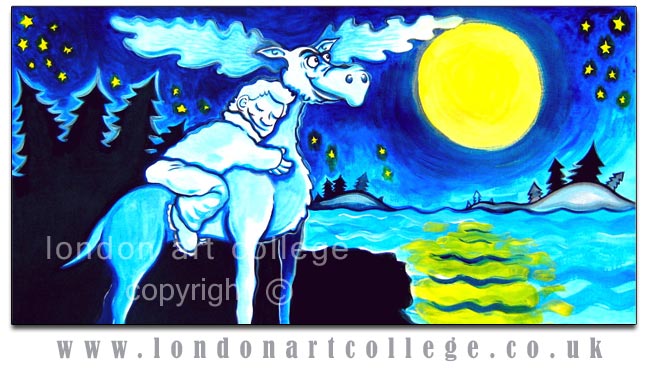 The course has been a real boost to my confidence. I am a Science Teacher and parent, with no real training in Art. I have simply carried on painting and drawing and reading for many years. I look towards writing and illustrating books, and if any were ever considered for publication, that would be very cool indeed and would answer a real lifetime dream. I encourage everyone to draw and paint what you love, but also to be open to criticism and reflection. This course has been a confidence builder for me, and I have enrolled upon the follow on course to continue my journey. Thanks for being a hoot.Rob Wilkinson. Illustrating Children's Books Diploma (D6)