I asked Olga, one of our students who has just completed the Children's Illustration course if she would write something about her 'Singer of Starlight' artwork for our college news blog and she agreed! I hope you enjoy reading Olga's experiences and enjoy viewing her artwork too. We wish Olga the best of luck with her future artwork.
———————————
I am very pleased to reveal "The Singer of Starlight" drawing. I couldn't find this book and I had no idea about it, but the task in the course was very clear and I looked for something similar in my memories.
It has always seemed to me that doing arts and crafts are full of magic, especially for the kids. So a Grandma in my picture is busy with knitting and she creates (with the help of her granddaughter) something interesting – different animals. And with the help of Starlight – who knows – they all come to life.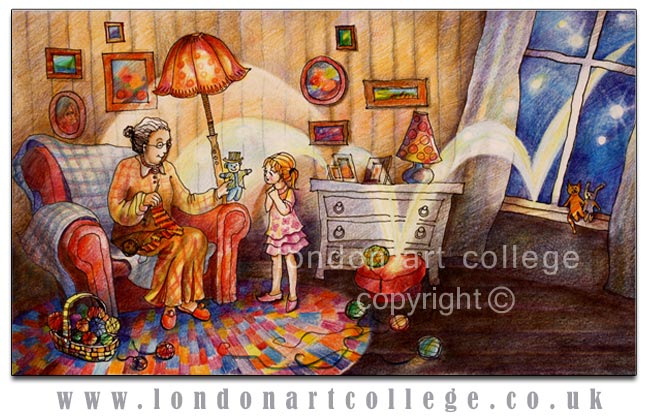 In this picture I wanted to create a cosy, warm atmosphere. I decided to use sepia to tone the picture and then coloured pencils, to add colours, work on different textures and patterns. I am very happy with the result and I am also happy to share this picture with other students.
I would like to thank the London Art College for this great opportunity of distance learning, and my course tutor, Jan Nesbitt for her wise and encouraging critique. This was a great way of learning for me.
As for now, I've got several ideas of glass painting, which is a big hobby of mine and I will surely start my search as an Children's Book Illustrator job.