I asked Terry if he would write something for us about his wonderful artwork. He is currently studying the Coloured pencil course with Julie Douglas and I think you will find his text very interesting. If you are a coloured pencil artist, make  sure you check out his useful tip too!
=======================================================
Terry Moss – Coloured Pencil Course
Visit Terry's Website >> 
Hello to all fellow artists, I am living proof that old illustrators never die they just change direction. Melanie has also asked me to write a piece about a couple of drawings recently completed and a bit about myself.
I worked as a Technical Illustrator for my working life ending up teaching the subject at one Bristol City College. I have always drawn, painted and made things from my early years. Only drawback I could find was the statement by my father who said "You can't make a living out of drawing son," and promptly signed me up for an engineering apprenticeship, which meant I had to find a way to prove him wrong.
It was pure chance I became aware of the career of illustrating and it took a showdown with the apprentice supervisor to get onto my chosen path. As with all careers there is a plus and minus side. Long hours spent at the drawing board tempered my enthusiasm for drawing, since retiring I have occasionally got the sketch book out but not as regularly as I should. However last year I found a book on drawing with colour pencils, a very different medium to any other I have used. And it sparked my interest, I had to have ago. Collecting all those wonderful colour pencils has also been colourful acquisitive thing to. I signed up for the Colour Pencil Course and I have thoroughly enjoyed finding out how to use them with the help and encouragement of Julie Douglas. That really ought to read I am still finding out how to use them.
For one of the drawings in set 3 I have chosen the portrait of our departed Yorkshire Terrier, Jody, she was a lovely animal and we have fond memories of her, but she was not a candidate for Mensa!
The portrait was taken with a promise to my wife I would "do a drawing" At long last I have fulfilled my obligation and it captures Jody's personality, all hair and with her slightly bewildered expression. We still miss her and her buddy Kizzy very much. When we weaken and consider having another "dawg" we get the vets bills out and quickly change our minds!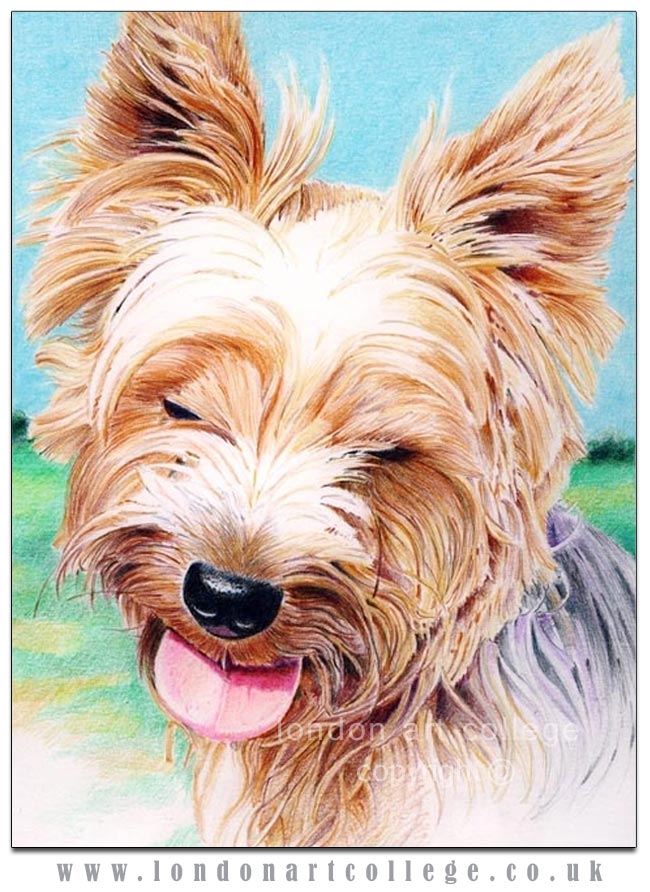 The other picture of our local redundant church is something we pass most days on our regular walk. Although the Church is only used on special occasions the graveyard is still in use so it does not feel redundant. As I write this the Snowdrops are in full fettle the church has a Cotswold roof covered in moss and lichen. It was great analizing the colours in the roof & wall also the tower with the paint gradually wearing away, it looks like soured cream poured down it but we are assured that it was originally painted to protect the tower. It is right on the edge of the Cotswolds and it really does blow a cold wind up there. I think the red post box let very insecurely into the wall gives it dash of colour I am pleased to have recorded the old Church.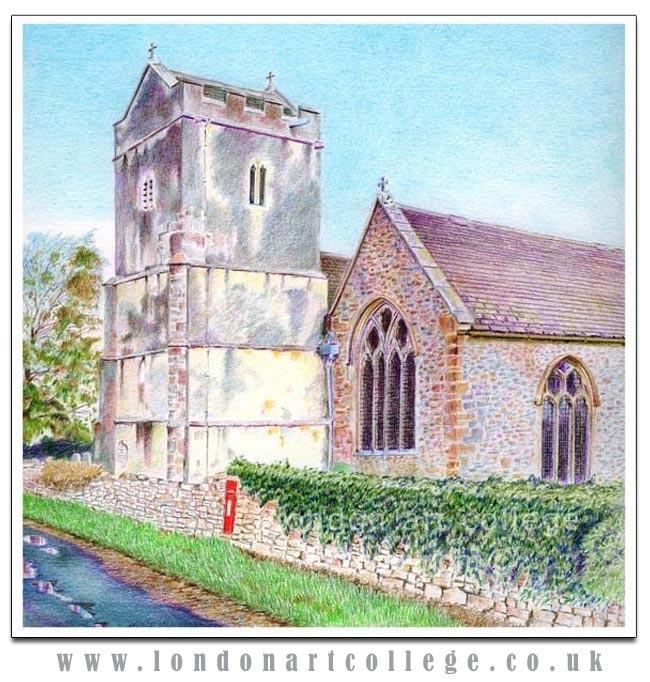 Tip might be useful
Not sure if at any stage this has been covered by anyone but I have a tip that might prove to be of use to folks working on the Colour Pencils Course. When using an airbrush we used to do what we called "lining in" after completing the spraying. This involves using a fine brush and often it was across sprayed areas that could be easily damaged. So we used to use a bridge. This is a simple device and does at the name implies bridges the artwork. I found fairly quickly that the colour pencil deposits fine granules that can easily be spread by the action of moving the hand. Laying a surface over the artwork as protection does not stop it being affected by hand movement. The bridge is easy to make I used 3mm acrylic sheet and simply super glued two ends to raise the bridge as illustration.The size is 7" by 2.75"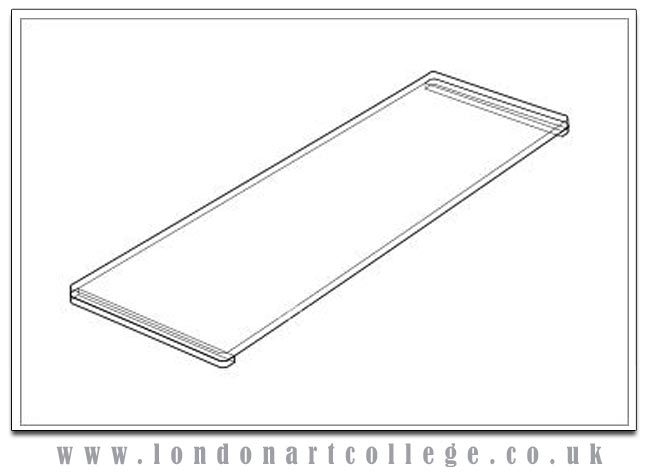 Terry Moss – Coloured Pencil Course
Visit Terry's Website >>