Sara Wendy Olivia, who is currently studying the portraiture course, came second in our Annual London Art Competition.  Sara Wendy has very kindly sent us some wonderful photos, text and a link to a You Tube video of her exhibition to explain a little about her painting, the background behind it and how it all came about. Sara Wendy also has some amazing work in progress videos which are well worth viewing too, showing Sara Wendy painting her set of clown portraits – Sara Wendy Work In Progress >> We hope you enjoy her story, we would like to congratulate Sara Wendy again on her wonderful work and wish her every success for the future.
You are able to view the winners of our 2011 competition on our website – London Art College 2011 Competition Winners >> 
===========================================
I' m so happy for this winning! I can tell you something about my "Clowns": Was a very boring sunday and I didn't have inspiration for painting, so, I've start to paint my face (I attach one of my photo:)) using some carnival make up. I have made many many photos with 2 different make up style and face expressions.
So, after this funny moment (was very very funny), I've found the right inspiration for may paint and from this moment I worked on 5 painting that ws the "Clown series".
I attach on photo of me and the foto of London exhibition that was a very exiting experience for me, I wish to make it again next summer. This was a year of great success for my art career, I've made the exhibition in London, one of my painting was published and selected in the finalist of the Tokyo Prize and was exhibited in Bruxelles, I've also sold 10 paintings, and I have to thank you all.
I'm working hard for my portrait course, unfortunately I don't have so many time for drawining and painting, I have a full time job, I wish to be a full time artist in the future, this would be my dream!
Sara Wendy's website – www.sarawendy.com
Sara Wendy's artwork with photo of her made up as a clown.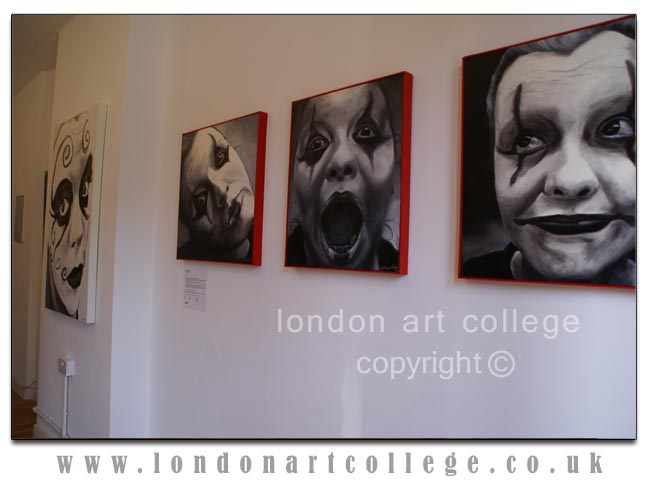 Sara Wendy's Exhibition at Brick Lane, London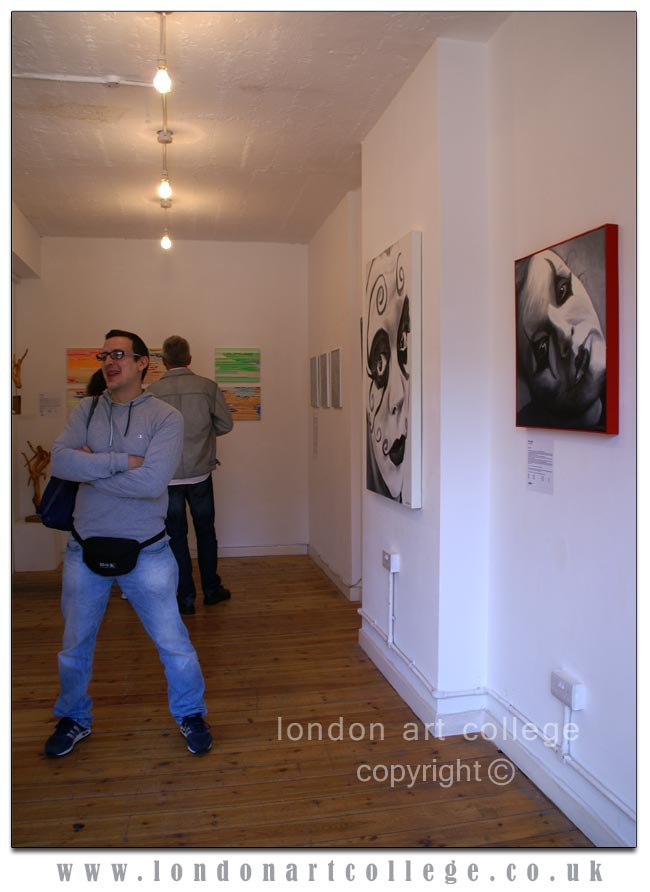 Sara Wendy's Exhibition at Brick Lane, London