We asked if Cathy would write about her Polar Bear painting for our college news blog and we were thrilled to receive Cathys text below. I hope that you find it inspiring and also enjoy the Polar Bear painting too, see if you can see the fish!
———————————————————————————-
By Cathy Heritage (Pet Portraits Diploma D5)
I was delighted to be asked to write this blog for one of my pictures on the Pet Portrait course. The brief was for a "modern and contemporary" picture with a dynamic and interesting composition. It could be looking up or down at the animal or at an unusual angle. The brief also said to experiment with background colours.
I have always wanted to paint a picture of a polar bear, particularly when I see them on TV nature programmes. They are such fascinating animals living in such cold, icy conditions. I also thought it would be challenging to paint a cream coloured animal on a snowy background. I found the photo which I used for the picture in a book on the Arctic. The photo has a copyright and so is only to be used as a practice piece for my course at London Art College.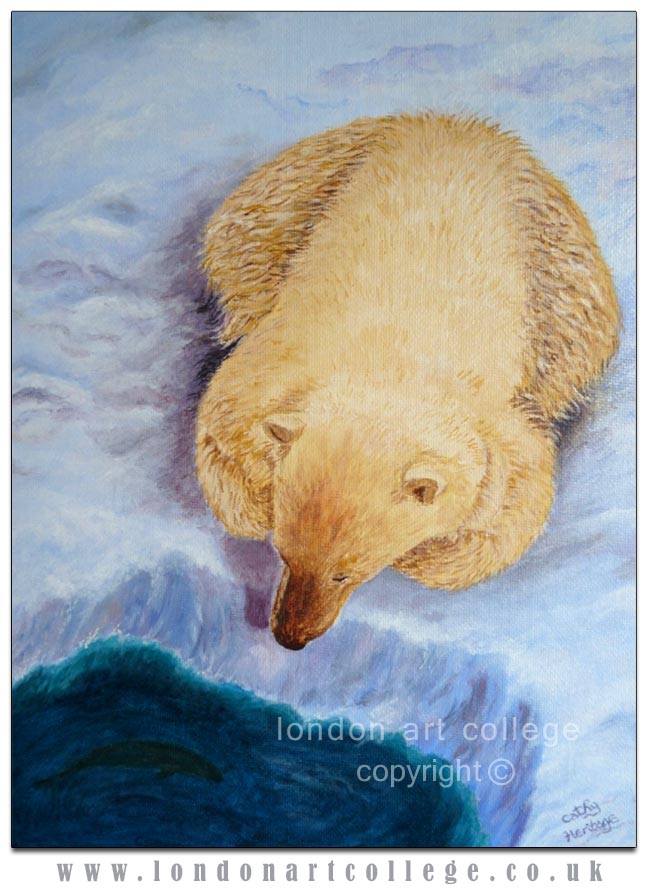 I initially drew out the polar bear in the same position as it was in the photo but quickly realized that the composition was very vertical down the centre of the page, with very little on either side. So I decided to turn the whole bear slightly to one side with the water hole in the corner of the picture rather than the centre, which gave it a more dynamic feel.
For this particular set of 3 pictures on the course, each one had to be in a different medium. I chose oil paints, which I have never used before, as I felt this would give strong, opaque colour which I would need to bring out the polar bear on the snow. I used Artisan water-mixable oils which I found very easy to use as they are so blendable. The whole picture took several days to complete but I found that each time I came back to it, the paint was still soft and usable in the palette, and also that I could still blend areas on the canvas that needed more work or detail. I have never tried oils in the past as I have been put off by the smell of oils and turps, but the water-mixable oils have no smell at all and my brushes were easily washed with water. It is a medium I will definitely be trying again.
The bear was relatively easy to paint but I found the snow much more difficult. In the photo the snow background was very white with little tonal contrast or shadows. I had to decide where my light source would be and try to place the shadows accordingly. I gave the snow a much more blue/purple colour to provide interest and tone. I also painted the water a richer blue/green colour than in the photo which was very dark. Finally, I decided to paint a fish deep in the water so that it didn't take one's eye away from the bear but so that it gave the bear a focus for why he was looking down – waiting for his lunch!
I enjoyed painting this picture and trying out a new medium, and was even more pleased when I received Melanie's critique and the fact that she felt it told a real story.
Cathy Heritage – Pet Portraits Diploma (D5)