This is a wonderful article written by two of our London Art College overseas students who met up in Sri Lanka. Read the article and view the wonderful photos below. Inspiring! If you have met up with another student from the college, please do get in touch and tell us your story!
========================================================
Hemal:
Our company, Forbes India had organized an annual off-site program to an international location -Sri Lanka. So I took this opportunity of meeting Deepthi, student of LAC who resides and works from Colombo. The purpose of meeting her was to share the design and work culture and experience of two different countries. I e-mailed my itinerary to her and later coordinated the date, time and place for us to meet.
I have never met an international artist before. So I was really very excited to meet Deepthi and share the experience.
I met her at Colombo where she took me for a local sight-seeing. We visited a Buddhist temple, a museum, a restaurant where we had food and a hypermarket to buy good tea. Later in the 2nd half of the day, she had also arranged a meeting with Mr.Jayah, production head of Sri Lanka's largest daily newspaper – Daily News. It was a very intellectual interaction as Mr.Jayah took us for a small pre-press production tour. My work experience with the newspaper media was handy in sharing each other's views.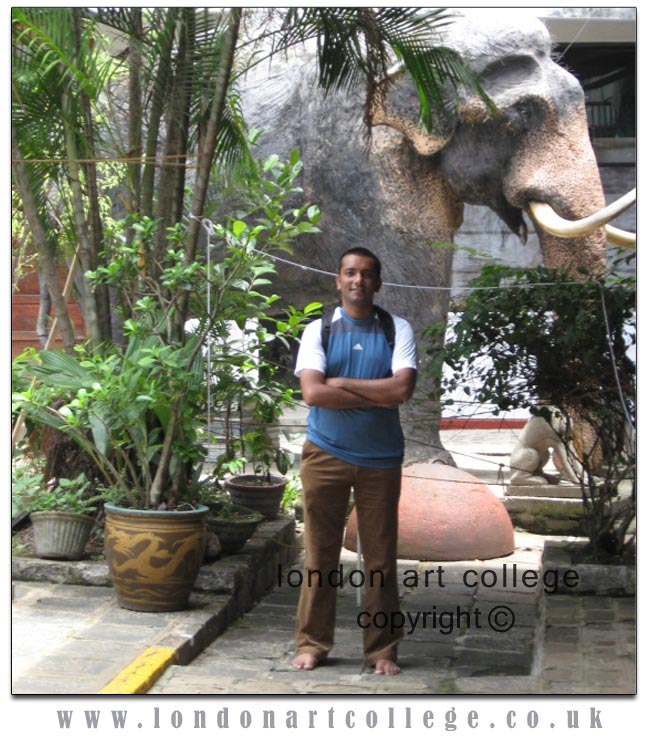 Above – At A Buddhist Temple
When we were at the museum, Deepthi also shared with me some of her designing stuff. The recipe book (book on the food of the king of the last dynasty) which she had designed was very much interesting and worth going through. She had a good knowledge of the things kept in the museum….so much so that at one point I felt like I was meeting a person who is in-charge of the museum!
She also shared some of her assignments which she has submitted to the LAC and also various mix-media experiments which she is trying out in her graphic designing.
So overall it was a great day in Colombo where it was a multi-purpose visit…a short sight-seeing tour embedded with a design sharing experience.
A special thanks to LAC because of whom I got in touch with Deepthi and also thanks to Deepthi for  making this great meeting possible.
==============================================================
Deepthi:
Meeting Hemal in person was a singular experience. Although we were following 2 different LAC courses, i.e. cartooning and graphic design we discovered that we had many mutual interests.
Our love of typography was one such area. This was evident at the Colombo Museum. Hemal, on seeing the inscriptions on some 18th century stone slabs from the Dutch occupation era pointed out the serif type and told me that the buildings constructed during the days of the British Raj located in the Fort area of Mumbai have the same type face etched on their façades.
Our interest in architecture of the colonial era also turned out to be mutual. The Colombo Museum, an imposing building based on Italian design built in 1876 by the British colonial administrators has always been one of my favourite places from the time I first visited it as an 8 year old. The sweeping double stairway leading to 2 parallel landings seemed to hold infinite possibilities for play back then, even if only in my imagination! It was interesting to note that Hemal seemed equally impressed at the sight of those beautifully crafted wooden staircases carpeted in red.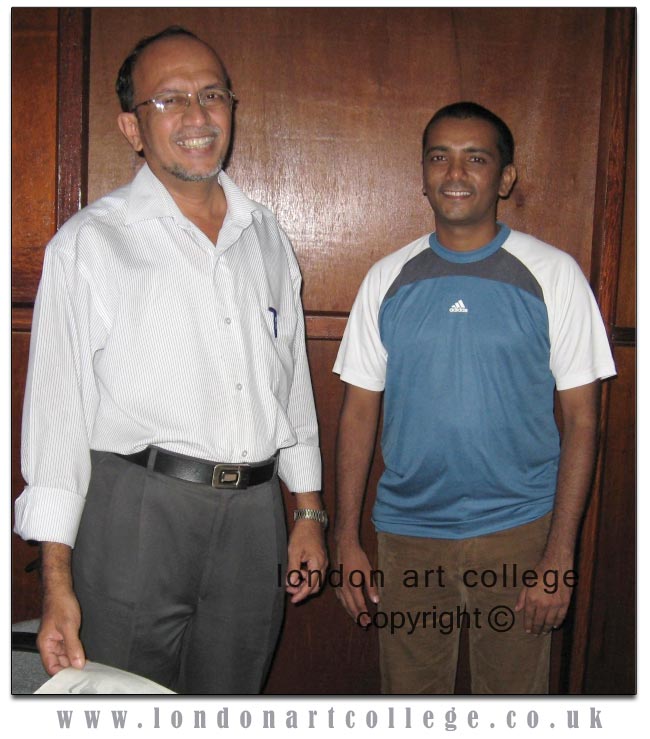 Above – Hemal and Mr.Jayah
Hemal had brought with him to present to me the latest copies of 2 magazines published by the company he works for in India. One of the magazines, Forbes India contained Hemal's latest output at work. He told me that back home, the magazines would be put out for sale on that very day and that I was receiving my copies simultaneously. A rare privilege indeed! Over lunch we discovered that our work ethic was the same, as we are more concerned about doing a good job of work than achieving  personal fame.
The penultimate highlight of Hemal's day was our visit to Sri Lanka's largest newspaper publishing company which publishes 14 dailies and weeklies, the Associated Newspapers of Ceylon Limited. At that meeting with the company's production head, Hemal's keenness to learn as well as his willingness to share his knowledge and experience was clearly evident. So much so that we were afforded the exclusive privilege of been given a tour of the latest computer-to-plate machinery by the head of the production department himself! We also took the opportunity to spread the word about the LAC and its courses as we had to explain to him how we had got to know each other.
As Hemal has stated we are grateful to the LAC for conducting courses which enable students from all over the world to interact and pursue their aspirations in art together, fostering friendships like ours which hopefully will be for a life-time!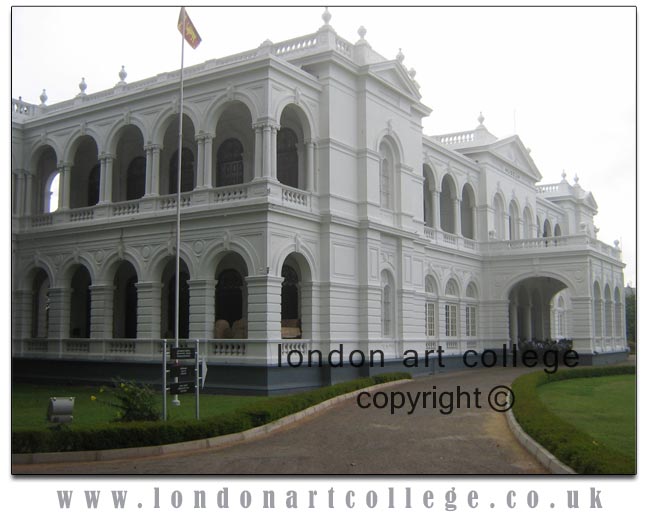 Above – Colombo Museum